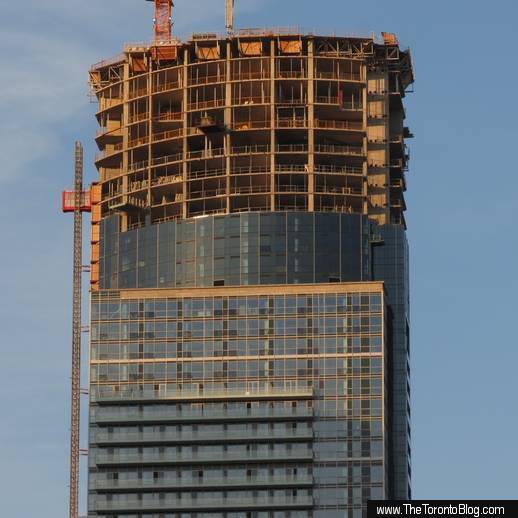 June 20 2013: The west side of the Aura condo tower as seen from Gerrard Street near University Avenue, at sunset last evening
Sweet 60: Construction has commenced on the 60th floor of the Aura condo tower at College Park.
That leaves 18 more residential levels to be built, plus the tower's mechanical penthouse.
If you have roughly a million bucks to spare, you can still buy in the building. According to a listing on the project website, 7 "executive suites" are available on the 75th floor, at prices ranging from a low of $994,500 for a 1,090-square-foot unit, to a high of $1,454,800 for a 1,630-square-foot residence.
If you'd prefer to live higher up, four penthouse suites are still available, too —  at prices ranging from $2,349,500 for 2,335 square feet to $3,559,000 for 2,961 square feet.
CONTINUED ON PAGE 2