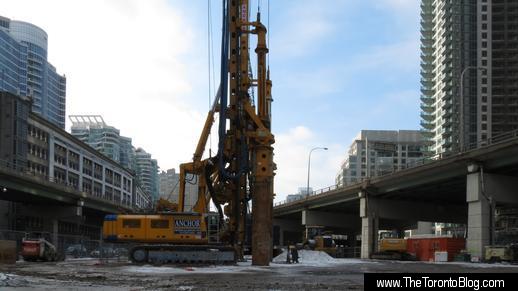 January 18 2014: An Anchor Shoring rig stands on the site where Tridel will build its skyline-changing Ten York condominium tower.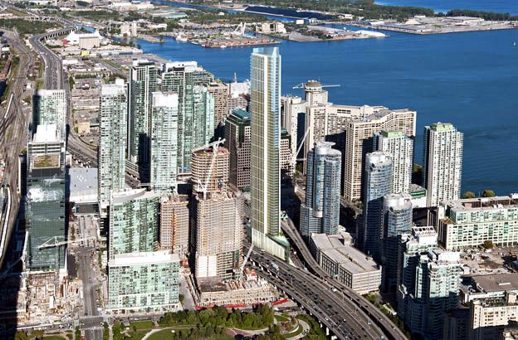 This Tridel photo illustration shows how the wedge-shaped Ten York condo tower (center) will rise to prominence between the elevated Gardiner Expressway and the Gardiner's raised exit ramp to York, Bay and Yonge Streets.
Ten York's turn: Preliminary construction work is starting on an eagerly-awaited condominium tower that will transform a tightly-cramped and unsightly piece of land into a premier residential address and, at the same time, greatly enhance one of the bleakest-looking blocks in the city's south downtown core.
Foundation drilling rigs are in place at 10 York Street, where Tridel will build its highly successful Ten York tower, one of 2012's best-selling condominium projects.
Ordinarily, the oddly-shaped property would seem an unlikely place to build a skyscraper — let alone one that people would love to live in.
Roughly triangular in shape, the site is completely surrounded on all sides by busy roads that are often clogged with traffic — Lake Shore Boulevard and the Gardiner Expressway to the north, Harbour Street and the Gardiner's elevated off-ramp to York, Bay and Yonge Streets to the south, and of course York Street itself to the east. These high-volume thoroughfares, along with a large above-ground parking garage on the south side of Harbour Street, make the pie-shaped area from York to Lower Simcoe Street one of the darkest, ugliest and noisiest places in the downtown core. The block presents pedestrians and cyclists with a harsh and unpleasant streetscape they wouldn't want to linger on, but would rather hurry past to get somewhere nicer.
But Ten York should improve the pedestrian experience enormously — as should a three-tower mixed-use development that will revitalize another similarly dismal strip of land on the east side of York Street. (See my January 26 post, which profiles construction progress on a Menkes project that will transform a 1-hectare site at 1 York Street into a vital new residential and employment hub.)
Together, the Tridel and Menkes projects will renew and repurpose two "islands" of under-utilized real estate — roughly half a kilometer in length — that have long been a visual and physical barrier separating Toronto's popular Harbourfront district from its bustling commercial core. In addition to enhancing the public realm, the new buildings will  establish a pleasant gateway between the two neighbourhoods — especially if the City ever follows through on plans to remove or reconfigure the Gardiner off-ramps that pass beside the development sites.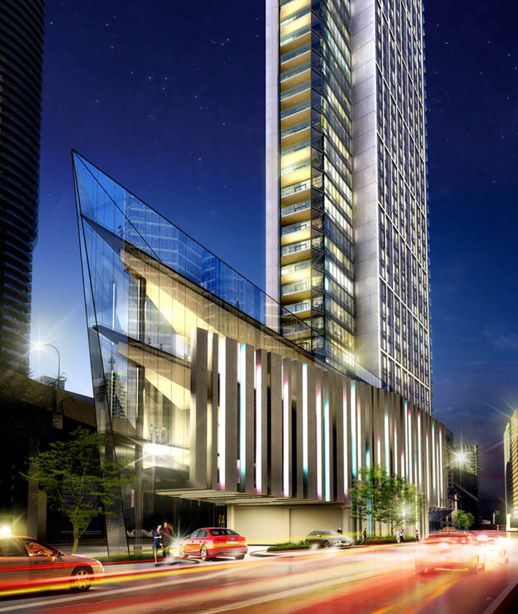 A Tridel image showing a street-level perspective of the prow-shaped Ten York podium. The 69-storey skyscraper was designed by Toronto's Wallman Architects.
CONTINUED ON PAGE 2