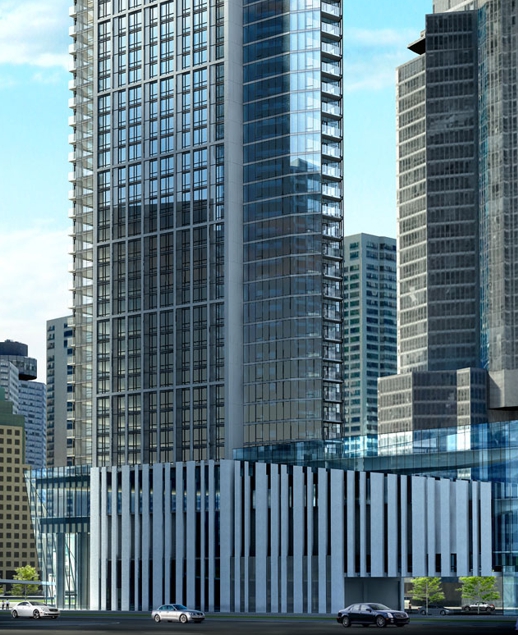 A Tridel website illustration of Ten York's eye-catching podium and tower
$295 million 'city building' project
Tridel is developing Ten York in partnership with Build Toronto, the arm's length real estate and development corporation for the City of Toronto. Originally proposed as a 75-storey skyscraper designed by Toronto's Wallman Architects, Ten York made headlines across the country when the $295 million "city building" project was announced on November 22 2011.
After receiving input from public meetings (see my April 2 2012 post), design review panels and City planning staff, the developers revised the project and made significant changes to the building design, proposing a 65-storey flatiron-shaped tower atop a 4-storey podium instead (see my November 5 2012 post). City planners in turn recommended that the revised application be approved, and on November 27 2012 Toronto City Council gave the project the green light.
Tridel had already released 600 units in the building for sale (out of approximately 700 in total), and the condos literally sold like hot cakes. In an article published November 16 2012, the Toronto Star reported that 532 suites had been sold.
Condo units still available for purchase
Although well more than a year has passed since the astounding sales period reported in the Star, some Ten York units are still available for purchase. According to Tridel's website, these include five different layouts for 1-bedroom condos (each the last remaining unit of its kind), two layouts for 1-bedroom + den, two configurations for 2-bedrooms, and 1 style of 3-bedroom suites. Starting prices range from $415,500 for a 1-bedroom on the 29th floor, to $563,500 for a 2-bedroom on the 13th floor and $935,000 for the 3-bedroom suite on the 29th floor.
The website also shows 9 different "signature" suite layouts still available. These penthouse homes include an 1,176-square-foot 2-bedroom on the 63rd floor (starting price: $1,020,000), and a 2,308-square-foot 2-bedroom + den on the 67th floor ($2,275,000). The most expensive residence still available is a 2,551-square-foot 3-bedroom suite with family room on the 66th floor. Its price starts at $2,560,000.
Ten York will boast an array of recreational and social amenities for residents. The Shore Club on the 7th floor will have two party rooms with private dining areas, a private lounge, a media and games room, a fitness center with yoga and spin studios, and a spa and guest suites. The 8th floor will have change rooms and saunas plus an outdoor terrace with swimming pool and reflecting pool.
Below are several building renderings and condo layouts along with a few more photos showing the Ten York site prior to construction. Numerous additional illustrations of the building, the amenities areas, and one of the suites can be viewed in an image gallery on the Ten York webpage.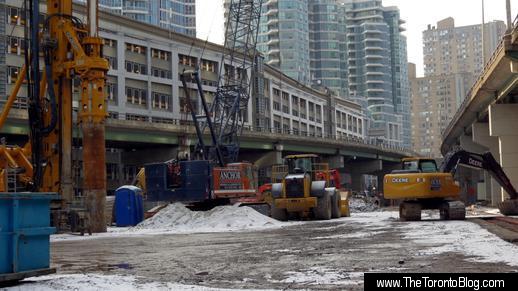 January 18 2014: Looking west from York Street across the Ten York condo development site. At right is the elevated Gardiner Expressway, while at left is the raised off-ramp to York, Bay and Yonge Streets. Behind it is an above-ground parking complex that's nearly a full block long, backing onto Harbour Street.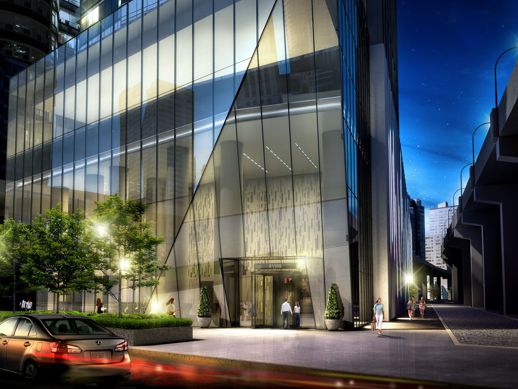 This artistic illustration provided by Tridel shows how the Ten York podium will look when viewed from the same spot on York Street as the photo above. The building's lobby will impress visitors with its soaring 30-foot ceilings.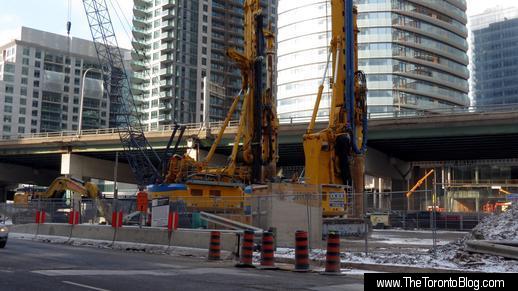 January 18 2014: Foundation drilling rigs on the Ten York site, seen here from the southwest corner of York and Harbour Streets.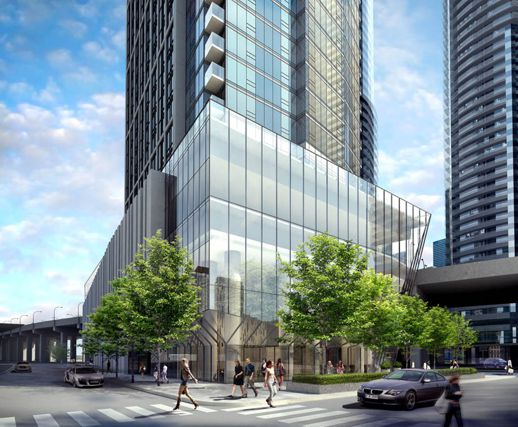 This Tridel rendering shows how the Wallman Architects-designed building will look when viewed from the intersection of York and Harbour Streets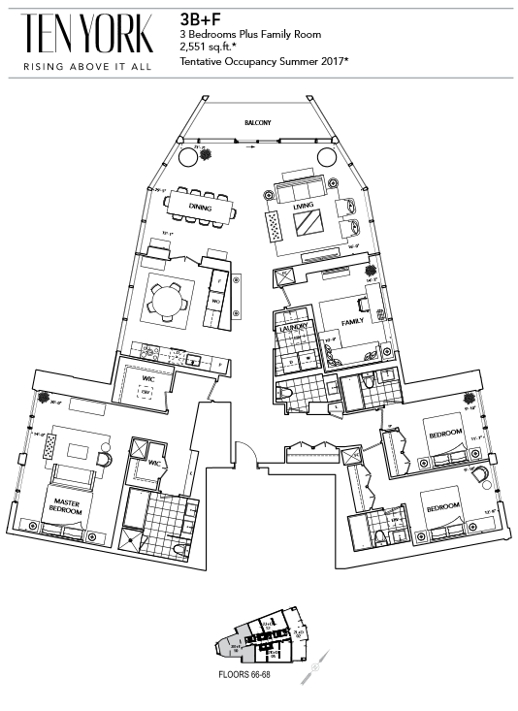 This floorplan illustration appears on the Tridel webpage for Ten York. It shows the unique configuration for a 2,551-square foot three-bedroom residence with family room. The 66th floor suite is available at a starting price of $2,560,000.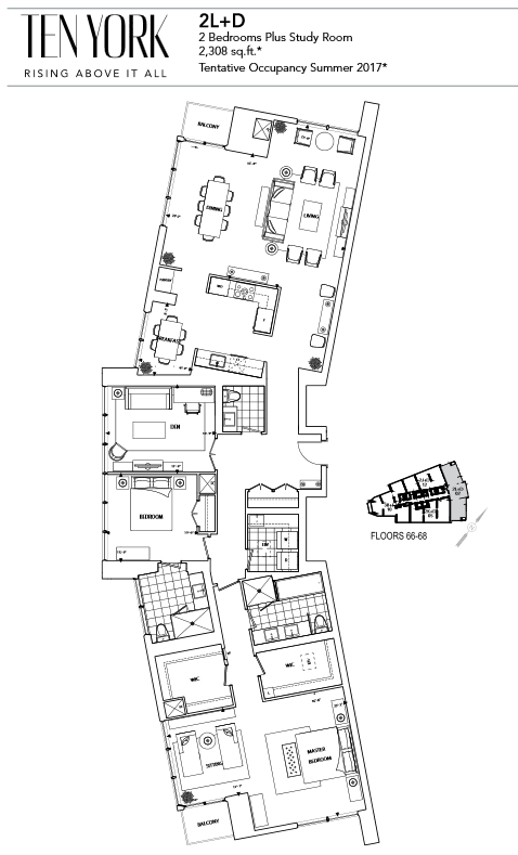 Another cool condo layout from the Tridel website. This one shows a 2,308-square-foot 2-bedroom + den residence on the 67th floor. Its price starts at $2,275,000. Other "signature" suites are still available on floors 63, 64 & 66.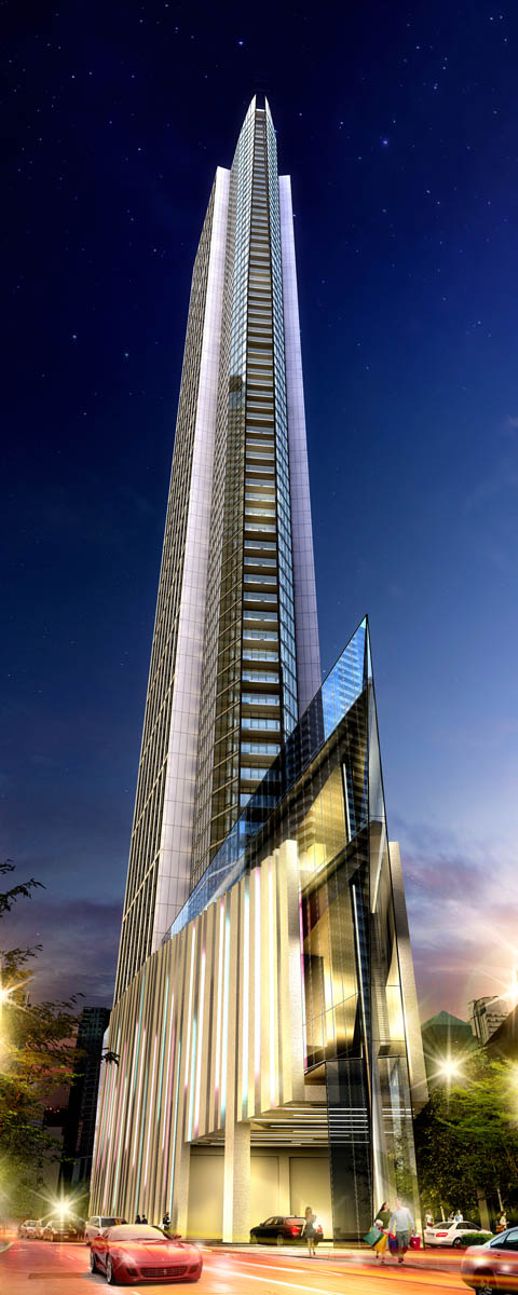 An artistic illustation depicting a night view of the Ten York tower and podium.