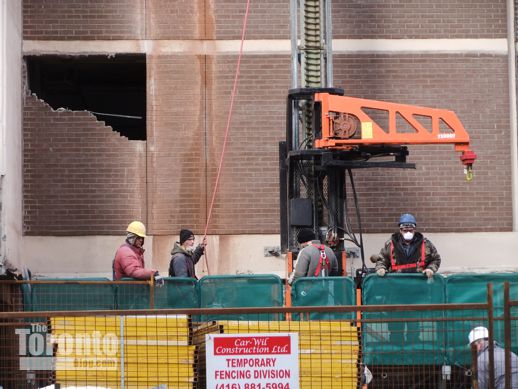 February 12 2013: A construction crew begins cutting holes where new windows and balconies  will be installed …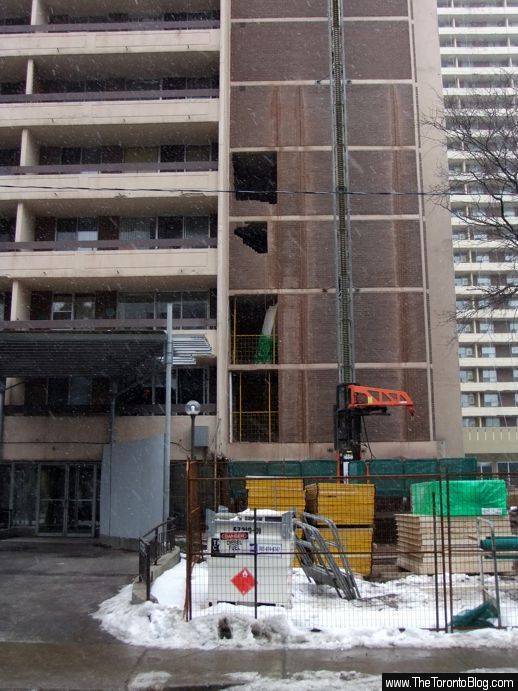 … on the southeast side of the 26-storey apartment tower at 66 Isabella Street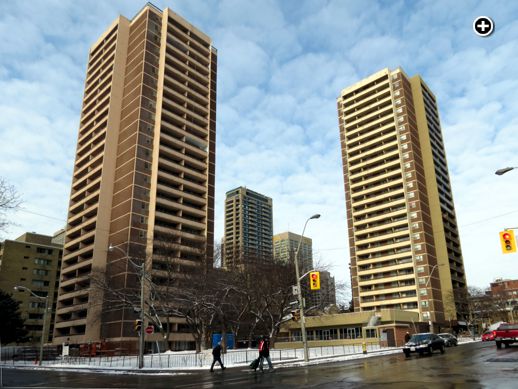 The work is just the first phase of a project in which a 23-storey addition will be built next to the rental highrise (left) in place of the trees and lawn that have provided an open space at the northwest corner of Church and Isabella Streets for more than 40 years. Meanwhile, city approval is being sought for a 3-storey walk-up condo addition to the south and west sides of the Town Inn Suites at 620 Church (right) in a separate project that would fill in the remaining greenspace on the corner property between Charles and Isabella Streets.
Apartment tower add-on: The area around Church & Isabella Streets has been buzzing — literally — with the sounds of crews preparing a 42-year-old apartment tower for construction of a highrise addition that will contain 12 condo suites and 199 new rental units.
Workers started cutting holes in the south wall of the 66 Isabella Street building this week, the first step in reconfiguring apartments on the tower's east side before a 23-storey addition is constructed only a few feet away.
The renovation work started last month, slightly more than two years after City planners released a preliminary report outlining issues that the project posed, and recommending that a community consultation meeting be called to get public input into the redevelopment proposal.
CONTINUED ON PAGE 2