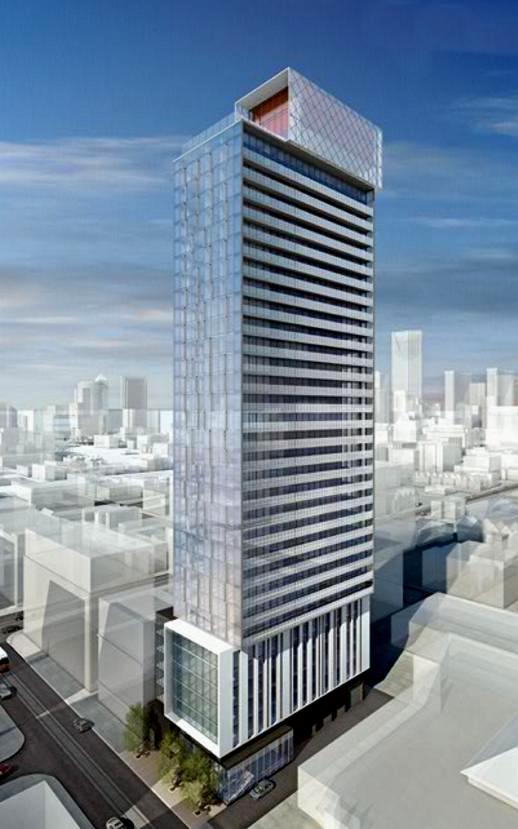 A rendering, from the King Charlotte condo project website, of the 32-storey tower proposed for Charlotte Street in the Entertainment District.
Another jewel in Clewes' crown: It's only two blocks long, but Charlotte Street has been getting more than its share of attention from architects and condo developers. The little north-south street, which links Adelaide and King Street in the Entertainment District, already boasts two condo buildings — Glas Condominiums and The Charlotte — and is getting a third, with Charlie Condos currently under construction. The sales centre for a fourth — Langston Hall — has been open several years; however, that development seems to have stalled, with no signs that construction might start anytime soon. Now, Lamb Development Corp. and Niche Development have proposed a fifth condo project for the street — King Charlotte.
Designed by Peter Clewes of Toronto's architectsAlliance, King Charlotte would rise at 11 Charlotte Street, a three-storey brick warehouse building that has been converted into offices. A 32-storey point tower (including six-storey podium) soaring 114 metres high, King Charlotte would offer 232 residential units in 1-, 2- and 3-bedroom configurations, plus four levels of underground parking. Part of the ground-floor level would be used for "community space." A 33rd floor rooftop terrace will be an "entertainment oasis" with an outdoor pool and all-day sun "that will blow your mind," Lamb Development CEO Brad Lamb promises. The tower design is basically a series of different-sized boxes stacked playfully atop each other. "The retail box protrudes from the podium box, the tower box appears to teeter and overhang the podium box, and the oversized rooftop amenity box actually does overhang the tower box," Lamb explains on the King Charlotte website.
Full details of the proposed project are provided in a February 28 2011 city planning department preliminary report which recommended a community consultation meeting be held to gather local input. That recommendation was approved in a March 22 2011 motion by the Toronto and East York Community Council; that public meeting should take place sometime later this spring. (Local councillor Adam Vaughan has already held one constituency meeting, in January, to discuss the project with area residents.) If approved by the City (which appears highly likely), King Charlotte would match Charlie Condos in floor count (32) and tower above the street's existing condo buildings: Glas, a 16-storey midrise at 25 Oxley Street on the southwest corner of Oxley and Charlotte, and The Charlotte,  a 14-storey condo completed in 2002 on the northwest corner of Oxley and Charlotte. (If Langston Hall ever proceeds, it will have 12 storeys plus a penthouse.)
Meanwhile, the King Charlotte website has been launched, signs advertising the project have been affixed to the exterior of 11 Charlotte, and a marketing sales campaign is in full swing. A "coming soon to King & Spadina" King Charlotte Condos flyer I received in the mail this week says prices start at $241,900 for a 1-bedroom unit, $327,900 for a 1-bedroom with den, $435,900 for a 2-bedroom, and $558,900 for a 3-bedroom suite.
Looks to me like Lamb and Clewes have another winner on their hands. Charlotte Street is an in-demand area for condo buyers (a friend of mine sold his condo on the street in mere days, for a hefty profit), and I'm sure this project will be another Entertainment District sales success. Below are photos, taken at various times over the past three years, of the King Charlotte site and its neighbours.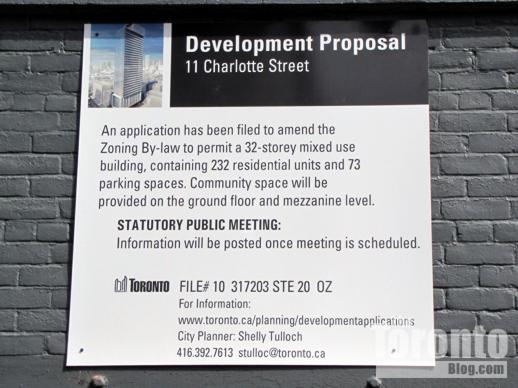 King Charlotte Condos development proposal sign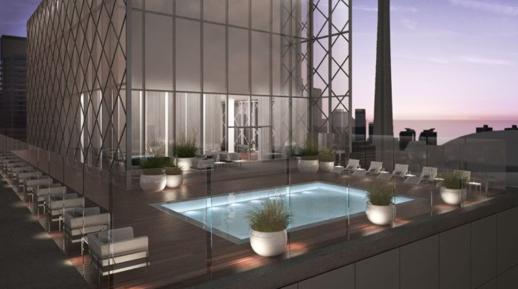 King Charlotte Condos website rendering of the outdoor swimming pool and terrace on the tower's 33rd floor amenities area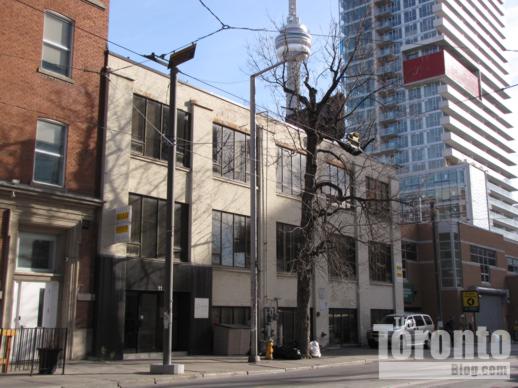 November 29 2010: A view of 11 Charlotte Street; the CN Tower and the new condo M5V condo tower stand in the background. The King Charlotte building would, of course, block this Charlotte Street view of the CN Tower.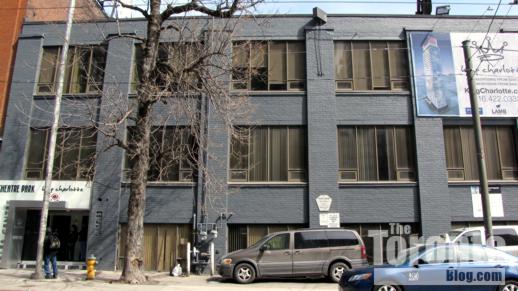 March 29 2011: A view of 11 Charlotte from the west side of the street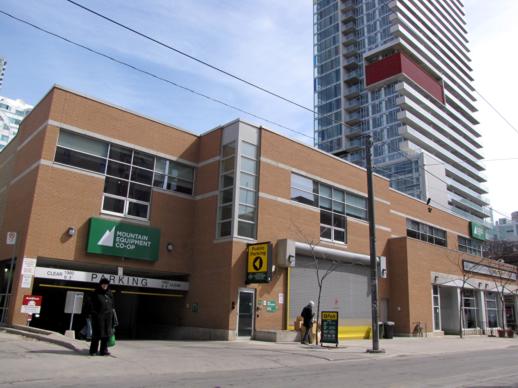 March 29 2011: The Mountain Equipment Co-Op store on King Street West will be King Charlotte's next-door neighbour to the south.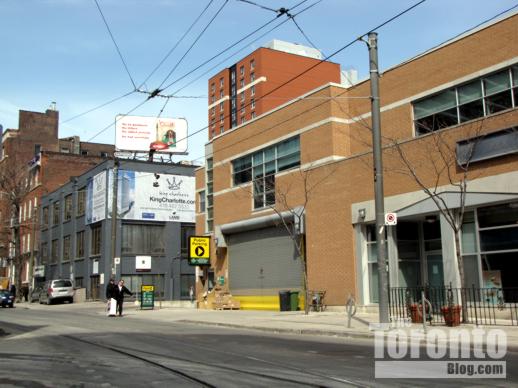 March 29 2011: King Street view of the 11 Charlotte Street condo development site; the Mountain Equipment Co-Op store on King is the brick building at right.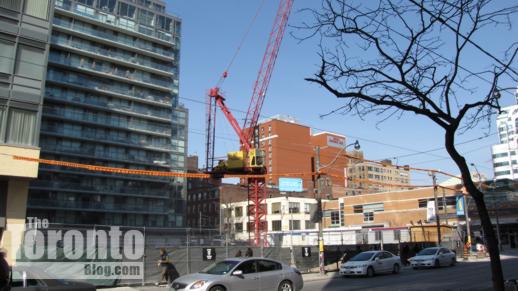 March 11 2010: King Street West view toward Charlotte Street. The King Charlotte condo site is the white building with the turquoise sign on its roof (in the middle of the photo). The construction crane is building Charlie Condos at the corner of Charlotte and King; the Glas condominium midrise stands to its immediate north.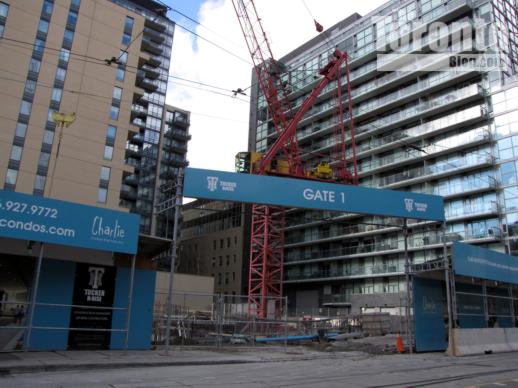 November 23 2010: Charlie Condos construction site and Glas Condos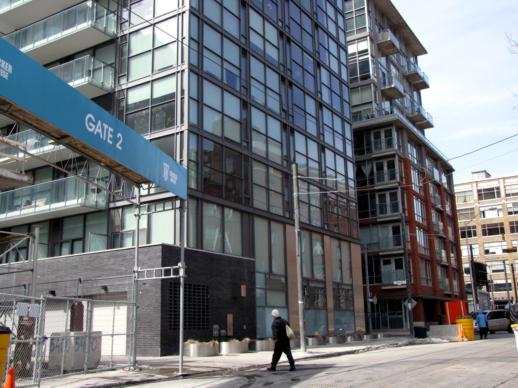 March 29 2011: The Charlie Condos construction site, left, Glas condos, center, and The Charlotte condos on the west side of Charlotte Street north of King.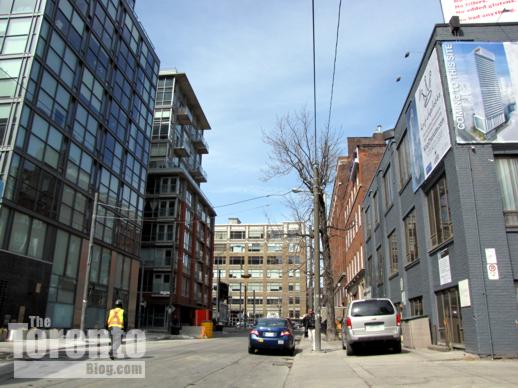 March 29 2011: Looking north on Charlotte Street toward Adelaide Street from outside the King Charlotte condo development site (right).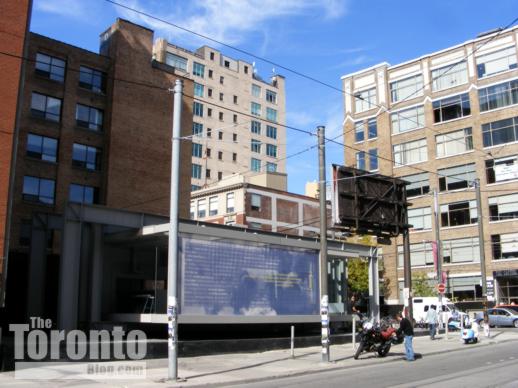 September 26 2008: The Langston Hall condo sales centre at the northwest corner of Charlotte Street and Adelaide Street West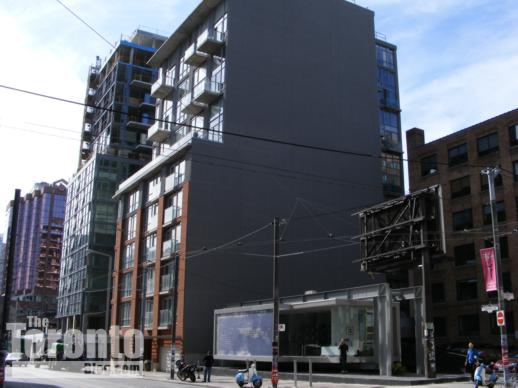 September 26 2008: Adelaide Street West view down Charlotte Street towards the Langston Hall condo sales centre, The Charlotte Condos, and Glas Condos.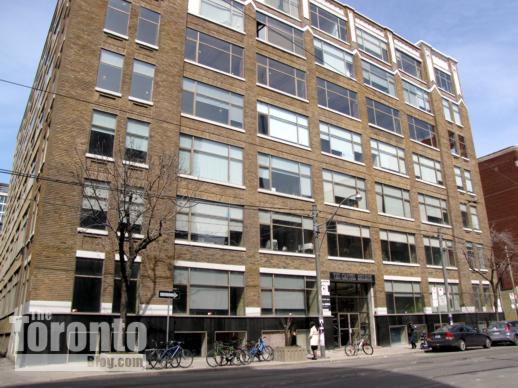 March 29 2011: The Capitol Building at 366 Adelaide Street West (also known as the Hobberlin Building, from 1920) faces directly down Charlotte Street.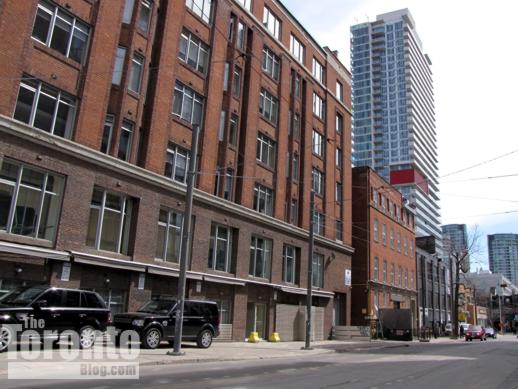 March 29 2011: Adelaide Street view of the east side of Charlotte Street.  The 8-storey brick building at left is the MacLean Building at 345 Adelaide Street West, a city-listed heritage property dating from 1914.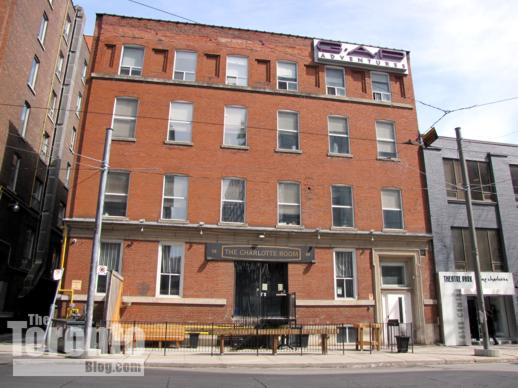 March 29 2011: This 4-storey brick warehouse building sits at 19 Charlotte, next to the King Charlotte site. It's home to a billiard hall, restaurant and offices.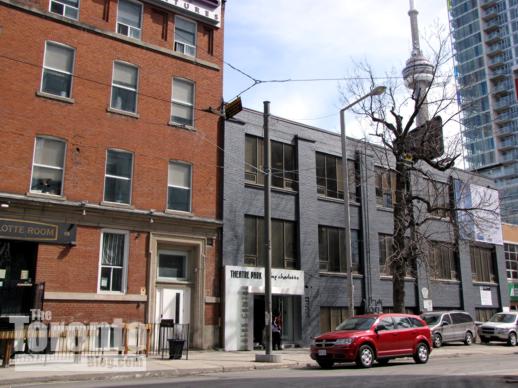 March 29 2011: 19 and 11 Charlotte Street, viewed from across the road
March 29 2011: Front view of the King Charlotte development site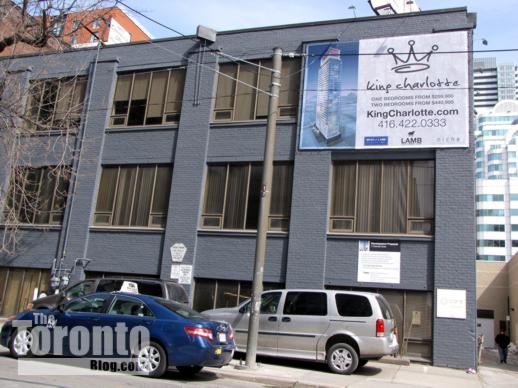 March 29 2011: South side of the King Charlotte development site. A laneway runs between the building and the Mountain Equipment Co-Op store to the south.