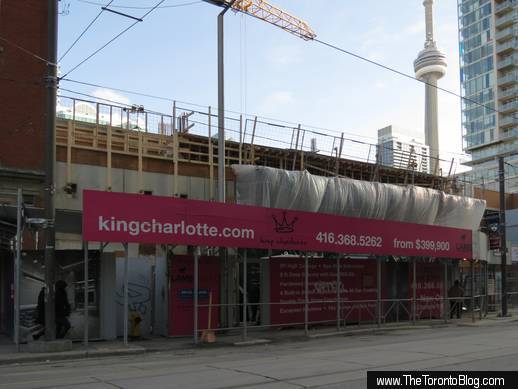 November 28 2013: Construction on the King Charlotte condo tower has climbed above the hoarding on Charlotte Street in the Entertainment District
Get stacking: The last time I passed by the King Charlotte condo tower construction site with a camera in hand was on a cold afternoon back in February. Work on the 32-storey tower was still in its early stages; in fact, the excavation for the building's 13-meter-deep, 4-level underground parking garage was less than half complete.  The entire construction site was dusted with a light layer of fresh snow.
I saw the site a couple of times during the summer, while work on the parking garage was proceeding, but didn't make to Charlotte Street with a camera until several days ago. This time I discovered that the building is now rising above ground, with construction well underway on the main floor, which will eventually house retail and commercial space.
Over the course of the next 8 months or so, it will be interesting to watch the construction progress and see how the Entertainment District's newest point tower literally stacks up — Peter Clewes of architectsAlliance has designed the building as a vertical series of variously-sized boxes.
"The boxes stack upon each other, and not necessarily in a fashion that one might initially imagine," Lamb Development Corp. president & CEO Brad J. Lamb notes in a project description on the King Charlotte condominium website.
"The retail box protrudes from the podium box, the tower box appears to teeter and overhang the podium box, and the oversized rooftop amenity box actually does overhang the tower box. It is all very playful, yet incredibly clean and crisp," he writes.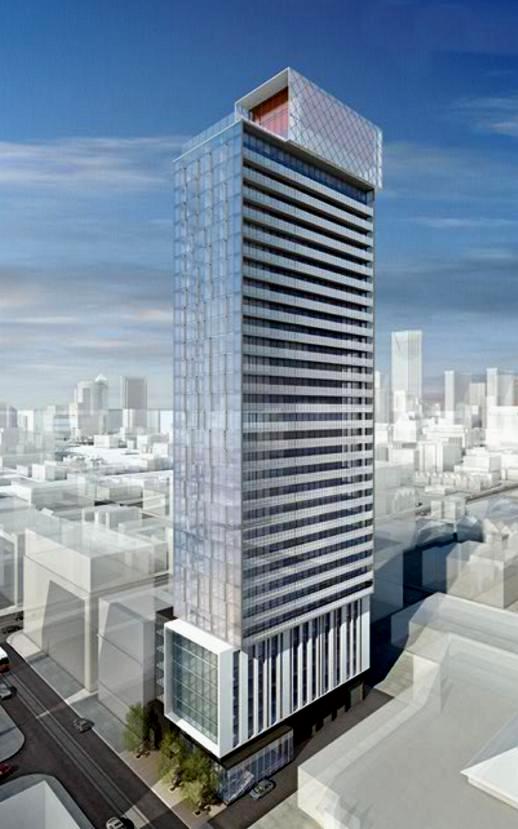 The King Charlotte condominium tower was designed by Peter Clewes of architectsAlliance. This rendering appears on the King Charlotte project website.
 CONTINUED ON PAGE 2