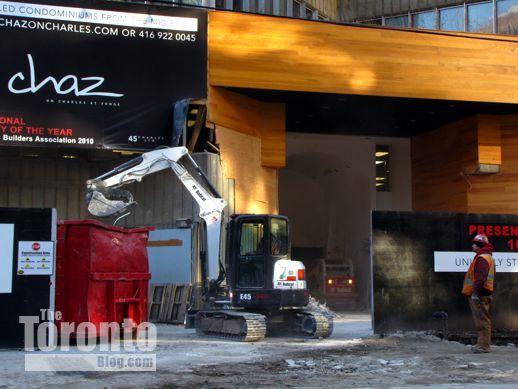 December 8 2011: An excavator loads a dumpster with rubble collected from inside the entrance to 45 Charles Street East. The mid-1960s-era office building is being demolished to make way for construction of the Chaz.Yorkville condo tower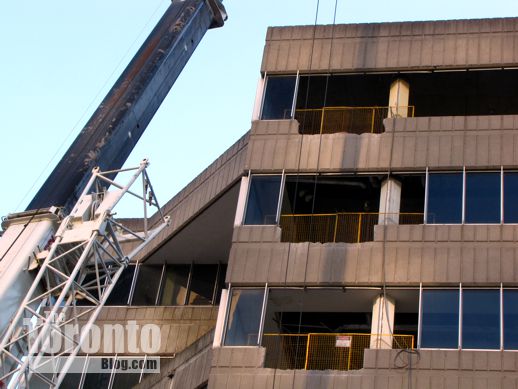 December 8 2011: Sections of windows and concrete walls have been removed from the north side of the office building
Coming down: Demolition crews have begun dismantling a distinctive Modernist office building on Charles Street East to make way for a sleek glass condo tower — the third new skyscraper to rise on the block between Church and Yonge Streets in the past several years.
The angular concrete building at 45 Charles East was designed by architect Macy Dubois, who died in 2007 at age 77. The 8-storey office complex, which was built 45 years ago, will be replaced by a condo that could be anywhere from 39 to 47 storeys tall.  I say "could" because the final height is literally still up in the air. The project developers, 45 Charles Ltd. and Edenshaw Homes Limited, initially obtained city approval to build a 33-storey condo. Two years ago, City Council approved a request for permission to add six more floors, for a total of 39. In July, the developer sought approval to construct 8 more storeys, for a total of 47. As I reported in a November 8 2011 post, Toronto and East York Community Council (TEYCC) ordered city planners to hold a community consultation meeting last month to get public feedback about the proposal. The planners are expected to report back to TEYCC early in 2012.
The final floor tally for the tower isn't the only part of the project that has changed — so has its name. Initially marketed as Chaz on Charles, the condo is now being sold as Chaz.Yorkville, reflecting its proximity to the tony Yorkville neighbourhood just two blocks to the north. The Chaz sales centre also has changed, recently moving from 45 Charles to 101 Yorkville Avenue.
Chaz.Yorkville was designed by Sol Wassermuhl of Page + Steele IBI Group Architects. The tower, however tall it winds up, will be built by PCL Constructors Inc., the developers revealed in a November 28 2011 annoucement.
Below are some building illustrations from the revamped Chaz.Yorkville website, along with several photos I shot this afternoon of demolition activity at 45 Charles.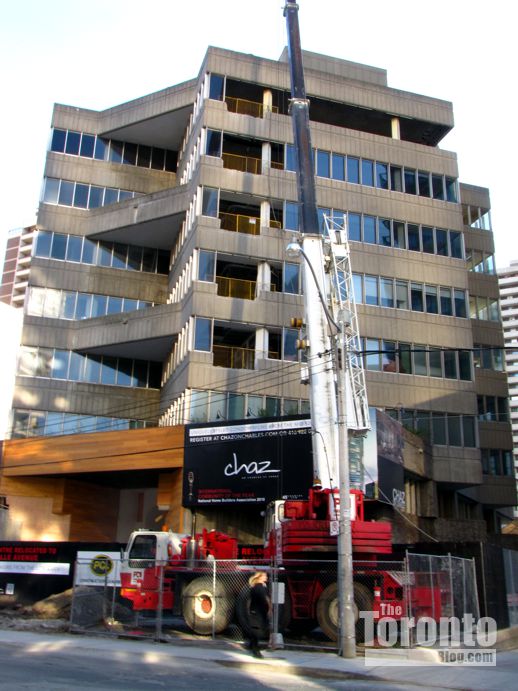 December 8 2011: A portable crane stands outside 45 Charles, where crews have begun interior demolition work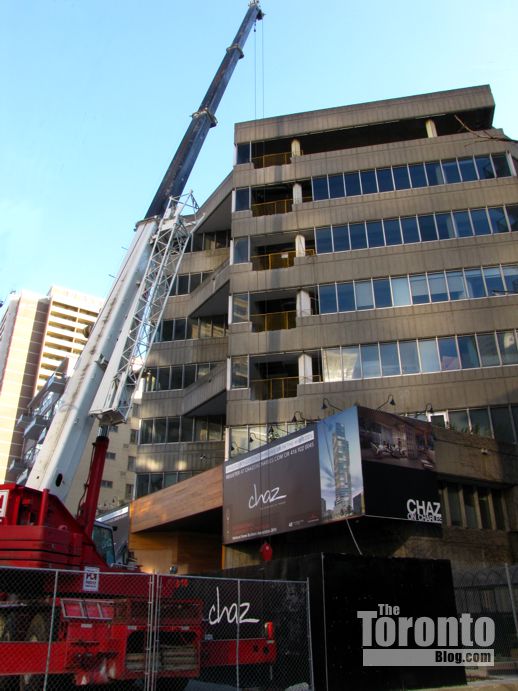 December 8 2011: Another view of the crane and sections of the building where windows have been removed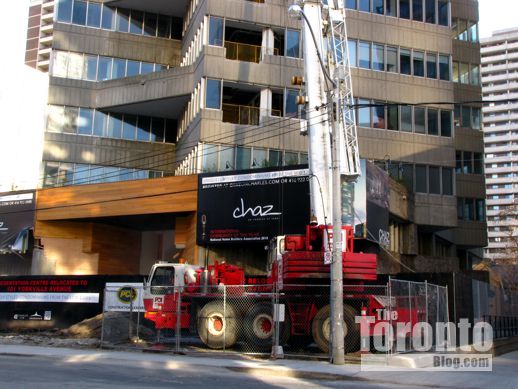 December 8 2011: The Chaz condo sales centre has been relocated from this building to 101 Yorkville Avenue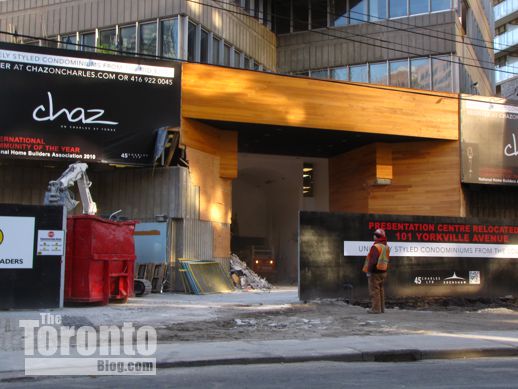 December 8 2011: An excavating machine enters the former front door of the building to collect another load of rubble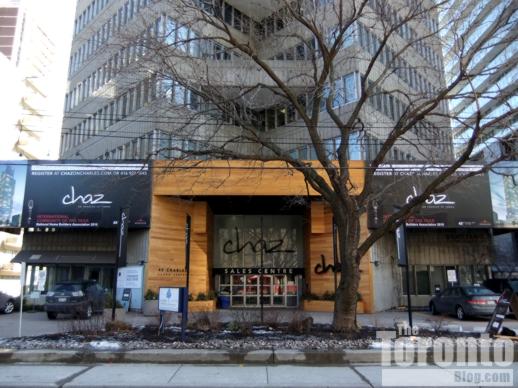 This was how the building entrance, seen here on February 28 2011, used to look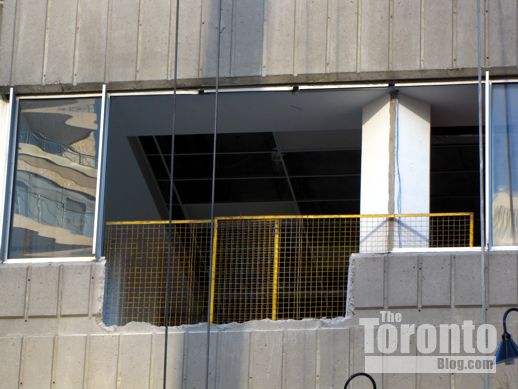 December 8 2011: A closer view of one of the floors where demolition crews have begun dismantling the building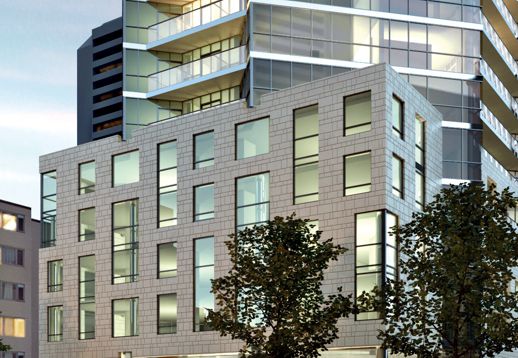 This rendering of the tower's 5-storey, limestone-clad podium appears on the recently-revamped Chaz.Yorkville website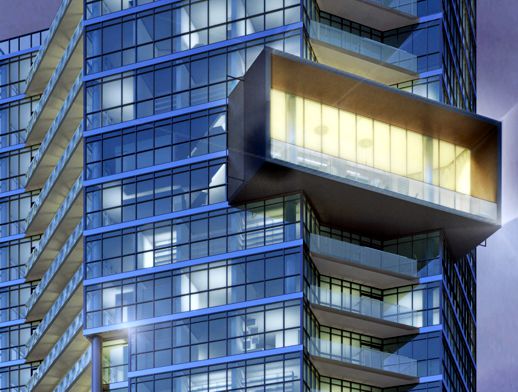 This rendering, also from the Chaz.Yorkville website, depicts the 2-storey Residents' Private Chaz Clubon the 36th and 37th levels of the tower's south side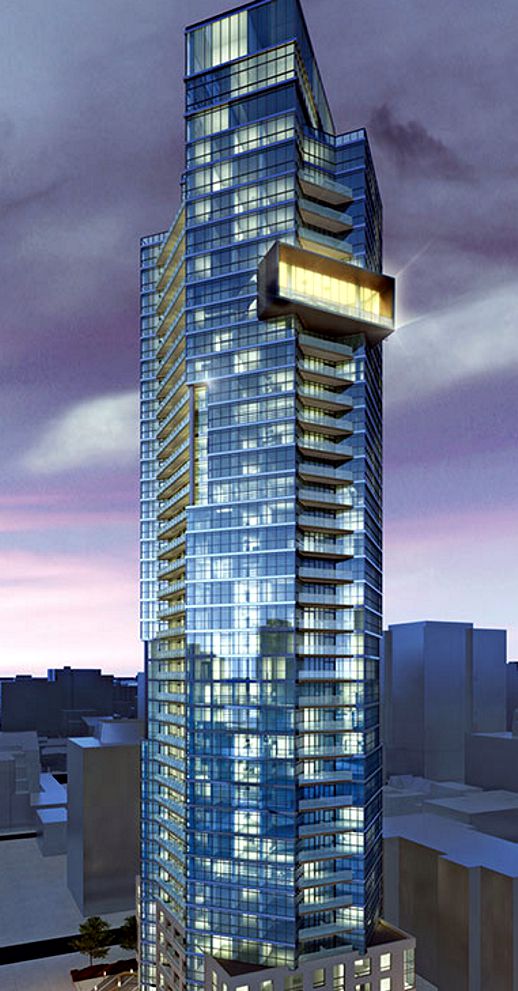 Also from the Chaz.Yorkville project website is this illustration of the condo tower, which was designed by Sol Wassermuhl of Page + Steele IBI Group Architects.