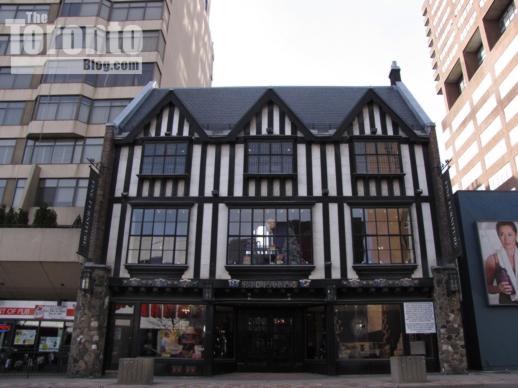 A condo/hotel project is planned for the Ridpaths location on Yonge St.
Two towers: Toronto's in the midst of a hotel building boom. As I mentioned in a recent post, the brand-spanking-new five-star Ritz-Carlton is scheduled to open next month, while three more high-end hotel/condo skyscrapers — the Four Seasons in Yorkville, the Living Shangri-La on University Avenue at Adelaide Street, and the Trump International Hotel and Tower at Bay and Adelaide Streets — are under construction and changing the city skyline already. The newest Le Germain boutique hotel opened at Maple Leaf Square a few months back, while a handful of other hotel properties (smaller and less expensive than the five-stars) are in the works for several downtown locations.
Now, another hotel/condo complex is being proposed for Yorkville near the new Four Seasons, on the site of the venerable Ridpaths furniture store on Yonge Street across from Canadian Tire. A developer wants City approval to build a 35-storey hotel/condo tower that would "partially" retain the existing Ridpath's building on Yonge Street. A second tower — a condo building with 28 storeys — would be constructed on what is now a customer parking lot behind Ridpaths, accessed from McMurrich Street.
The complex would have 206 residential units; however, the application (as described on the City's development applications website) does not indicate how many hotel rooms are planned.
In a November 2010 update on its website, The Greater Yorkville Residents' Association (GYRA) said  it plans to meet with Ward 27 councillor Krystyn Wong-Tam "to suggest a working group be formed for residents and other members of the Bloor-Yorkville Community to be actively engaged throughout the application approval process."
I'm curious to know if the developer plans to keep only the Tudor-style Ridpaths facade, or part of the actual store. If Ridpaths could somehow remain in operation on the premises (unlikely, I know), condo purchasers would get to enjoy furniture shopping only an elevator ride from their apartments.  Imagine the decadent convenience of not needing to bundle up in warm winter coats and boots when you want to go browsing for a new bedroom set or coffee table in the middle of February!
Below is a pic of the zoning application sign outside Ridpath's, and a shot from McMurrich Street of the parking lot where a condo tower would rise.