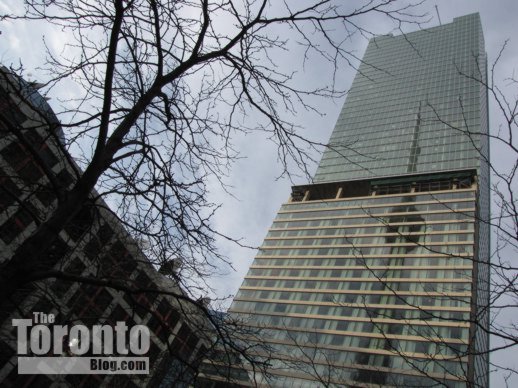 CN Tower reflects on Ritz-Carlton Toronto tower on November 29 2010
Lifestyles of the Ritz and famous: The soaring glass and limestone skyscraper with its distinctively sloped upper floors has already taken its elegant place on the city skyline. Now, with guests scheduled to begin arriving within just a few weeks, the Ritz-Carlton Toronto is set to make a spectacular splash on the city's five-star hotel scene, too. Standing 53 storeys, the Ritz-Carlton is the first of four new high-end hotel/condo towers that should finally put Toronto on the radar of affluent travellers around the globe during the next two years.  (The others, currently under construction, include the Trump International Toronto, the Four Seasons Toronto Hotel + Residences, and Living Shangri-La Toronto.)
Seems it wasn't so long ago that members of the International Olympic Committee, when considering Toronto's ultimately unsuccessful bids to host the 1996 and 2008 Summer Olympics, complained that the city was sorely lacking in upscale accommodations. Moreover, Toronto hotels have rarely appeared on any of the annual lists that top international travel publications compile of the world's best hotels. In November, for instance, Toronto failed to get a single hotel on the Conde Nast Traveler "Best in the World 2010" list, and didn't even make it onto the magazine's "Top 20 Resorts in Canada" ranking. Toronto hotels similarly didn't make the upper cut for Conde Nast's "Gold List" of the world's best hotels and resorts, released in January. And just this week, Toronto Star Travel Editor Jim Byers blogged that only one hotel in all of Canada made it onto the American Automobile Association's list of five-diamond hotels in North America for 2011 — and it wasn't in Toronto, of course (it was the Four Seasons at Whistler, B.C.).
But if the attentive staff at the Ritz-Carlton Toronto make an impression, the constant snubbing of Toronto's hotels should come to an end. The hotel website says the Ritz-Carlton Toronto will open in February, offering "a world-class spa, exceptional dining, impeccable service and 267 luxurious guest rooms and suites." I couldn't find room availability for any February dates when I used the hotel website's online booking form, but I did manage to find rooms starting as low as $455 per night in early March. (I didn't book, so I'll just have to settle for viewing the building from the outside.)
Some construction work is still in progress, as crews rush to complete the hotel entrance, lobby and lobby bar. Work continues on many of the ultra-expensive condo suites in the tower's upper levels while, on the exterior, the hotel's signage has still not been installed, and work is finishing up on a wide walkway between the Ritz-Carlton and the CBC headquarters to its west.
Two architectural firms collaborated on the project: Kohn Pedersen Fox (KPF) Associates Architects and Planners of New York and Page + Steeles Architects of Toronto.
Further details about the Ritz-Carlton Toronto building are provided in this fact sheet from the hotel. Below is an artistic rendering of the tower (from the Ritz-Carlton website), along with a series of photos I've snapped on recent walks past the building.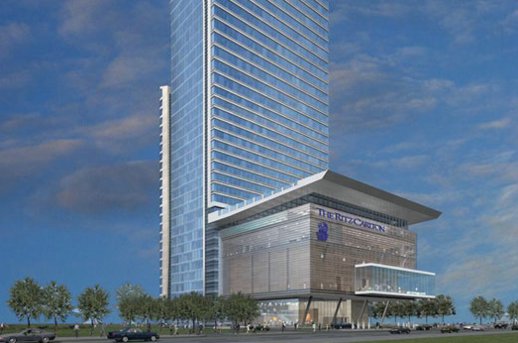 Hotel website rendering of the Ritz-Carlton Toronto tower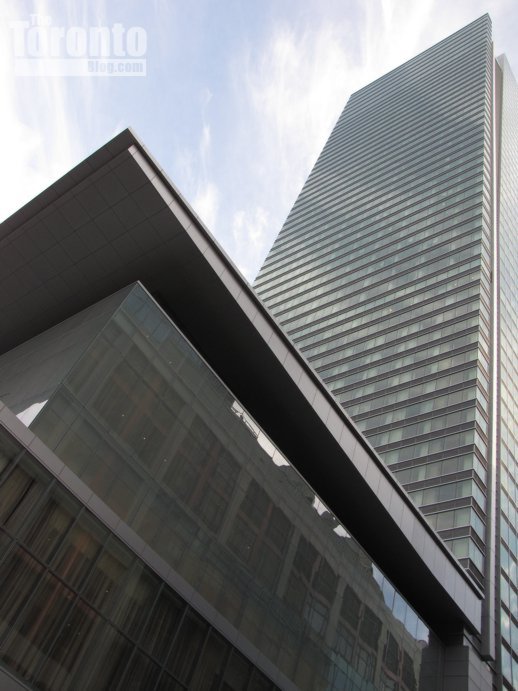 Ritz-Carlton Toronto tower viewed from Wellington Street on November 29 2010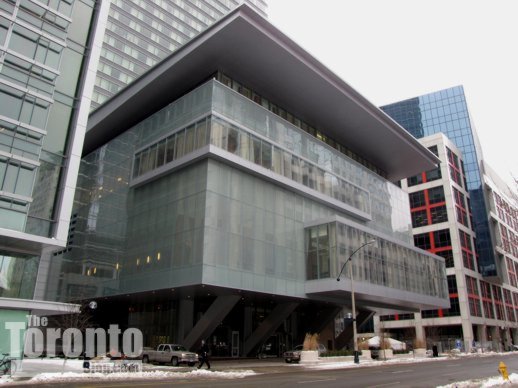 Ritz-Carlton Toronto viewed from Roy Thomson Hall on January 14 2011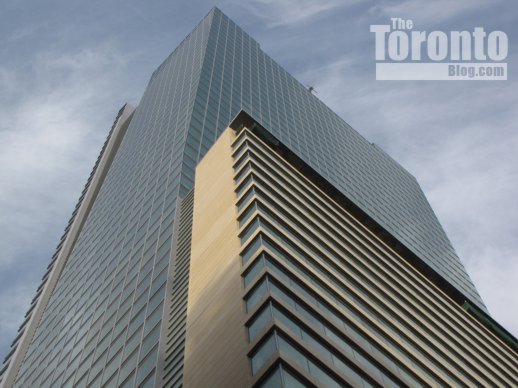 Ritz-Carlton Toronto tower southwest view on November 29 2010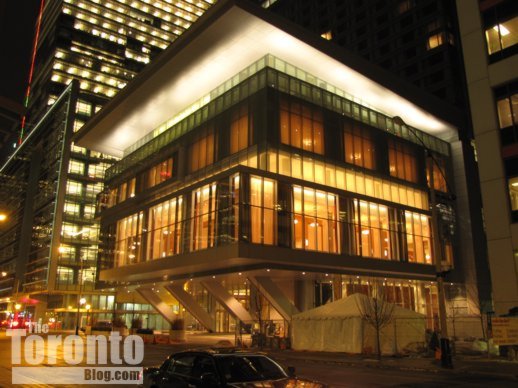 Ritz-Carlton Toronto viewed from Wellington Street December 16 2010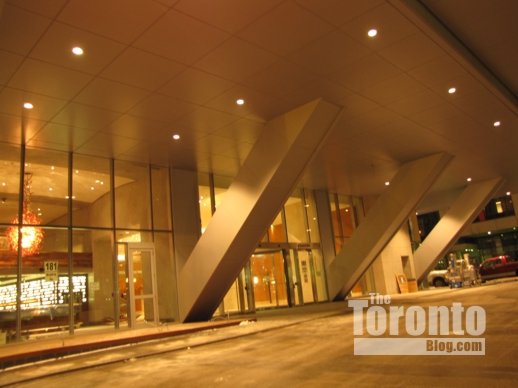 Ritz-Carlton Toronto Wellington Street entrance driveway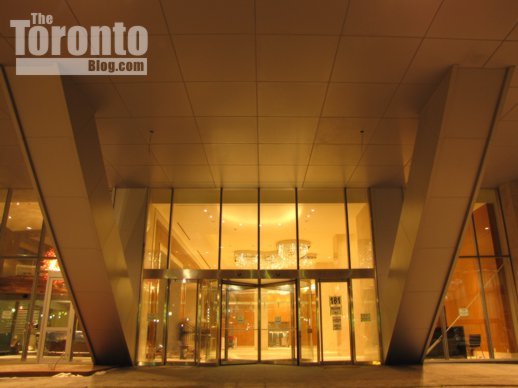 Ritz-Carlton Toronto front entrance viewed December 16 2010
Ritz-Carlton lobby awaits furniture installation on December 16 2010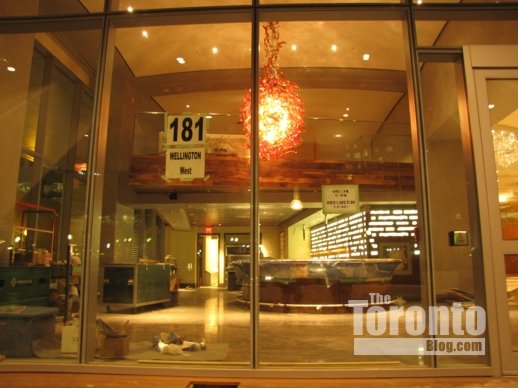 Ritz-Carlton lobby bar under construction December 16 2010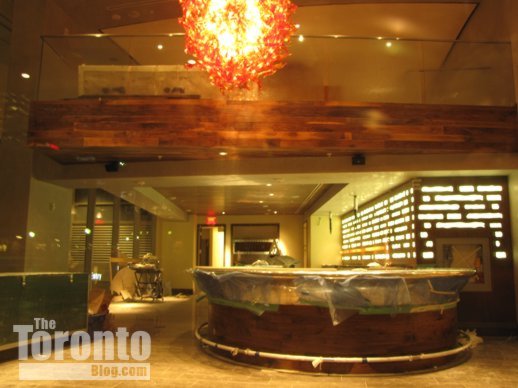 Ritz-Carlton lobby bar under construction December 16 2010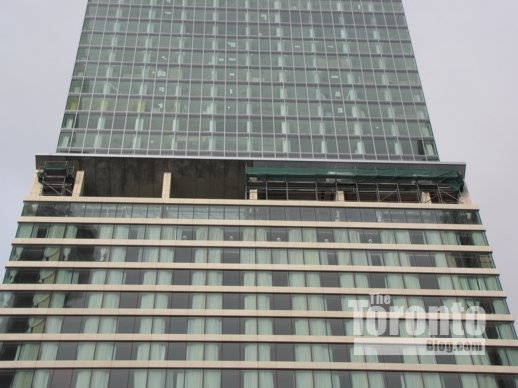 Ritz-Carlton Toronto hotel (lower windows with drapes) and condo residences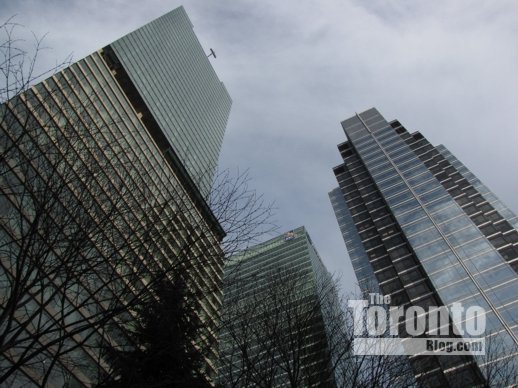 Ritz-Carlton Toronto neighbours RBC Centre (middle) and Simcoe Place (right)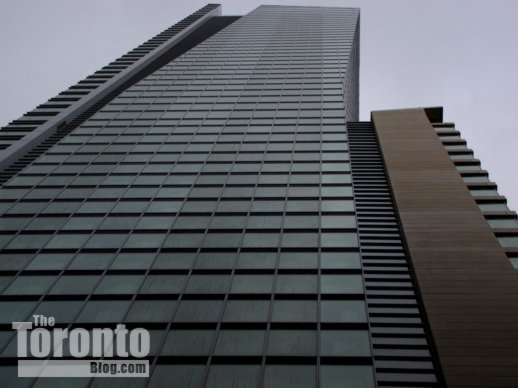 Ritz-Carlton Toronto tower west side view on January 14 2011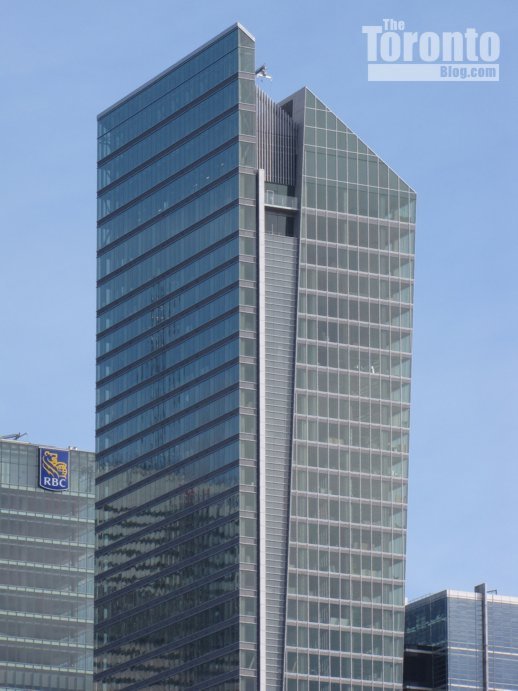 Ritz-Carlton Toronto tower northwest view on November 29 2010