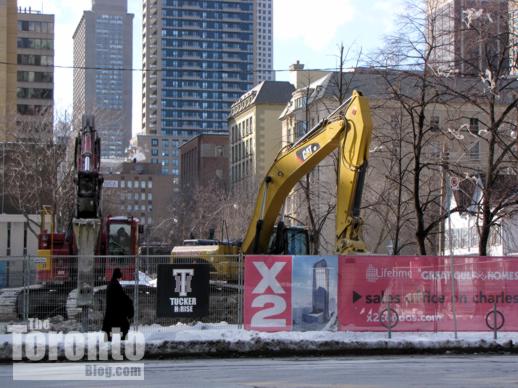 The earth is moving at the X2 Condos project site
X2 marks its spot: I felt a touch of nostalgia when I saw a drilling machine and backhoe cutting into the snow-covered ground at the corner of Jarvis and Charles Streets this afternoon.
Don't know why, but I suddenly started thinking about the ugly three-storey office building that used to occupy the site. For the longest time it housed an overpriced Becker's convenience store and a sports bar called Caps that served awesome — but wickedly hot — BBQ chicken wings, good burgers and reasonably-priced beer. Caps was popular with sports teams as well as the cops who worked across the street in a police building that ultimately met its demise when the hugely popular 44-storey X Condominium tower started construction several years ago.
Eventually, the Becker's store and the bar closed down. The PizzaPizza company acquired the property, spruced up the building, and moved its headquarters inside. But the days of the PizzaPizza place were numbered. X Condos was a tremendous success; its units sold like gangbusters, leaving no doubt there was a strong demand for more condos in the immediate neighbourhood. It was obvious that the PizzaPizza property would be worth an absolute fortune as a condo tower development site. Inevitably, signs were posted on the property in 2008 to advise the neighbourhood that plans were afoot to build a 44-storey condo highrise there.
In November 2009, a sales office for X2 Condos was constructed on Charles Street on the site of two brick mansions that formerly housed law firms and other offices (properties that also would ultimately be demolished to make way for the condo highrise.) Demolition of all three buildings began last August, and throughout the autumn the lot sat empty while soil testing and other preliminary site preparation work was performed.
In the meantime, the city approved the developer's request to add more floors to X2, bringing the tower's total height to 49 storeys. Now, digging has begun in earnest on the northeast perimeter of the site.
Don't know why, but suddenly I'm craving beer and chicken wings! Too bad I can't walk up the street to Caps anymore.
Below is a rendering of the X2 Condo building (designed by Toronto's Rudy Wallman Architects, by the way), along with photos I've taken of the X2 site over the past three years. More photos can be viewed in an album accessible from the Photo Sets page of the blog (where you'll find another album with pictures showing the construction of X Condos, from site excavation to fully-finished and occupied tower.
Although X and X2 look a lot alike, as sisters usually do, X was designed by a different architect — Peter Clewes of Toronto's architects Alliance.)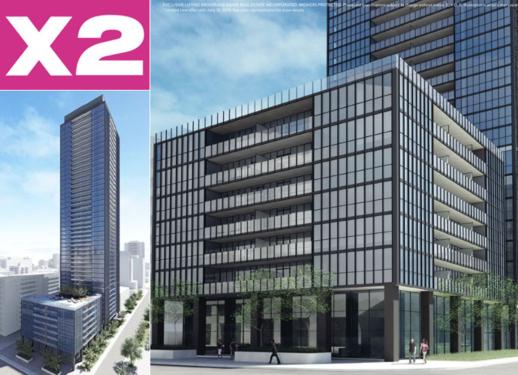 Artistic rendering of X2 Condo tower at the corner of Jarvis & Charles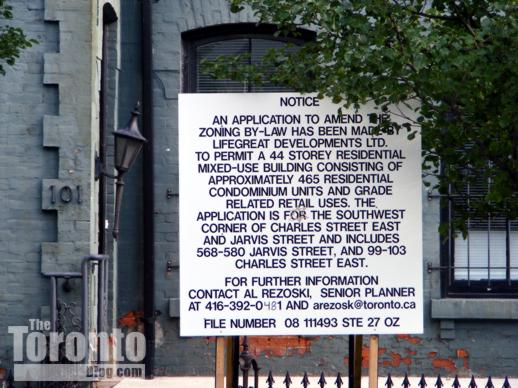 August 14 2008: Condo development proposal sign on X2 Condos site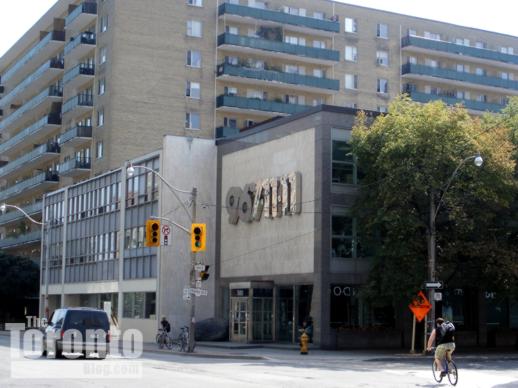 Sept 3 2008: View of the former PizzaPizza offices on the X2 site
Sept 3 2008: Jarvis Street view of the former PizzaPizza headquarters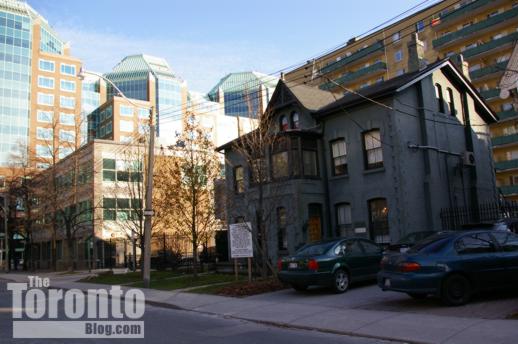 December 3 2008:  Charles Street view of the development site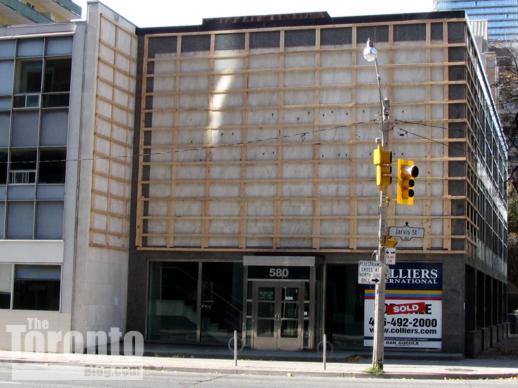 November 2 2009:  PizzaPizza building being prepared for demolition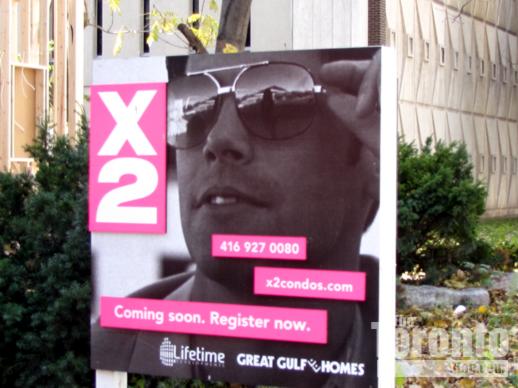 November 2 2009: X2 Condos sales office sign on Charles Street East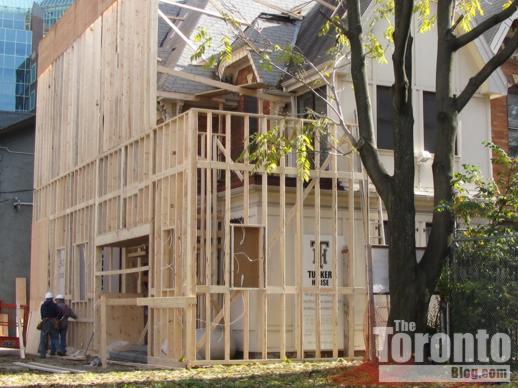 November 2 2009: X2 Condos sales office being constructed on the project site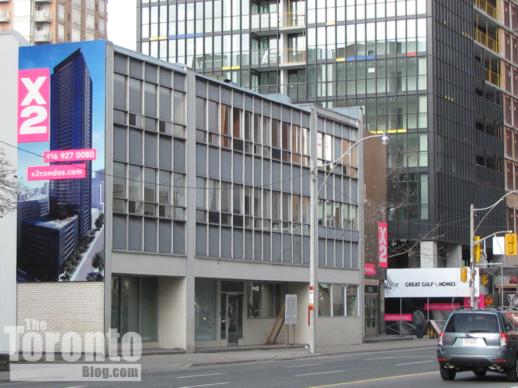 November 22 2009: X2 Condos marketing signs on the PizzaPizza building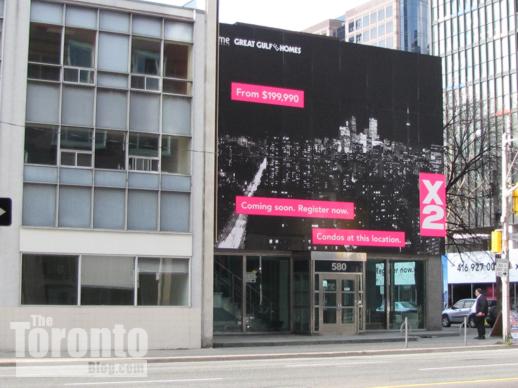 November 22 2009: X2 Condos marketing signs on the PizzaPizza building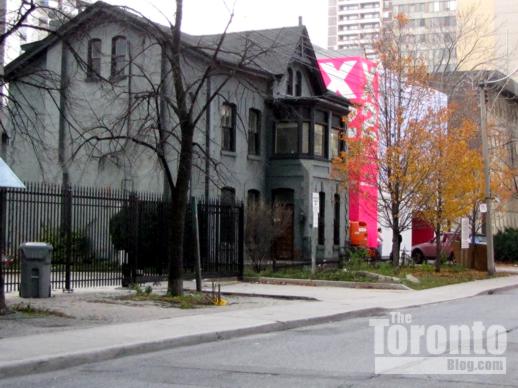 Bright pink signs on exterior of X2 Condos sales office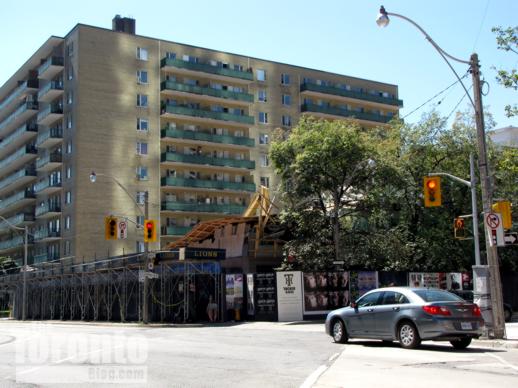 August 29 2010: Demolition of the PizzaPizza building underway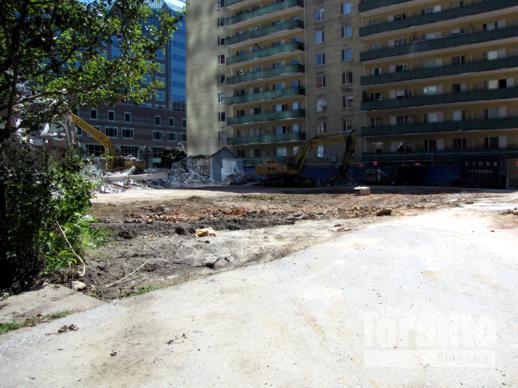 August 29 2010: Big empty lot behind the PizzaPizza building being demolished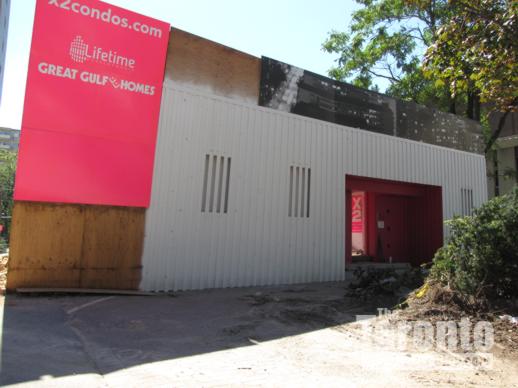 August 29 2010: X2 Condos sales office gradually being demolished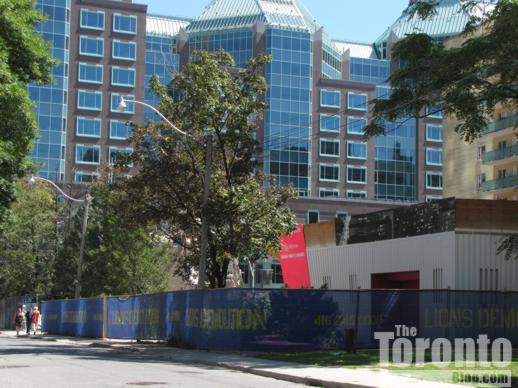 August 29 2010: Charles Street view of demolition activity at the X2 Condos site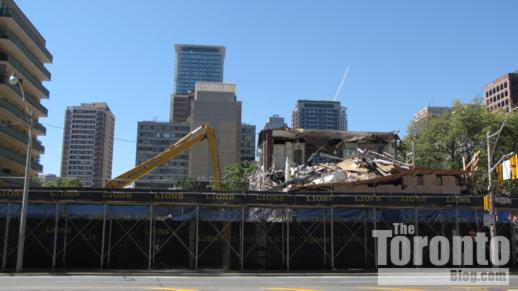 August 29 2010: Jarvis Street view of the PizzaPizza building demolition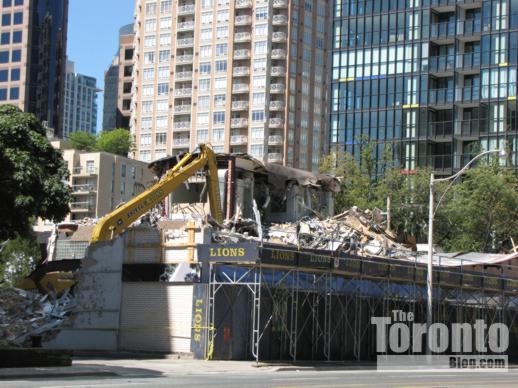 August 29 2010: Jarvis Street view of the PizzaPizza building demolition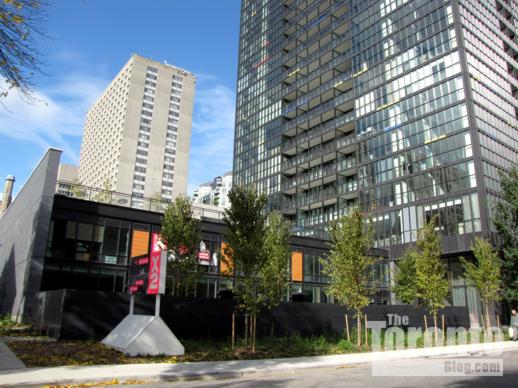 X2 Condos sales office in its new location: a townhouse at X Condos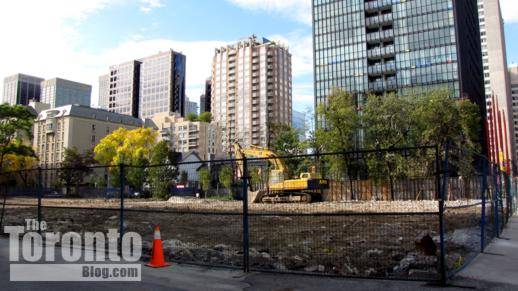 October 3 2010: View of the lot where X2 will be built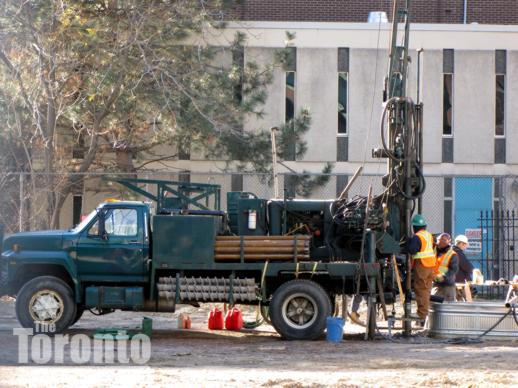 November 11 2010: Work crew tests soil conditions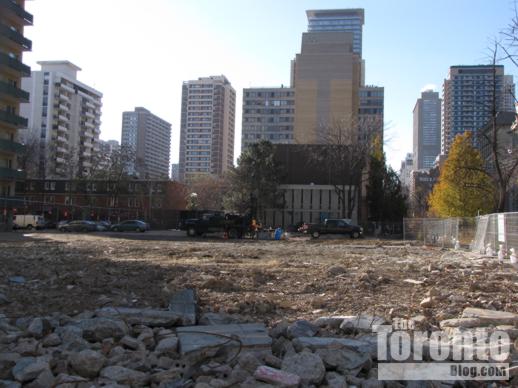 November 11 2010: Soil testing operations at the west end of the site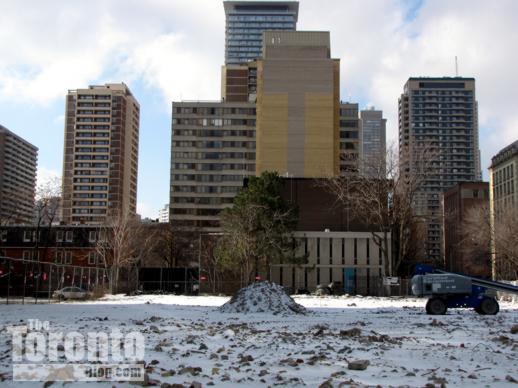 December 18 2010: X2 Condos site after a light snowfall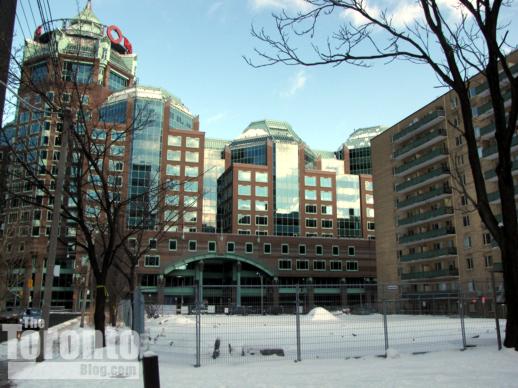 January 9 2011: A blanket of snow covers the X2 Condos site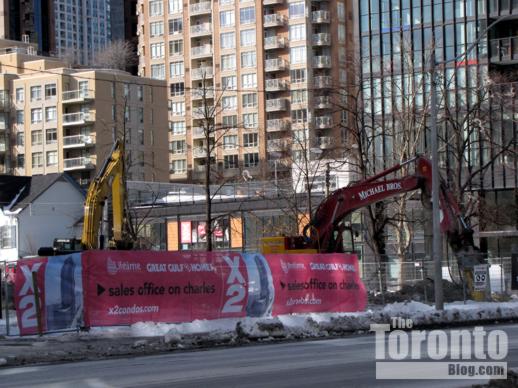 February 8 2011: Machines digging away at the perimeter of the property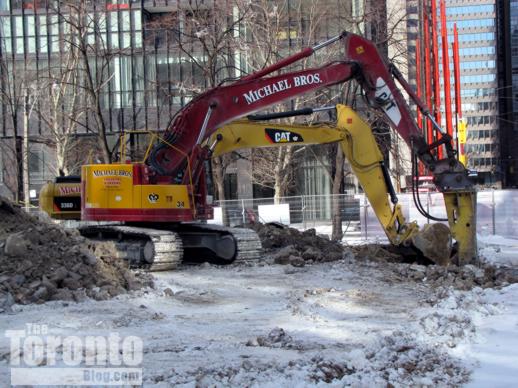 February 8 2011: Digging at the northeast perimeter of the X2 Condos site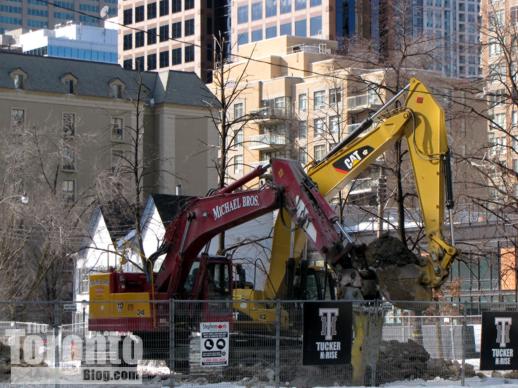 February 8 2011: Tag-team excavation activity on the  X2 Condos site