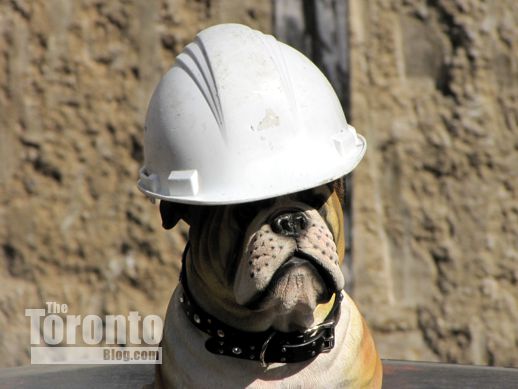 March 7 2012: This gruff-looking construction supervisor keeps his hardhat tipped over his eyes to cut the glare from the afternoon sunshine beaming down on the Theatre Park condo construction site on King Street West

Bulldog boss: I've occasionally seen dogs doing security duty at construction sites, but today marked the first time I've seen one wearing a white hardhat and supervising the humans working on an excavation for a condo tower project.
The stern-faced bulldog boss was sitting motionless on the roof of a black 4×4 parked at the south end of the Theatre Park condo construction site on King Street West, watching silently while workers in earth-moving machines continued making progress on the excavation for the 47-storey point tower.
While I was shooting the pooch's picture through a security fence on the west side of the site, several passersby came over to see what had caught my attention. Within moments, half a dozen people were pressing cellphones against the chainlink fence, snapping their own pics of the catatonic canine. Some actually thought the dog was real, including one woman who exclaimed : "Oh, he's so cute … but how does he manage to keep that helmet on his head?" One fellow started intently through the fence and said: "I think it's fake. It can't be real. I don't think they're allowed to bring pets to construction sites." Another said to me: "That's hilarious. It's great to see these guys have a good sense of humour. They've got a rough job." Or did he mean "ruff"?
Theatre Park is a project of Lamb Development Corp, Niche Development and Harhay Construction Management Ltd.  The condo tower was designed by architectsAlliance.
Below are a few more photos I snapped of the construction crew's bulldog mascot, along with a site photo I shot at the end of January when foundation drilling and shoring was underway. Those are followed by an artistic illustration, from the Theatre Park website, showing how the tower will look. More information, photos and illustrations of the project are provided in my January 5 2012 post and in my February 19 2011 post.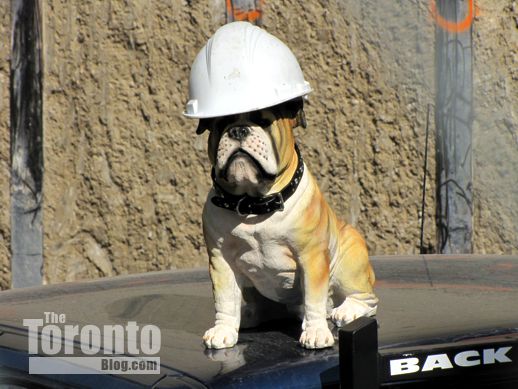 The plastic pooch basks in the sun from his perch on the roof of a truck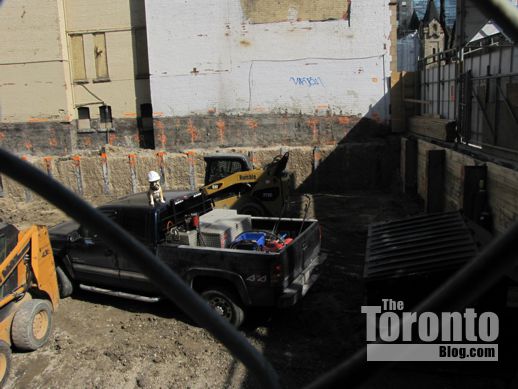 The 4×4 sits at the south end of the Theatre Park condo tower construction site, where crews have dug down more than six feet so far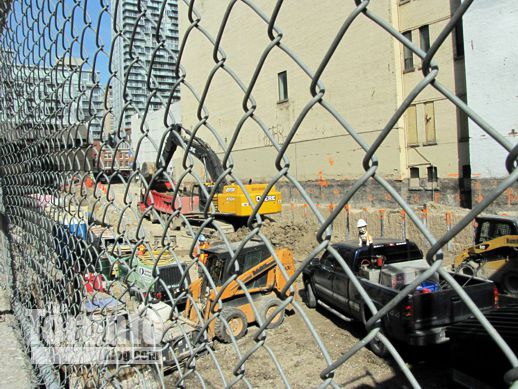 Overlooking the excavation through a chainlink fence at the southwest corner of the site, next to the Royal Alexandra Theatre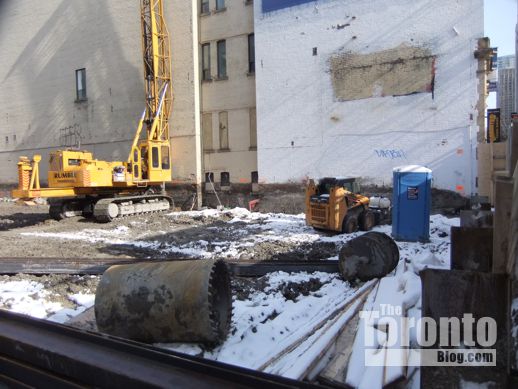 January 31 2012: A drilling rig works on the Theatre Park construction site after a light snowfall, one of the few Toronto experienced this winter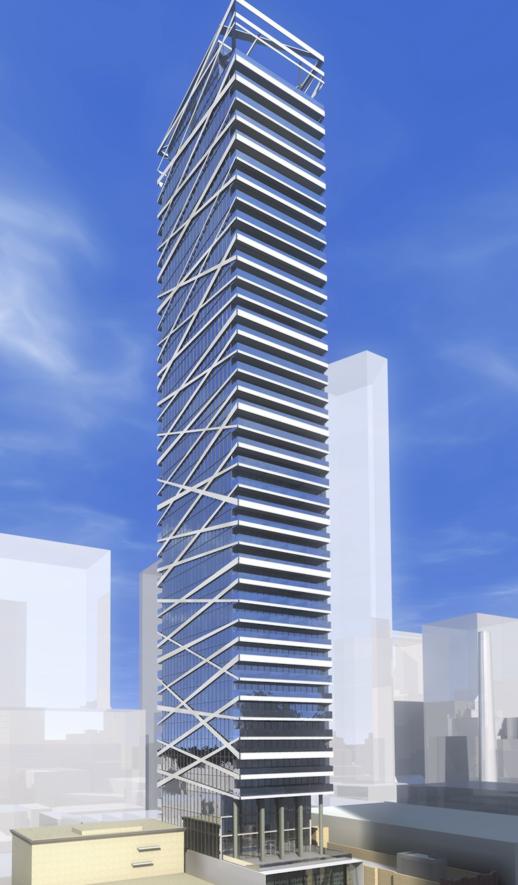 The 47-storey point tower was designed by architectsAlliance. This illustration appears on the Theatre Park website.