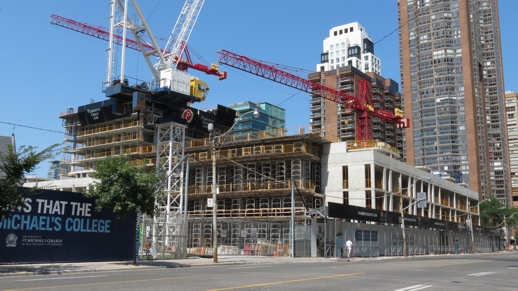 August 17 2013: Above-ground construction is still in relatively early stages, but the U Condos condo tower and luxury townhouse complex … 
… has already drastically transformed the southwest corner of Bay and St Mary Streets, seen here on September 26 2008 when a surface parking lot still occupied part of the development site
Strong presence: Construction of the U Condominiums complex is really beginning to turn heads on Bay Street now that one of its two towers is climbing steadily higher above its 3-storey podium and the concrete shells for luxurious townhouses that will wrap around three sides of the property.
Although passersby have been able to see above-ground construction activity since January, it has been only in recent weeks that the huge scale of the project — and the tremendous visual impact it will have on the neighbourhood — have become apparent.
The project's  townhouse component has noticeably changed the pedestrian experience on Bay Street, while the west tower — which has climbed more than six storeys on its way to 45 — already hints at how drastically it and the even taller east tower will change the neighbourhood skyline. (Construction of the east tower has so far reached only as high as the townhouses.)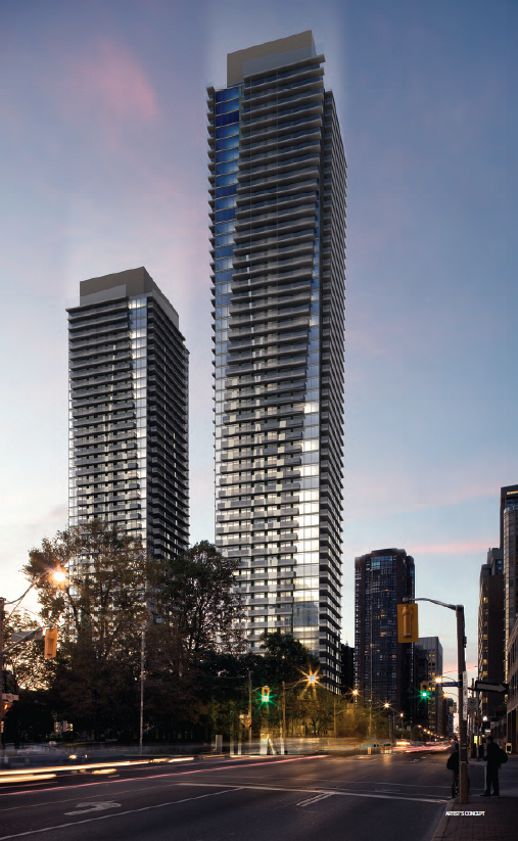 This artistic illustration, from an online promotional brochure that had been available on the U Condos website, shows how the completed towers will look when viewed from the same perspective as the two photos above.
CONTINUED ON PAGE 2