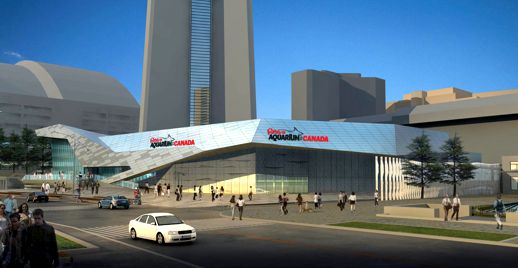 This artistic illustration shows how the new Ripley's Aquarium of Canada will appear when viewed from the east on Bremner Boulevard …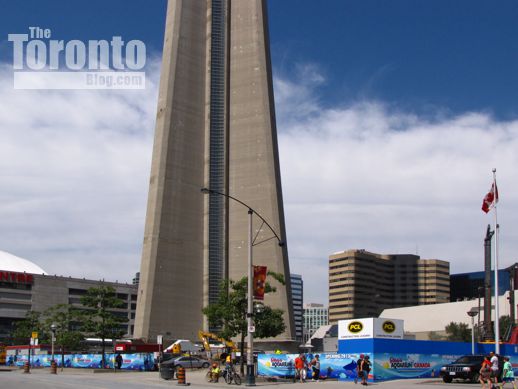 … while this photo from August 17 2011 shows hoarding around the aquarium site below the CN Tower, where construction has commenced
New tourist attraction: Construction of the new Ripley's Aquarium of Canada officially kicked off yesterday when government and corporate officials gathered at the Bremner Boulevard building site beneath the CN Tower to announce details of the $130 million project.
Scheduled to open in 2013 with 135,000 square feet of space, a capacity of 1.5 million gallons, and 13,500 sea creatures, the facility — Toronto's newest tourist attraction in years — will be one of the largest aquariums in North America.
Designed by Toronto's B+ H Architects, the 3-storey facility will feature a 750,000-gallon shark lagoon which visitors will be able to observe through an acrylic tunnel with a 315-foot moving walkway.  The aquarium will also have a tropical reef, exhibits for Great Lakes, Atlantic and Pacific habitats, a Marine and Freshwater Education Centre with classroom space, a restaurant and a gift shop.
Construction actually commenced several weeks ago when crews began clearing the site, a large grass- and tree-covered knoll situated between the CN Tower to the west and the Metro Toronto Convention Centre's south building to the east.
The aquarium has been in planning and discussion stages for quite some time, but a summer construction start appeared imminent when city news media reported last winter that various levels of government were negotiating financial incentives in a bid to land the Ripley's project for certain.  The City of Toronto is providing 12 years' worth of property tax incentives (an estimated $8- to $12 million) under its Imagination, Manufacturing, Innovation and Technology (IMIT) program, while the Ontario government is kicking in more than $11 million towards the construction costs. Canada Lands Company, the federal Crown corporation that owns the land on which the aquarium is being built, is also a partner in the project.  According to its president & CEO Mark Laroche, Canada Lands will spend "more than $10 million to redevelop the John Street corridor with new signage and other improvements that will increase and improve the flow of pedestrian traffic from Front Street to the site," improving the entryway to the aquarium, CN Tower and Rogers Centre.
Ripley's Aquarium of Canada is a division of Ripley Entertainment Inc., which already operates two other aquariums — one in Gatlinburg, Tennessee, and the other in Myrtle Beach, South Carolina. Ripley Entertainment is owned by the Jim Pattison Group, Canada's third-largest privately-held company. Extensive information about the Toronto project is available on the Ripley's Aquarium of Canada website.
Below are several artistic renderings and illustrations that the aquarium released to the media in connection with the official building launch ceremony, along with several photos I shot yesterday of construction activity at the site. Additional photos of the project site can be viewed in my February 23 2011 post, my first report on the Ripley's Aquarium.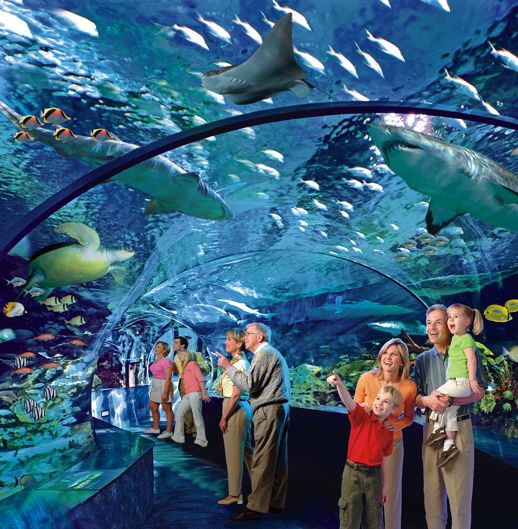 An artistic illustration of the 315-foot observation tunnel in the aquarium's 750,000 gallon shark lagoon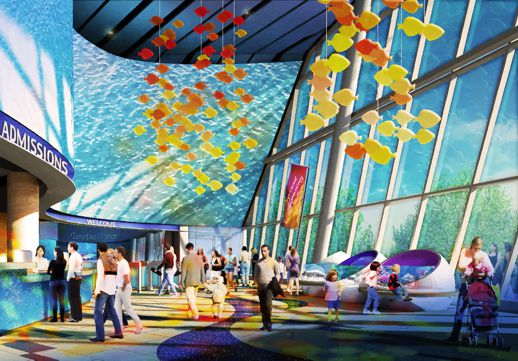 Artistic rendering of the Toronto aquarium's main lobby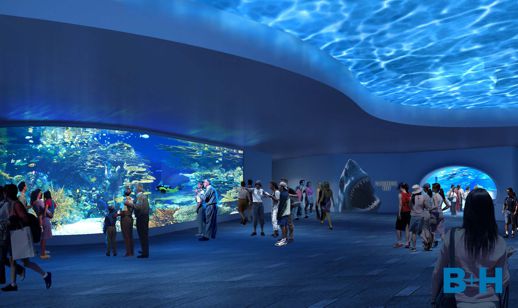 Artistic illustration of the aquarium's tropical reef. In total, the facility will feature more than 13,500 marine creatures from 450 species

Artistic rendering of how the Ripley's Aquarium will appear when viewed from the entrance plaza off Bremner Boulevard near the CN Tower …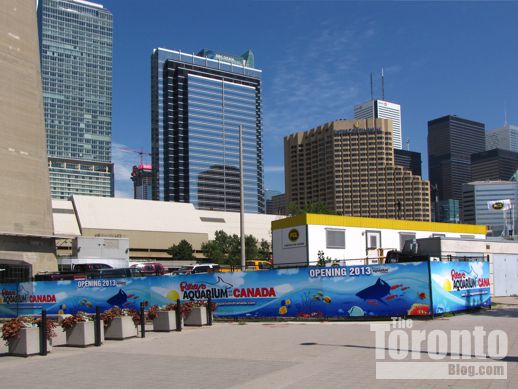 … and a view from yesterday of construction trailers and hoarding on the site of what will become the entrance plaza depicted above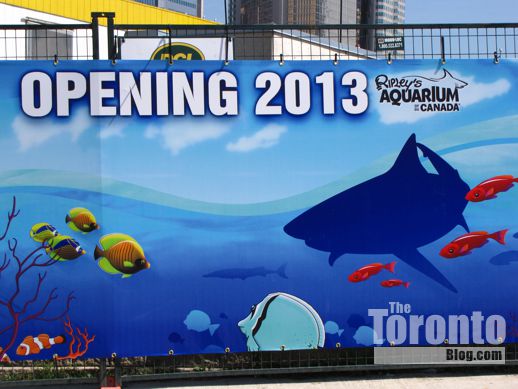 Promotional posters adorn the security fence around the construction site
Aquarium construction site viewed from the entrance plaza to the CN Tower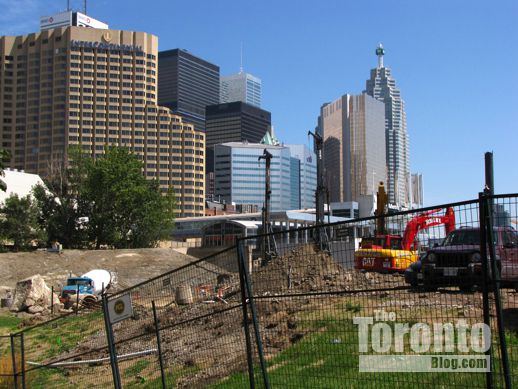 Excavation machines and foundation building equipment in action on the site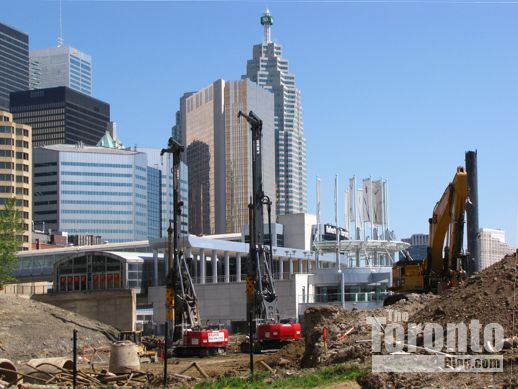 Two red and black machines drilling near the Convention Centre south building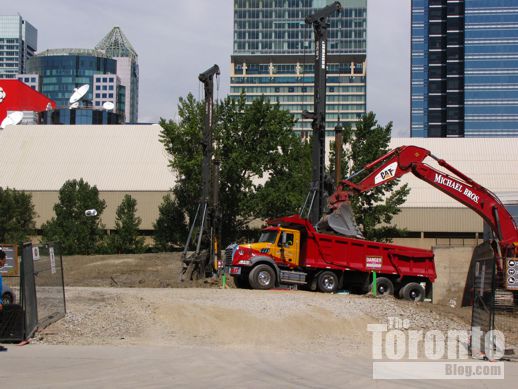 The construction entrance on Bremner Boulevard. The beige building to the immediate north of the work site is the Metro Toronto Convention Centre …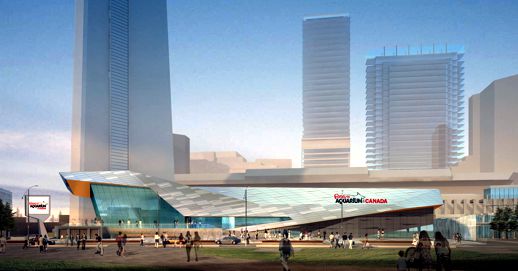 … and here's an artistic illustration of Ripley's Aquarium viewed from a similar perspective from Bremner Boulevard