Proposal would transform an entire block on Yonge
The report indicates that Stancorp Properties Inc. wants to redevelop the entire east side of Yonge Street, between Dundonald and Gloucester Streets. The low-rise buildings along that stretch of Yonge range from 2 to 3 storeys in height, and feature a variety of street-level retail shops and restaurants, as well as upper-level office and commercial space. Some of the buildings were built between the late 1800s and early 1900s, while two were constructed during the 1970s. The development site includes restaurant and retail properties at 2-4 Dundonald Street as well as two brick townhouses at  7-9 Gloucester Street. The townhouses would be retained and incorporated into the new development; however, extensions to the rear of each house would be demolished to make room for the new building. According to the planning report, none of the buildings on the development site are designated or listed as historic on the city's inventory of heritage properties.
The proposed new building would be designed by Toronto's Hariri Pontarini Architects, and would feature a 45-storey condo tower rising atop a 4-storey L-shaped podium containing two levels of retail and office space as well as indoor and outdoor amenities for the condominium residents. The tower's 513 units would include 23 studios, 390 1-bedroom units, 78 2-bedrooms, and 22 3-bedroom suites. There would be four levels of underground parking with space for 202 vehicles, as well as 529 parking spaces for bicycles. A site plan proposes retail patio space alongthe Dundonald and Gloucester Street flanks of the podium.
Proposal raises 17 different planning issues
The planners' preliminary report identifies 17 different issues posed by the development proposal, including its "integration" with the long-established low-rise residential neighbourhood to its east; its "interface" with the James Canning Gardens public park on its eastern flank; its "integration with the existing heritage context both on the site and in the area"; "retail unit size and ability to animate Yonge Street"; as well as "built form concerns" relating to "height and density of the proposal, separation distance from surrounding buildings, shadow impacts on surrounding properties, open space and massing issues" along with "setbacks, stepbacks, views, sky view, light penetration, privacy, wind mitigation and pedestrian realm weather protection."
Once they have reviewed the project and received feedback at the community consultation, city planners will prepare a final report for TEYCC consideration. The planners anticipate completing that report next spring. There is no word yet on when or where the public meeting might be held, but it should be scheduled for sometime in the next three months. The City routinely sends notices of public meetings to landowners and residents within 120 meters of a development site, or to a wider zone if requested by the area's City Councillor.
My August 28 2012 post included numerous photos of the development site and surrounding area. Below is another photo plus illustrations of the site plan and building elevations that appear in the September 17 planning report.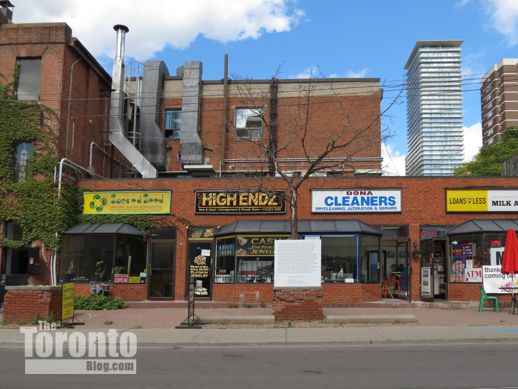 September 28 2012: A development proposal sign stands outside retail shops at 2 Dundonald Street. The new complex would feature retail patio space here, along with the residential entrance to the condo tower.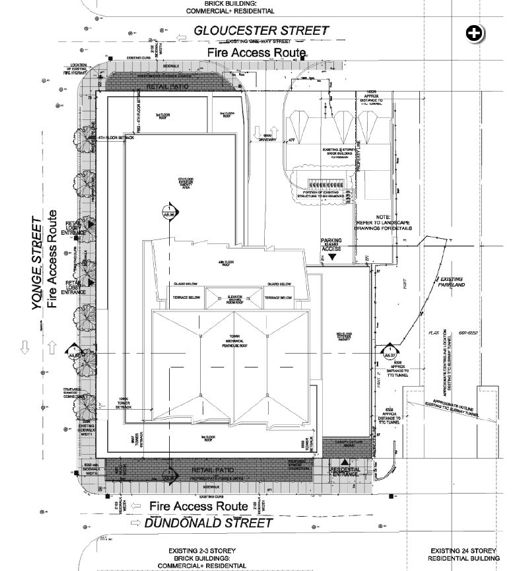 This site plan illustration appears in a September 17 2012 city planning report. Click on the image to view it in a larger format.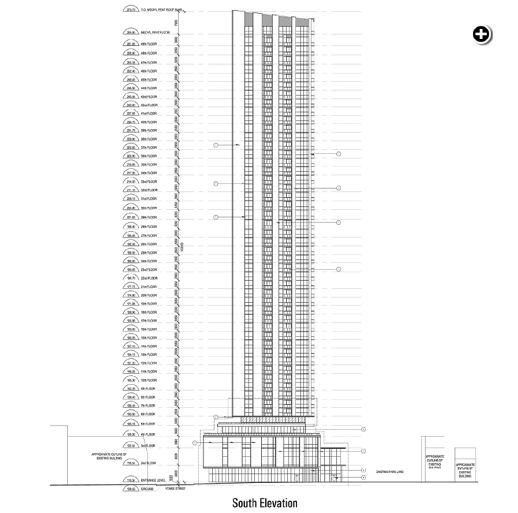 Also from the planning report, an illustration of the tower's south elevation …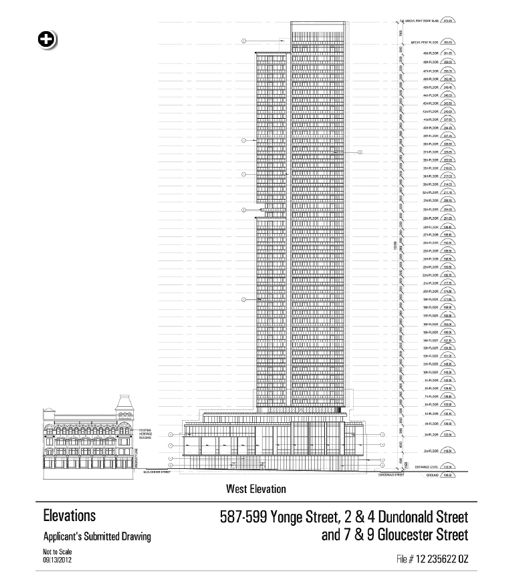 … and its west elevation. Click on the images to view them in larger formats.