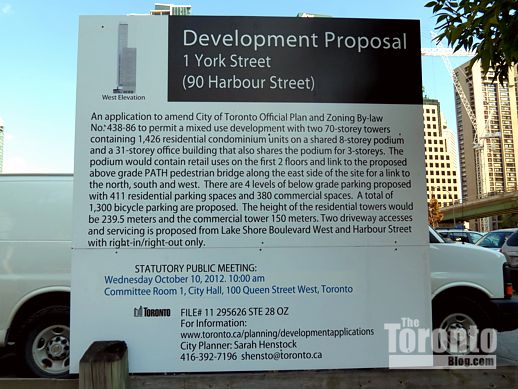 City planners have suggested the City give an official thumbs-up to a massive multi-use development project Menkes Developments Ltd. has proposed for a 1-hectare site at 1 York Street/90 Harbour Street. Their report recommends approval of a 37-storey office building, one 62-storey condo tower, and one 66-storey condo skyscraper — a significant revision from the original plan described in the development proposal sign posted on the property.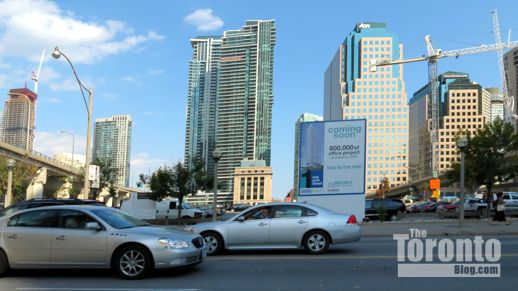 October 4 2012: Looking east from York Street. The development site extends to the property line near the historic 6-storey Toronto Harbour Commission building at 60 Harbour Street. The heritage building was constructed in 1917.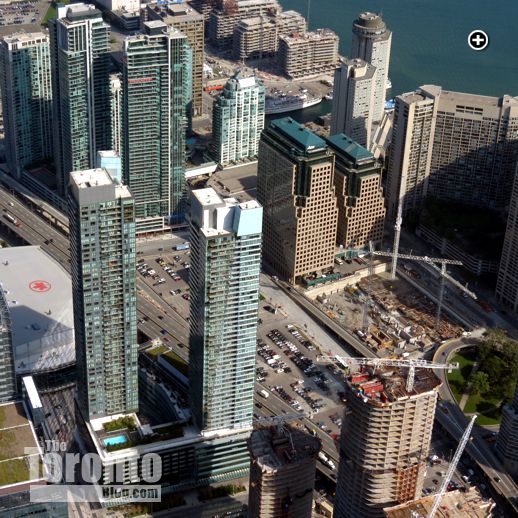 September 25 2012: CN Tower view of the 1 York/90 Harbour development site, presently a surface parking lot (near center of photo).  To its right is the construction site for the 30-storey RBC WaterPark Place office building. Visible in the bottom right corner of the photo are the two ÏCE Condo towers and the Infinity3 condo complex under construction between York and Lower Simcoe Streets. At left are the 50- and 54-storey condo towers of Maple Leaf Square. Click on the photo to view a larger-size image.
Island bridge: City planners are recommending approval in principle of a proposal to develop a piece of prime real estate on Harbour Street into an office and condo complex with three towers ranging in height from 37 to 66 storeys.
The planners' September 21 2012 report to Toronto and East York Community Council (TEYCC) says redevelopment of the 1-hectare parcel at 1 York Street/90 Harbour Street — essentially an "island" of property between the Financial District and the Central Waterfront area — would "contribute to the City's economic base, enhance the public realm of the Central Waterfront and help connect a key site in the downtown to its local context."
The property already has been identified, in the City's Official Plan as well as a Secondary Plan, as being "underused and in need of revitalization from its present use as parking lots and surrounded by highway ramps to something more vibrant and contributory to the community," the planners observed in their 67-page report.
CONTINUED ON PAGE 2