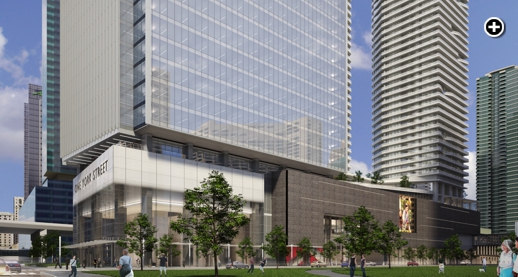 This artistic rendering depicts a view from the southwest of the One York Street office building and the Harbour Plaza Residences condo towers that Menkes Developments Ltd. is constructing in the south downtown core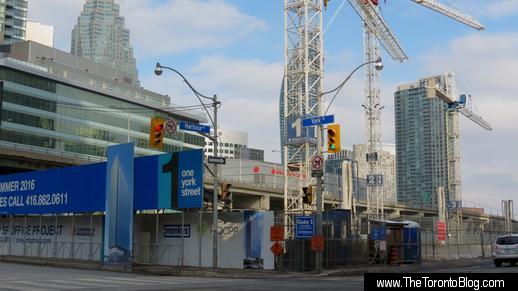 January 18 2013: So far, only cranes and hoarding are visible at the construction site, as seen here from the southwest corner of York and Harbour Streets…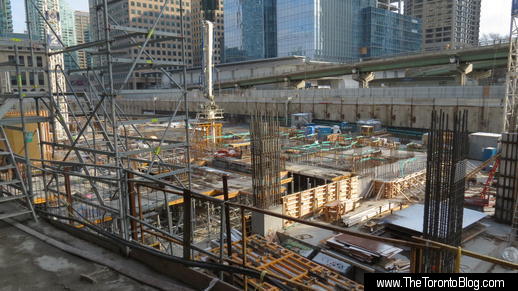 … but what passersby can't see is that, behind the hoarding, construction of the underground levels for the office & condo complex is nearly at street level
Approaching grade: It won't be long before the landmark Menkes condo and office tower development at 1 York Street and 90 Harbour Street begins to rise from the ground and significantly transform the entire look and feel of the southeast downtown core.
Hidden behind hoarding and not readily visible to most people passing by, work has been progressing quickly on the underground parking levels for the One York Street office building and the two Harbour Plaza Residences condo towers.
Only 13 months ago, excavation was just getting underway on the building site — a long, rectangular parcel of land awkwardly situated between several major traffic arteries — the Gardiner Expressway and Lake Shore Boulevard to the north, York Street to the west, and Harbour Street and the elevated York/Bay/Yonge offramp from the Gardiner to the south. The property was formerly occupied by a 5-storey brown brick building originally constructed for the Ontario Workmen's Compensation Board in 1953, and subsequently used as headquarters for the Ontario Provincial Police. The building was demolished during the summer of 2011 (see my July 17 2011 post for photos showing how the site looked before it was acquired by Menkes Developments Ltd.).
By late summer of 2013, work had started on the office tower's bottom underground level, even though hundreds of truckloads of soil remained to be excavated from the easterly two-thirds of the block-long site.
But by the beginning of December 2013, the below-ground parking floors were steadily taking shape across the entire length of the property.
Now, within weeks, the One York Street office tower will start to climb above the hoarding, finally bringing the construction activity into clear view of passersby.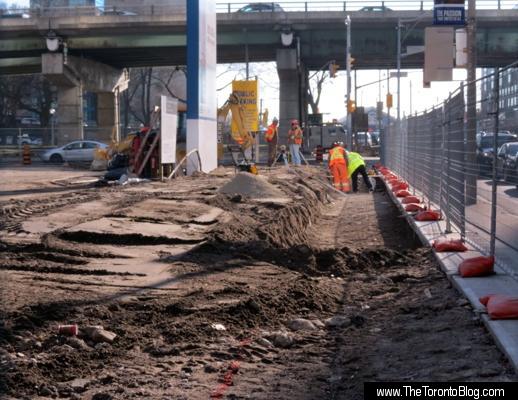 December 13 2012: A crew works on the western perimeter of the future One York Street office tower location. This is a view looking south across the building site from the southeast corner of Lake Shore Boulevard and York Street.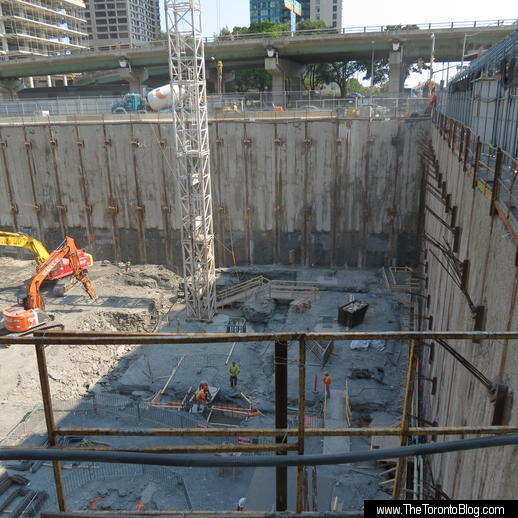 August 19 2013: A crew works on the bottom underground level of the One York Street office tower as excavation continues on the eastern two-thirds of the building site where the Harbour Plaza condo towers will ultimately rise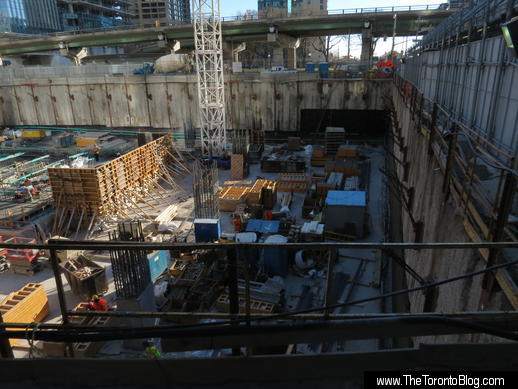 December 3 2013: Underground levels are quickly taking shape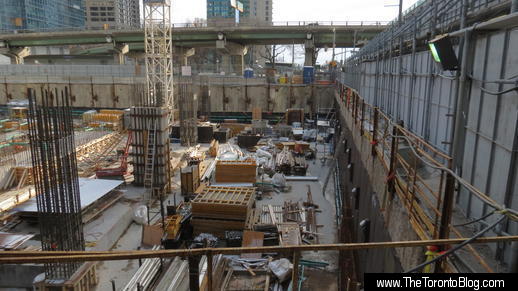 January 18 2014: Rebar for several support columns on the west side of the office tower building site extend almost to street level
Please turn to page 2 of this post to view additional construction photos and see more than a dozen artistic renderings of the One York Street office building and the two Harbour Plaza Residences condo towers.
CONTINUED ON PAGE 2