Lions Demolition has installed hoarding along the sidewalk next to the former bistro location at 990 Bay Street, as well as in front of the 7-storey medical office building at 984 Bay next door, both of which will be razed to make room for the new condo. Meanwhile, a John Deere hydraulic excavator — which probably will do the honours of smashing the Bistro 990 building to smithereens — sits on the adjacent surface parking lot, which has been cordoned off with security fencing (it's part of the development site itself).
Below are two photos showing how the Bistro 990 building and the rest of the 1Thousand Bay site looked this afternoon, along with a link to an online album containing additional pictures. More photos and information about the development project can be viewed in my March 18 2012 post.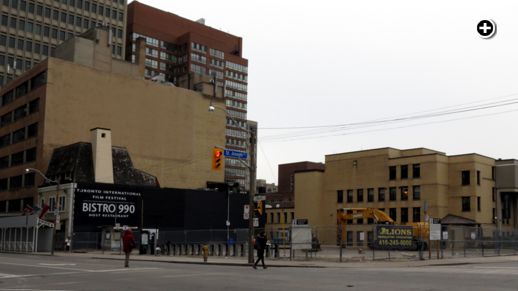 January 19 2013: A view of the condo development site from the NE corner of Bay and St Joseph Streets. The 4-storey structure at right is the Cardinal Flahiff building, which houses the Faculty of Theology in University of St Michael's College at the University of Toronto.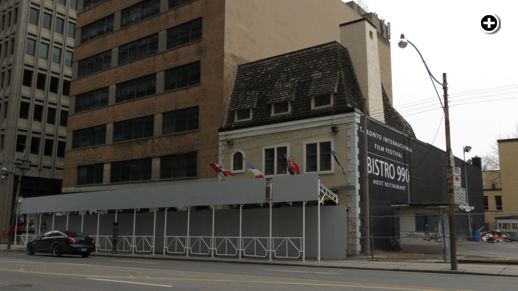 January 19 2013: Bistro 990 closed for good in March 2102 after 23 years in business.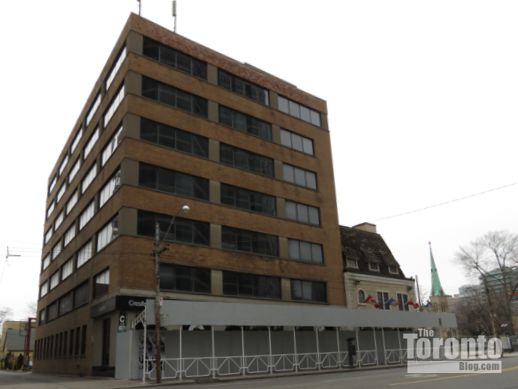 January 19 2013: The nondescript brick building at 984 Bay formerly housed doctor's offices, a pharmacy and medical laboratory facilities
Click once on the above image to view a small-format slideshow with more than a dozen photos showing the 1Thousand Bay condo site pre-construction. Click twice to access Flickr and view full-size images directly from the album.