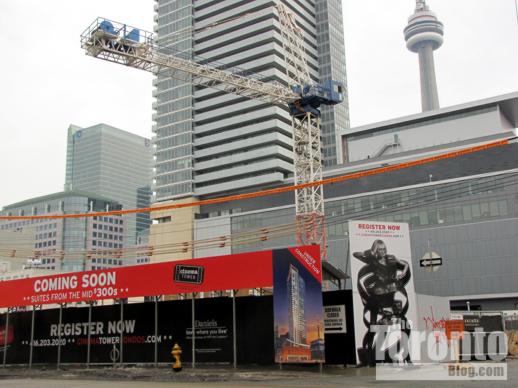 Partially assembled crane viewed from Adelaide Street on Feb. 17 2011
Lights, camera, crane!: A work crew was busy assembling a crane in the Cinema Tower excavation when I walked past the condo construction site at the southeast corner of Widmer and Adelaide Streets this afternoon.
A project of The Daniels Corporation and a design of Toronto's Kirkor Architects & Planners, Cinema Tower will rise 43 storeys on a site formerly occupied by a parking lot. It will be a new next-door neighbour for another Daniels condominium project,  Festival Tower,  and the adjacent TIFF Bell Lightbox on King Street West.  And in just a few more years, it will have yet another condo tower neighbour when the 43-storey Pinnacle on Adelaide gets built on the parking lot right next door.
With three tall condo buildings crowded together on just one city block, will Cinema Tower be able to distinguish itself and stand out, or will it just blend into the skyline with its neighbours?
"The challenge for each of the neighbouring buildings," the Kirkor architects explain on their website, "is their response to the TIFF building, especially the height, massing and scale as the City of Toronto defines the Festival Tower as the anchor to the site. The response was to create a tower that provided a facade centred towards Adelaide Street with sheer curved curtain glass resting on a podium that evokes a modern interpretation of the warehouse streetscape of the existing neighborhood."
I'm anxious to watch Cinema Tower go up;  though I've seen only one architectural rendering of the tower so far, I think it brings substantially more class, style and interest to the area than the boring, boxy Festival Tower.
Below are some photos of workers preparing to assemble a crane segment today, along with other pics I've taken at the Cinema Tower site in the past three years. There also are two excavation photos from the condo project's website.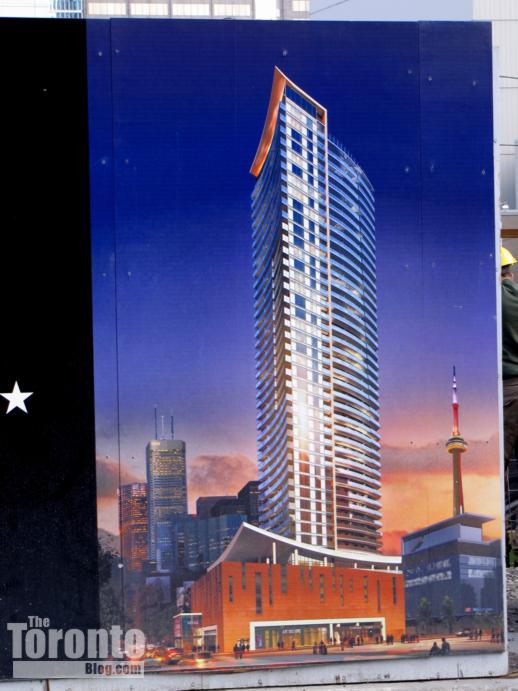 Cinema Tower rendering on a billboard next to the construction site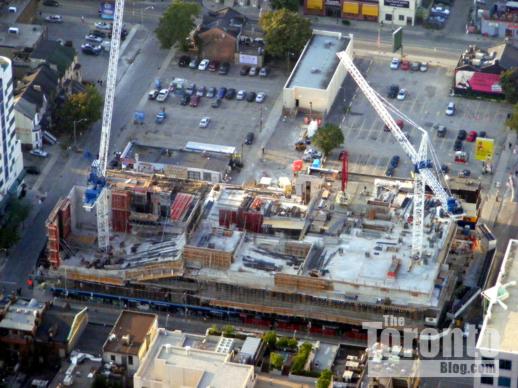 September 22 2008: CN Tower view of the TIFF Bell Lightbox and Festival Tower under construction on King Street West. The Cinema Tower site is the parking lot in the upper left corner (the two buildings have since been demolished); the Pinnacle on Adelaide will rise on the separate parking lot to the right.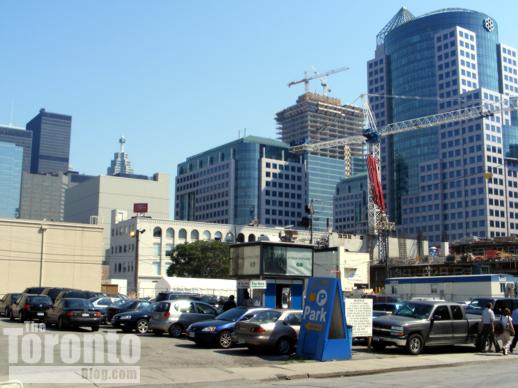 September 3 2008: The parking lot that used to occupy the Cinema Tower site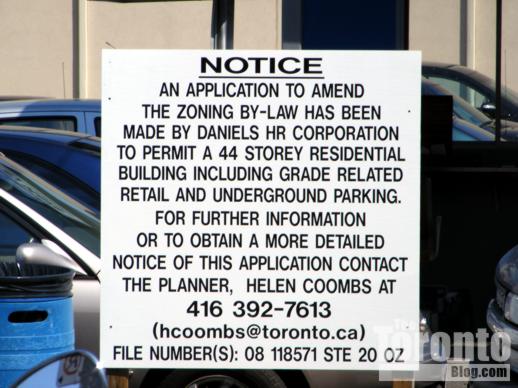 Cinema Tower development proposal sign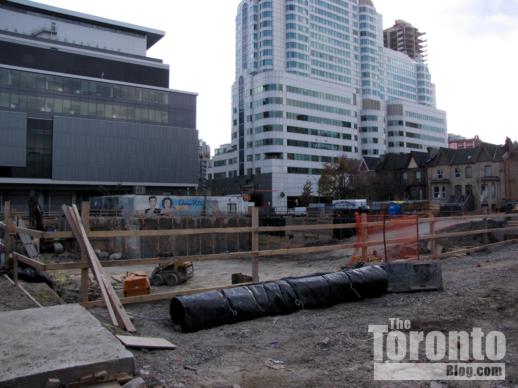 October 20 2010: Early stages of excavation at the Cinema Tower site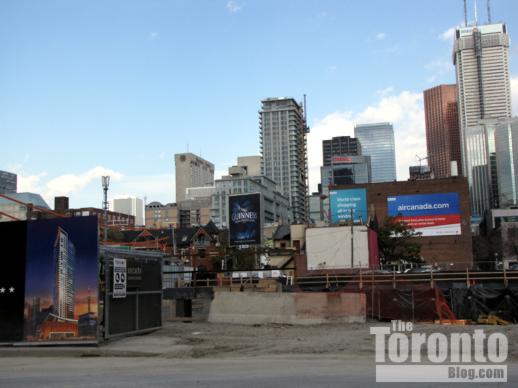 October 20 2010: Widmer Street view of the Cinema Tower site. When finished, the condo building will block most of this view of the Financial District.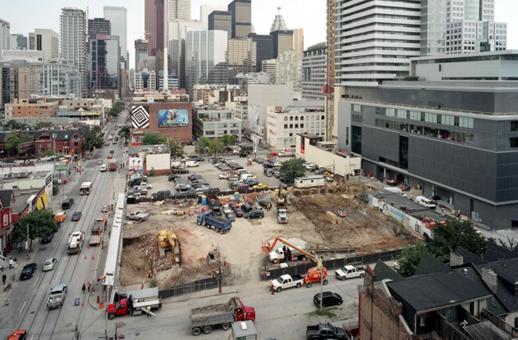 Cinema Tower website photo of excavation activity on the condo property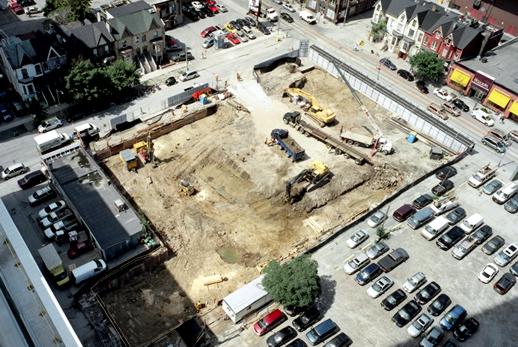 Another Cinema Tower website photo of excavation progress. The building in the bottom left corner is the Champs Food Supplies store. The parking lot on the right is the Pinnacle on Adelaide condo tower site.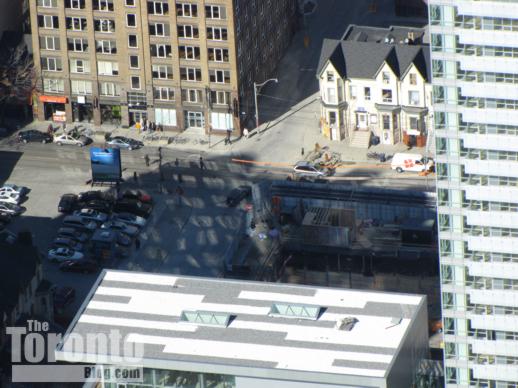 November 2 2010: CN Tower view of the Cinema Tower excavation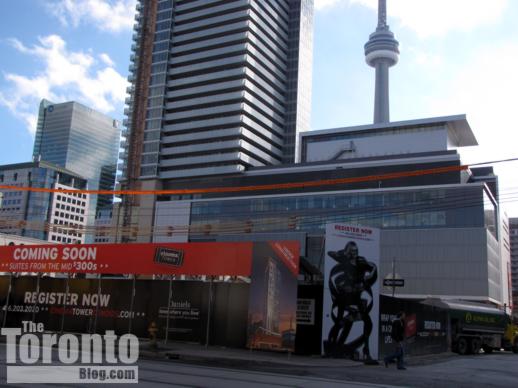 November 23 2010: Billboards on hoarding next to the condo excavation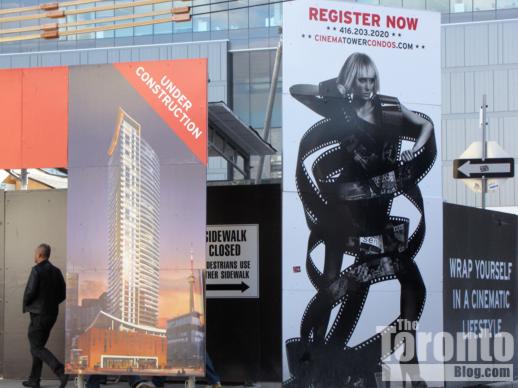 November 23 2010: Billboards along the sidewalk on Adelaide Street West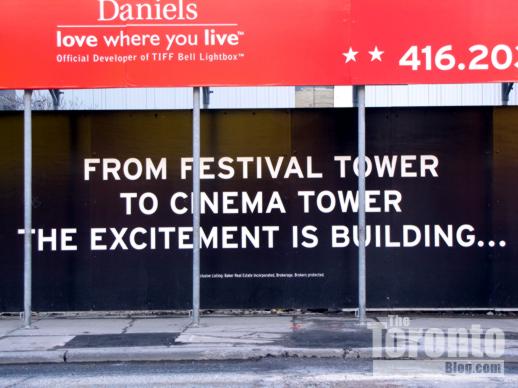 November 23 2010: Billboards along Adelaide Street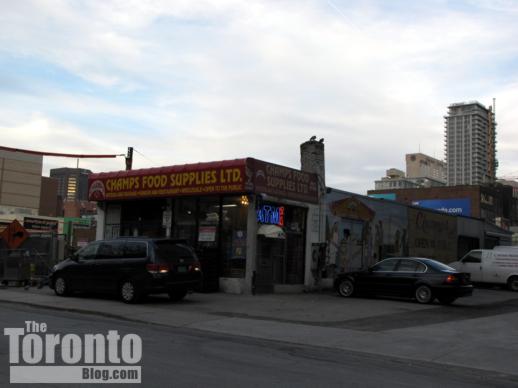 November 29 2010: The Champs Food Supplies Ltd store on Widmer Street will be dwarfed by the 43-storey Cinema Tower and Pinnacle condos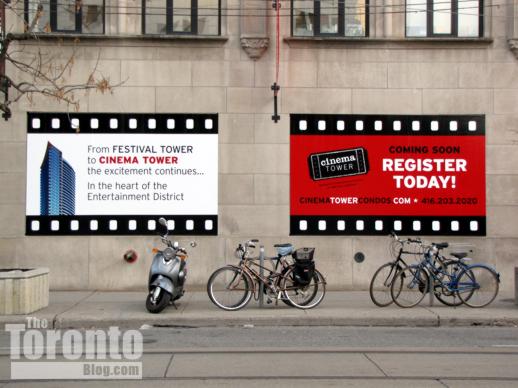 November 29 2011: Billboards at the Cinema Tower sales office on Adelaide Street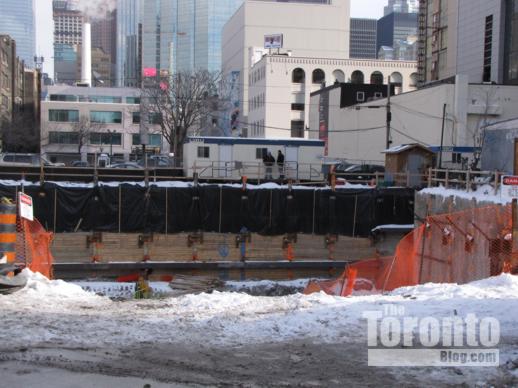 January 14 2011: Cinema Tower excavation viewed from Widmer Street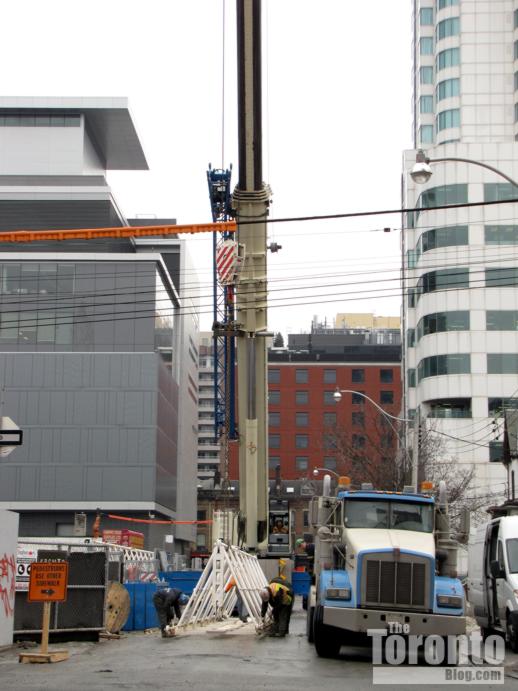 February 17 2011: Widmer Street closed for Cinema Tower crane installation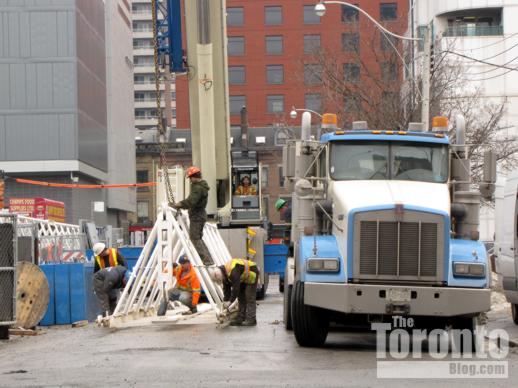 Work crew prepares a crane segment for assembly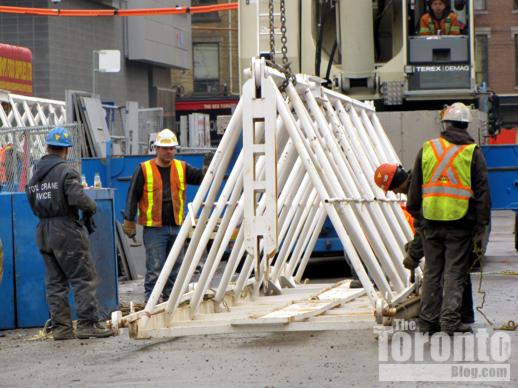 Crane segment to be hoisted for assembly above the Cinema Tower excavation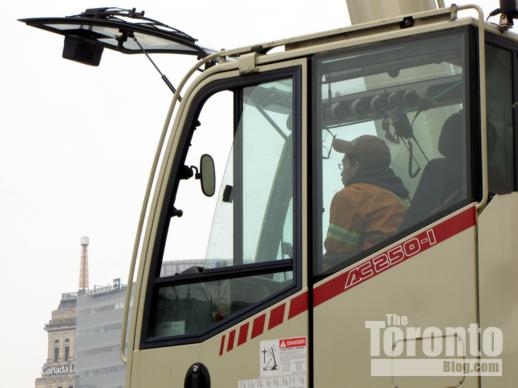 Operator of the crane that will hoist the segment onto the construction site crane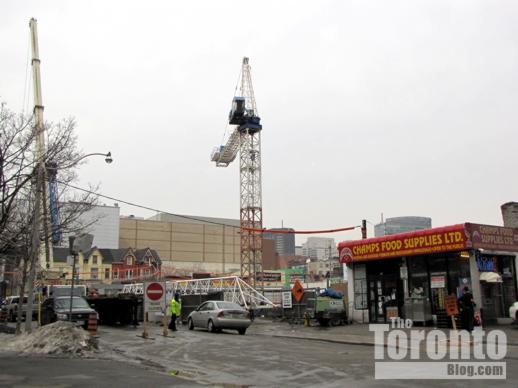 Crane installation viewed from south end of Widmer Street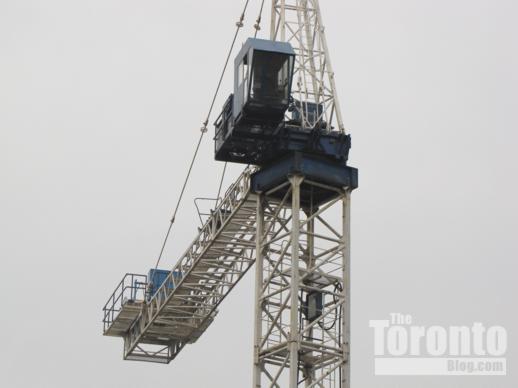 The partially assembled construction crane above the excavation