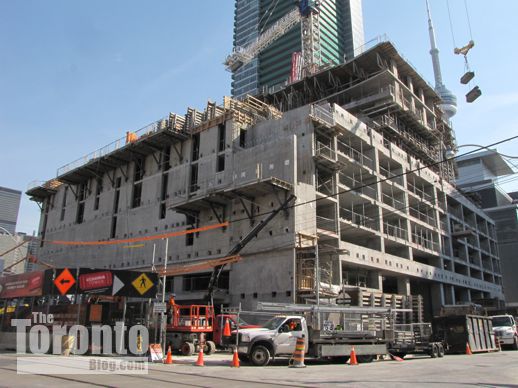 March 7 2012: Cinema Tower construction viewed from the NW corner of Widmer and Adelaide Streets. The tower has started to rise above its 5-floor podium, which will hold four levels of above-ground parking.
<>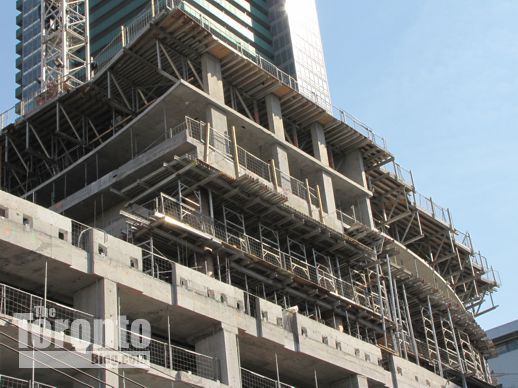 March 7 2012: A closer view, from the northwest, of the tower segment of the condo project. Festival Tower stands to the rear left.
<>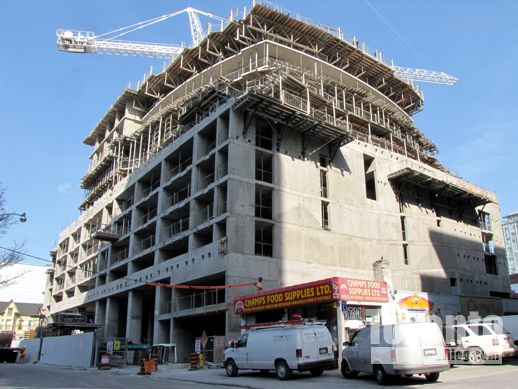 March 7 2012: Cinema Tower's gently curved floorplates contrast sharply with the rectangular podium, viewed from Widmer Street
<>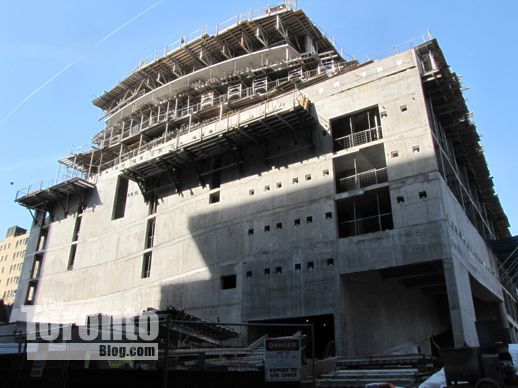 March 7 2012: Looking up the south side of the building from the laneway behind Festival Tower and the TIFF Bell Lightbox. The entrance ramp for the above-ground parking is situated at the bottom right corner of the podium.
<>
Higher drama: Cinema Tower has started to display its elegant curves as the residential component of the 43-storey condo complex continues to climb above its base at the southeast corner of Widmer and Adelaide Streets.
For nearly six months since last summer, when the building began to rise above grade, construction of the podium took center stage. A large, rectangular concrete structure, the podium features four levels of indoor parking above street-level retail space and a ground-floor lobby and concierge area for the condo tower. (Below ground are four additional levels of parking. About 200 vehicle spaces there will be operated as a commercial parking facility, while the other 200 spots in the building will be private parking for residents.)
The construction action got a little more interesting in late January when the first of 38 condo floors began to take shape atop the podium. With four levels of condos now constructed, the tower is already developing a dramatic presence in the area, and will continue to bask in the limelight as it gradually grows taller on the Entertainment District skyline.
CONTINUED ON PAGE 2