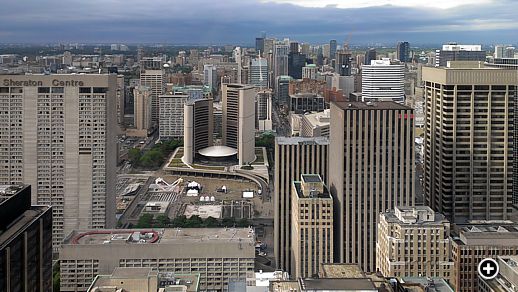 This photo by Colin Gruchy captures the great view from an office on the 41st floor of First Canadian Place on September 20 2012. Click on the photo to view a larger-size image.
Great view: It's a good thing I don't work on a high floor in an office tower in the downtown core — I would probably spend practically all of my time looking at buildings and watching construction activity. Especially if I sat near a window with a north view like the one in the photo above that Colin Gruchy shot two days ago.
It's a great vantage point for keeping track of at least four major construction projects currently underway in the downtown core: the Nathan Phillips Square revitalization at City Hall; the MaRS Centre Phase 2 tower at College Street and University Avenue (slightly visible to the upper left of City Hall's west tower); the Motion on Bay Street apartment highrise directly behind City Hall's east tower; and the Aura condo skyscraper to the northeast of that, at Yonge & Gerrard. And in just a couple of years' time, construction of the 54-storey INDX condominium tower, which will be built on a site bounded by Richmond, Sheppard and Temperance Streets, will dominate the foreground of this particular view.
Got a good Toronto construction or building photo you'd like to share? Drop me a line at: torontoblogeditor@gmail.com