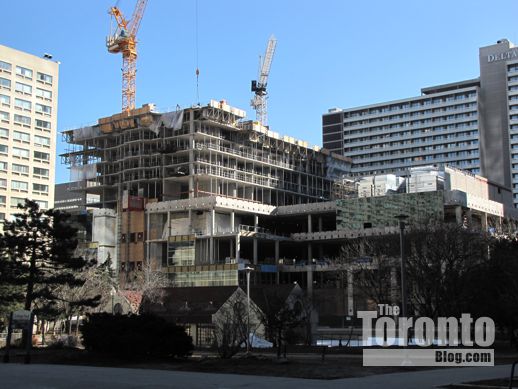 February 6 2012: The Aura condo tower has so far climbed six floors above its mammoth podium, seen here from the northwest corner of the 3-acre park sheltered by the office & residential towers at the College Park complex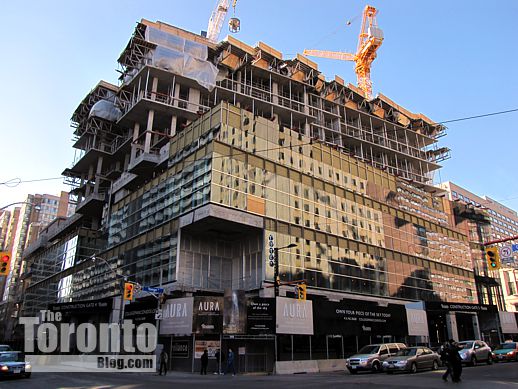 February 9 2012: The Aura podium on the southeast corner of Yonge & Gerrard Streets will contain 190,000 square feet of retail shops, restaurants and services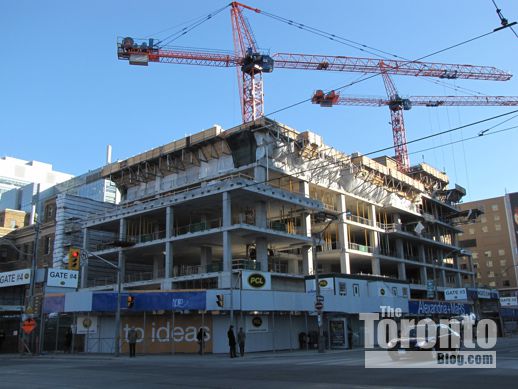 February 6 2012: Construction of the MaRS Centre Phase 2 building at College Street and University Avenue reached the sixth floor this month

Aura ascends, MaRS rises: Construction has climbed past the sixth-floor point at two different projects that will establish landmark new buildings and radically change the appearance of two busy intersections in the downtown core.
Aura condos at College Park
The 3-level podium for the Aura condo tower has been turning heads at the intersection of Yonge & Gerrard Streets since construction of the mammoth structure reached street level nearly a year ago. With 6 of Aura's 75 condo floors now constructed, the building has begun to prominently assert its presence for several blocks in each direction, giving city residents and visitors an early hint of the dramatic impact the country's tallest residential tower will have on the Toronto skyline.
CONTINUED ON PAGE 2