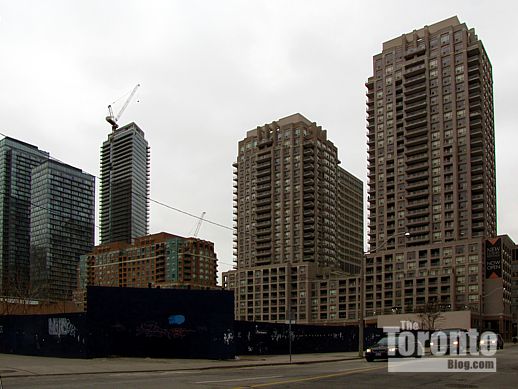 January 25 2012: The Ontario Government is examining its options to make a prime piece of real estate on Wellesley Street West available for new city green space. The vacant property has been surrounded by navy blue hoarding for years.

More parks for downtown?: City planners and politicians alike have admitted that the central downtown area, and particularly the district between College and Bloor Streets, is woefully deficient in public parks and green space. But at least one new park — and possibly several more — could be in the cards for the city core, according to an Ontario Cabinet minister.
Glen Murray, the MPP for Toronto Centre and Minister of Training, Colleges and Universities, says the province is examining its options for making a vacant parcel of property on Wellesley Street West available to the city for redevelopment into green space or a park of some kind. Other provincially-owned lands in the downtown core also might become available for additional parkland, Mr. Murray told the first annual general meeting of the Church Wellesley Neighbourhood Association (CWNA) last night.
CONTINUED ON PAGE 2