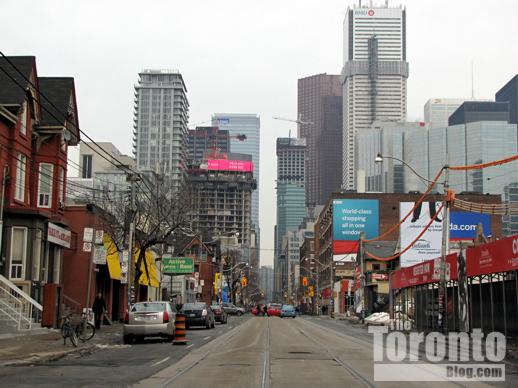 Towers rising: This view of Toronto's Financial District — seen yesterday from the intersection of Adelaide Street West and Widmer Street — will change considerably in the next few months as the Living Shangri-La Toronto hotel and condo tower and Trump International Hotel + Tower Toronto climb taller.
This particular block of Adelaide will look drastically different in a couple of years, too. The 43-storey Cinema Tower condo is under construction behind the red hoarding at right; another 43-storey condo, the Pinnacle on Adelaide, will be going up beside it, where the white billboard stands.
Meanwhile, a developer is seeking city approval to build a 37-storey condo and office tower where the building with the yellow awnings is situated at left. That's currently the location of the Entertainment District's ever-popular Alice Fazooli's Italian Grill. Mamma Mia! Where's poor Alice going to go?