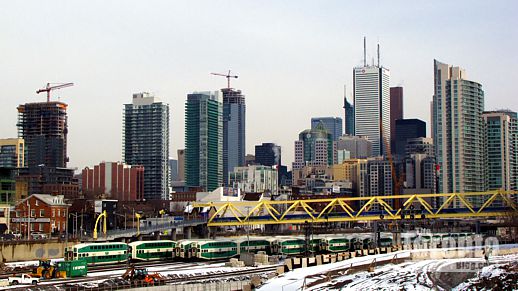 Toronto growing taller
<>
A view of the downtown Toronto skyline, looking east from the Bathurst Street Bridge this afternoon. The cityscape boasts three new skyscrapers, including Charlie Condos at King & Charlotte Streets (with crane, at left) Living Shangri-La Toronto at University Avenue & Adelaide Street (with crane, center rear), and the Trump International Hotel + Tower Toronto, partly visible to the left side of First Canadian Place. The Trump Toronto Hotel opened for business today.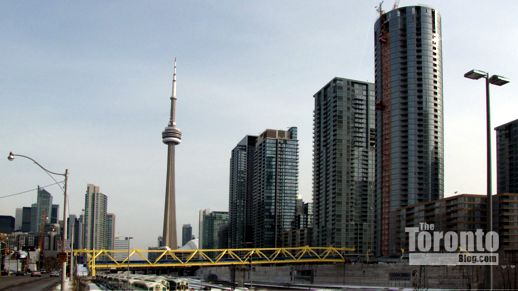 CN Tower, CityPlace and the Puente de Luz bridge
A Bathurst Street bridge view of the CN Tower, some of the condo skyscrapers at Concord CityPlace, and the yellow Puente de Luz bridge which will connect City Place to Front Street West above the railway tracks. Below are videoclips I shot this afternoon showing the downtown skyline, construction activity at the Library District condominiums complex at the west end of CityPlace, and the various condo highrises at CityPlace. The latter clip includes views of the grey-and-white, 41-storey Toronto Community Housing apartment tower under construction at 150 Dan Leckie Way, as well as close-ups of the points where a 2-level bridge will link the round and rectangular Parade condo towers.
<>
<>
<>
<>
<>
<>