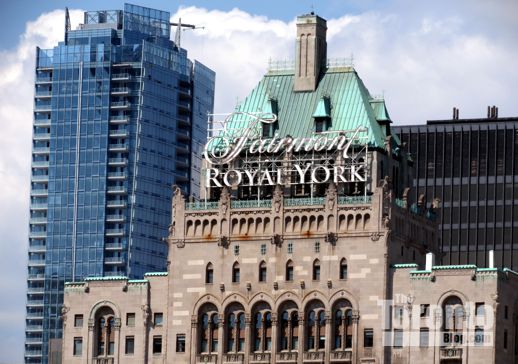 August 22 2012: The city's newest 5-star hotel, the Shangri-La Hotel Toronto, looms  to the northwest of the Fairmont Royal York, the grande dame of Toronto luxury hotels
Star attraction: The cachet of red carpets and Hollywood celebrities is giving a big pre-opening advertising boost to the Shangri-La Hotel Toronto as the city's newest 5-star hotel & condo tower nears the end of construction.
It's not officially open to the travelling public yet, but the Shangri-La is buzzing with energy and excitement as construction crews hurry to put finishing touches on the 202-room hotel at the same time as hordes of movie industry VIPs schmooze and conduct business in the building during the Toronto International Film Festival, which opened Thursday.
When I walked past the hotel yesterday morning, construction crews were scurrying on three sides of the building, especially around the western entrance off Simcoe Street where there was an almost chaotic array of activity underway. Construction tradesworkers weren't the only people rushing in and out of the hotel; Simcoe and nearby Nelson Street were clogged with traffic as delivery trucks rushed everything from skids of building supplies to carts full of fresh fruit and vegetables into the Shangri-La. Contractors, cleaners and photographers were also streaming in and out of the Soho House Toronto, the private club for creative professionals which will occupy the restored Bishop's Block heritage building on the southwest corner of the Shangri-La property.
CONTINUED ON PAGE 2