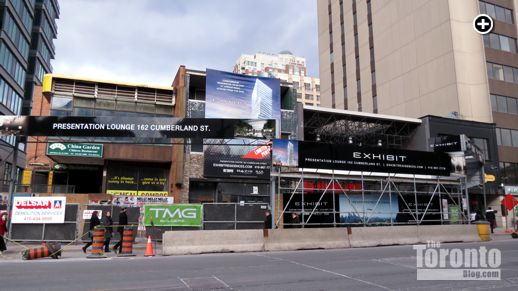 February 3 2013: You can't see it from the street, but demolition is well under way inside the buildings behind the fences and hoarding at 192, 194 and 200 Bloor Street West, where developer Bazis Inc. will build its distinctive "twisting cube" Exhibit Residences condo tower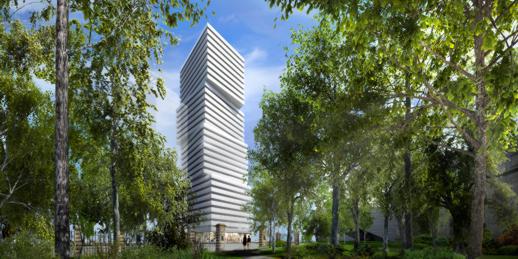 This artistic rendering depicts how Exhibit will appear when viewed from Philosopher's Walk on the south side of Bloor Street. The  32-storey condo tower was designed by Rosario Varacalli of Toronto's r. Varacalli Architect Inc.
Restaurant razing: Three Bloor Street West buildings that once housed busy budget-friendly restaurants, including a controversial McDonald's outlet, are being razed to clear the site for construction of the Exhibit Residences condo tower, which will cut a distinctive figure on the Yorkville skyline with its striking stacked cube design.
Four popular restaurants once occupied the low-rise buildings: Pho Hung and China Garden at 200 Bloor West, a Gabby's Bar & Grill at 194 Bloor West, and an open-all-night McDonald's at 192A Bloor West. Gabby's has since relocated two doors down the street to 192 Bloor West (which originally was expected to be part of the condo redevelopment property, but was dropped from the site plan during revisions to the project proposal). Pho Hung closed last June, but its sister Vietnamese restaurants remain open in Mississauga and on Spadina Avenue in Toronto's Chinatown.  As reported in the Toronto Star, the McDonald's closed nearly a month ago — on January 6 — after operating on the site for 41 years. But it will eventually return to occupy new street-level premises in the forthcoming condo tower.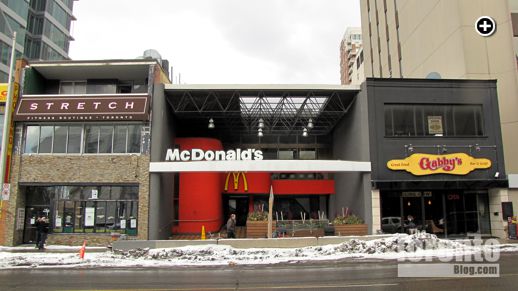 February 12 2011: The McDonald's outlet operated for 41 years at 192A Bloor West. The City-owned property had been leased to McDonald's for only $15,5000 in annual rent. The 192 Bloor West building with the Gabby's Bar & Grill is not part of the Exhibit Residences condo property, and will remain as is, but the 3-storey structure with the Stretch Fitness centre sign at 194 Bloor West is part of the redevelopment site and is being demolished along with the McDonald's building.
CONTINUED ON PAGE 2