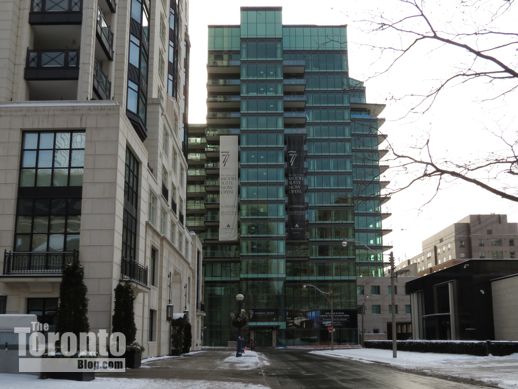 January 26 2013: A view of the 77 Charles West luxury condo building from one block to the north at the intersection of Sultan and St Thomas Streets. Work on the building's green glass exterior is nearly complete and, inside, model suites are available for viewing.
Nearly finished: When I last reported on the 77 Charles West condo project in an August 13 2011 post, windows and cladding were just being installed on the midrise building's ground floor.  Now, the midrise condominium is almost ready for occupancy.
As of this month, the building is completely glassed in, finishing touches to the exterior are nearly complete (apart from one northwest-facing balcony which appears to be getting a major alteration, and parts of the building frontage along Charles Street which still await landscaping), work on the condo suite interiors is well underway, and developer Aspen Ridge Homes has opened a model suite for exclusive private viewings. Residences are still available for purchase, at prices starting from $2.1 million.
CONTINUED ON PAGE 2