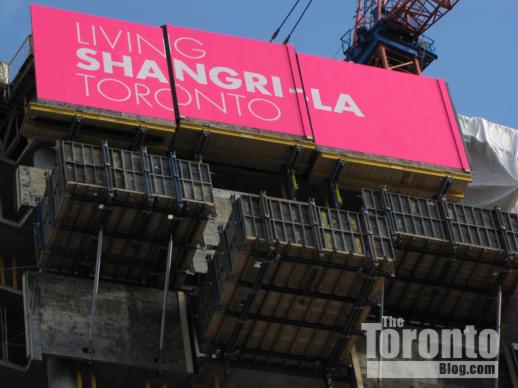 Just one of several hot pink signs atop the Living Shangri-La Toronto tower
Think pink: You can't miss the Living Shangri-La Toronto construction at 180 University Avenue (at Adelaide Street West), even though the hotel & condo tower is only 20 storeys high so far. In-your-face fluorescent pink signs on several upper floors stand out for blocks, and will become even more widely visible across the downtown core as the tower climbs taller towards its 65-storey eventual height.
The building site is tickled pink at street level, too, but most of those signs get attention with a warmer, almost coral, shade that isn't as bold, brash and loud as the signage higher up.
Hot pink is a colour I normally associate with tacky snowsuits and swimwear for five-year-old girls, not luxurious five-star hotels and condos. But since the high-end hotel and condo scene in Toronto is starting to get a little crowded, getting people to think pink is probably a great way to get noticed.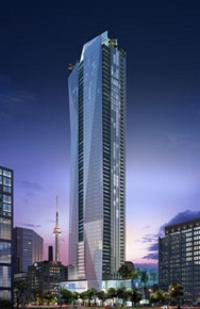 The Shangri-la Toronto is one of four glitzy and glamorous new five-star hotel/condo towers changing the city skyline this year.
Over on Wellington Street West, the Ritz-Carlton Toronto will be opening its doors to guests this month. Up in Yorkville, construction is moving right along for the two shiny glass towers of the Four Seasons Toronto Hotel & Residences. And just two blocks east of the Shangri-la, also on Adelaide, the Trump International Hotel & Tower Toronto is three-quarters of the way to claiming its place as the second-tallest skyscraper in the city.
But the Shangri-la won't need the pink signs to get attention once more of its striking blue windows are put in place. Glass has enclosed just part of seven lower floors so far, but already the windows are creating some eye-catching colours, textures and reflections. That's especially the case on the University Avenue side of the tower, where just several panes of creased glass suggest how stunning the tower's tall and sharply angled east and west glass walls will appear when finished.
A project of Westbank and Peterson Group, the building will  feature a 220-room Shangri-la hotel and spa on the first 17 floors. There will be 279 condo residences on floors 18 to 48, and 73 "private estates" on floors 49 to 65. The project was designed by Vancouver's James Km Cheng Architects with Toronto's Young + Wright Architects. 
Below is a rendering of the tower, along with photos I've taken at the project site between September 2008 and last week. To view more pics, check out the Living Shangri-la album on the Photos Sets page of the blog.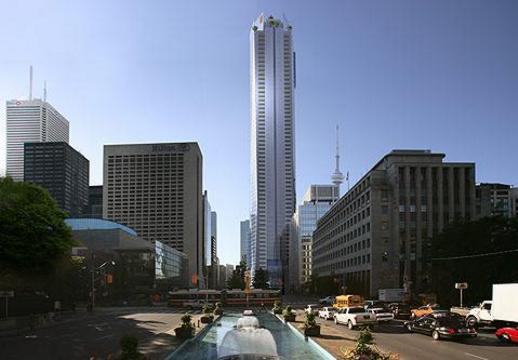 Artistic depiction of Shangri-La Toronto's presence on University Avenue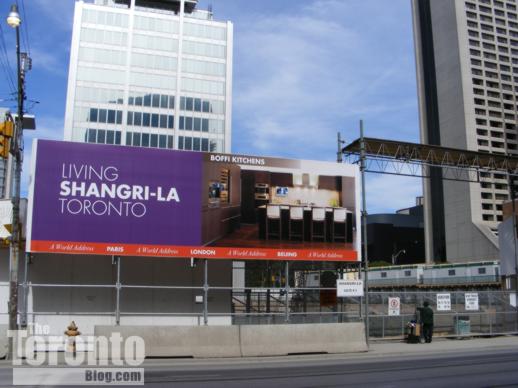 Marketing billboard at Living Shangri-la Toronto excavation site on Sept 26 2008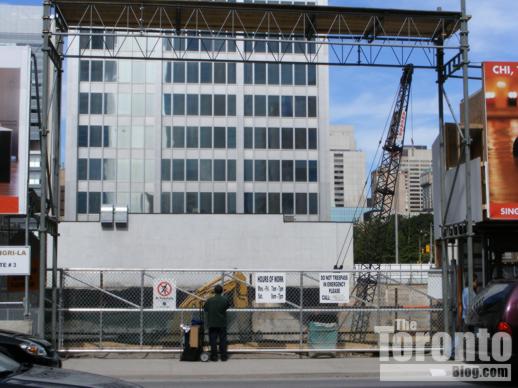 A passerby watches the excavation activity from Adelaide Street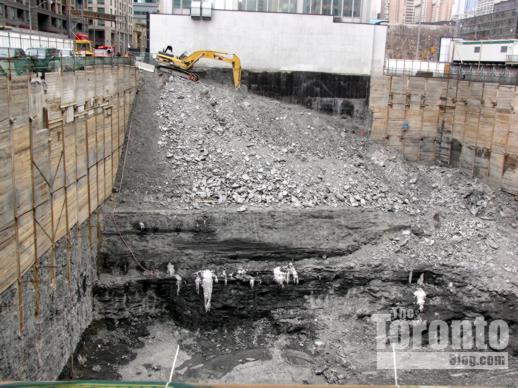 Site excavation progress on March 5 2009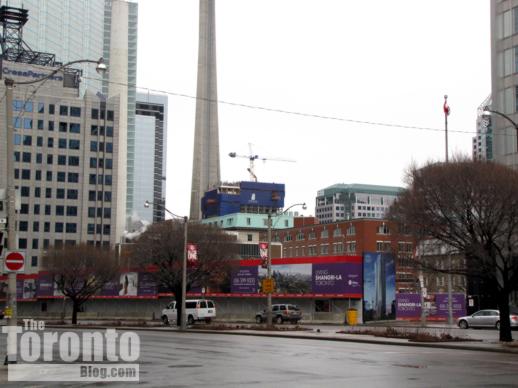 Ritz-Carlton Toronto has a head start on construction at its location below the CN Tower, just a few blocks southwest of the Living Shangri-la Toronto site
Freezing rain delays installation of the Living Shangri-la Toronto construction crane on March 29 2009; the crane went up several days later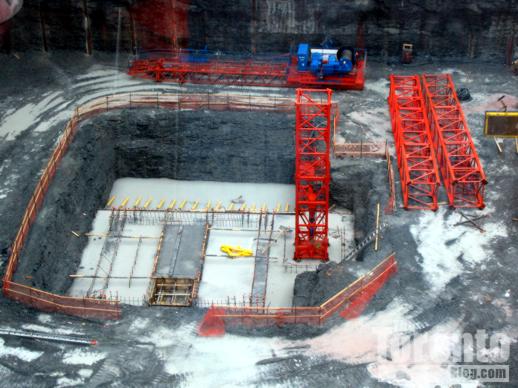 Construction crane awaits installation on a cold, rainy March 29 2009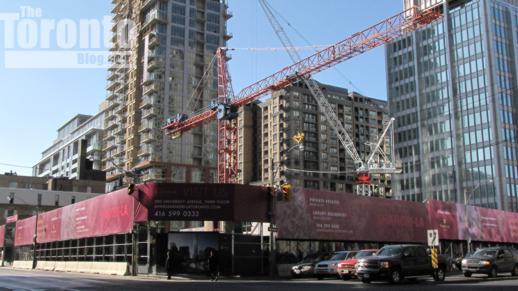 Two construction cranes work the site on March 8 2010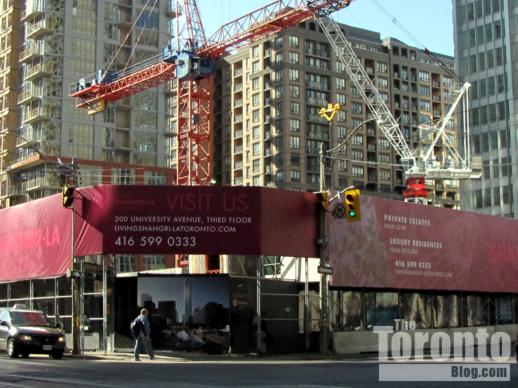 Site's southeast corner seen on March 8 2010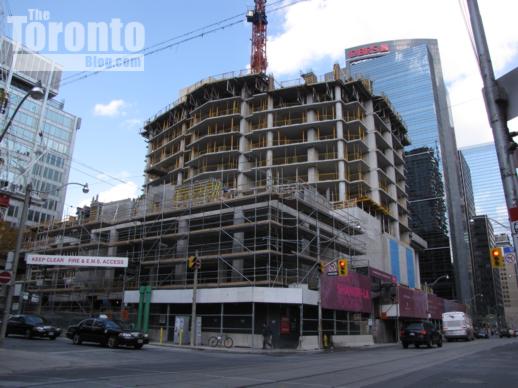 Construction progress viewed from Simcoe Street October 20 2010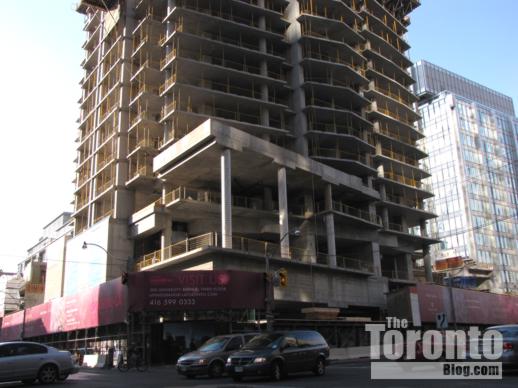 Construction viewed from University Avenue on November 15 2010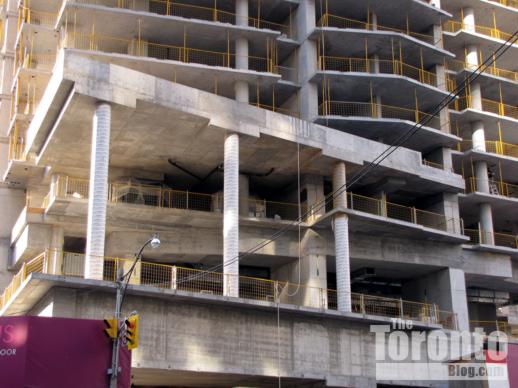 Distinctive angular design element on the tower's southeast corner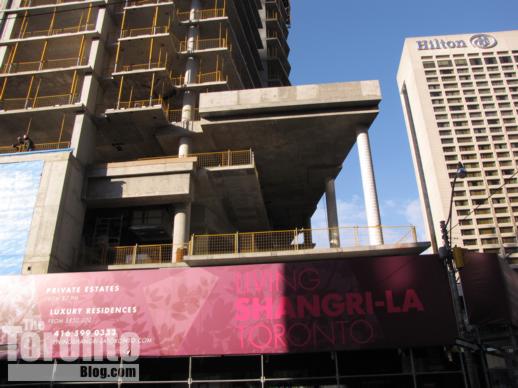 Southeast corner seen from Adelaide Street on November 15 2010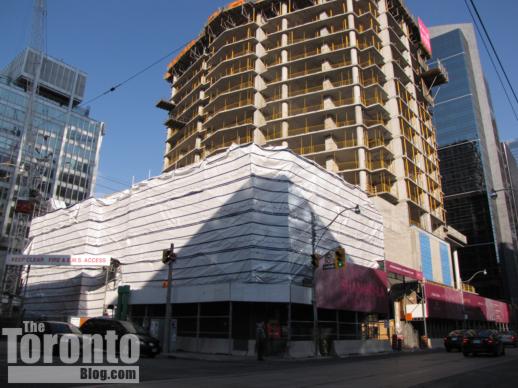 Simcoe Street view of construction progress on November 15 2010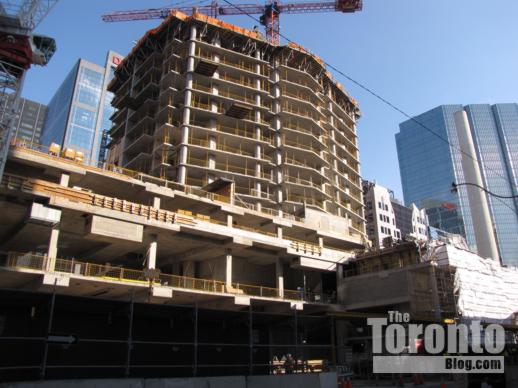 West side of Living Shangri-la viewed from Neilson Street on November 15 2010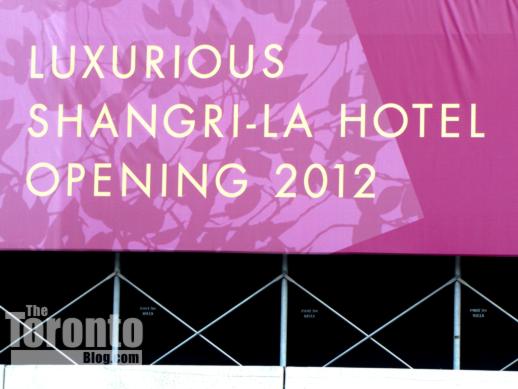 Hotel sign on hoarding along University Avenue's west sidewalk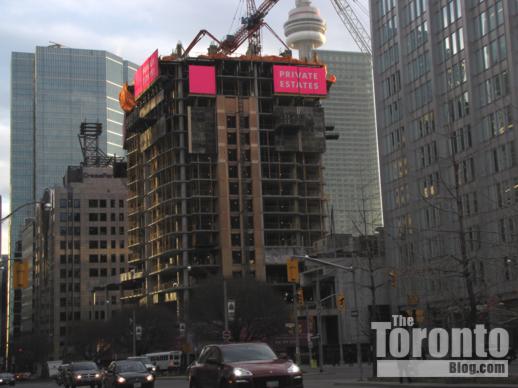 Tower viewed from University Ave. near Queen Street on Nov. 29 2010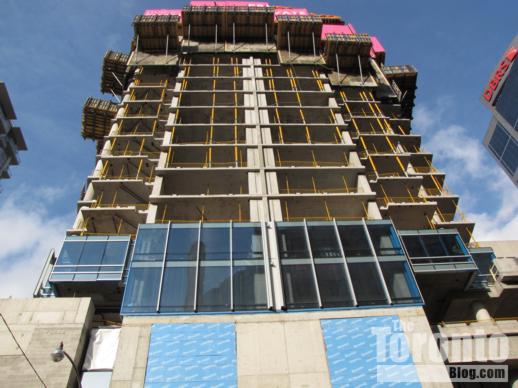 Window installation on tower's south side January 3 2011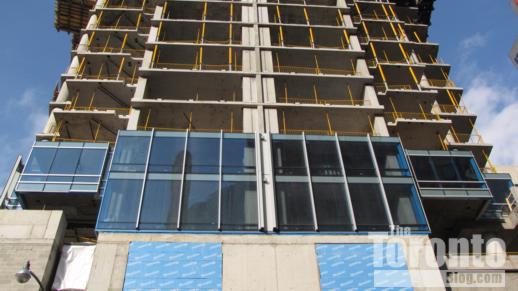 Windows on tower's south side  January 3 2011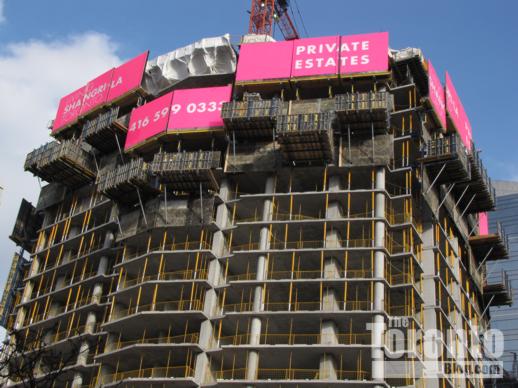 Tower viewed from Simcoe Street on January 3 2011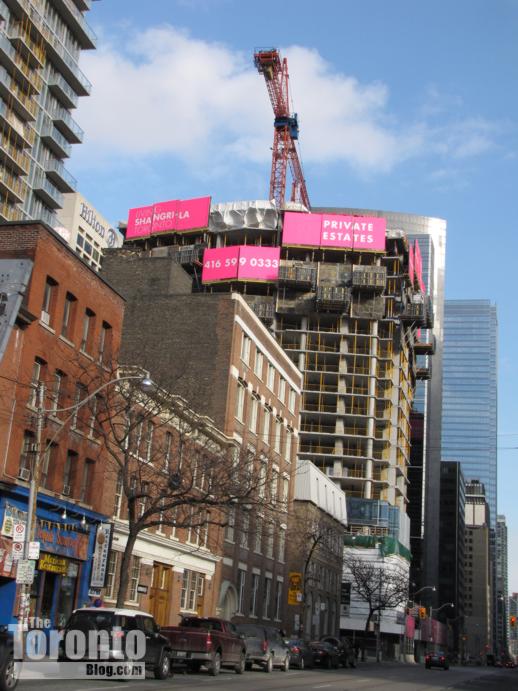 Tower viewed from Adelaide Street West on January 3 2011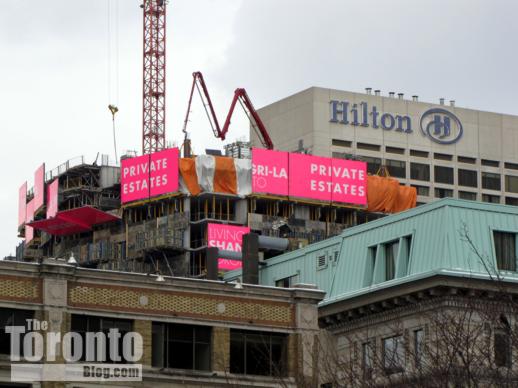 Tower viewed from Metro Hall park on King Street January 3 2011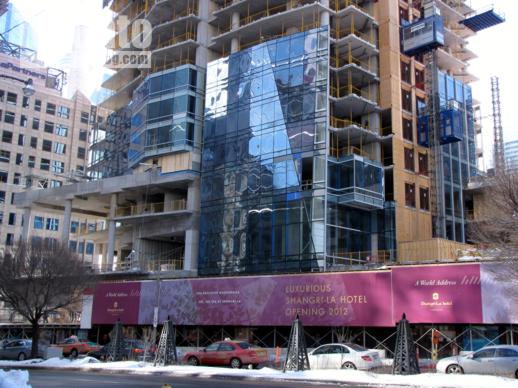 Blue glass, pink signs catch attention on University Avenue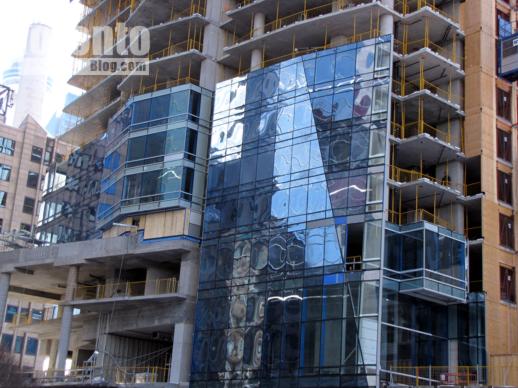 Windows installed on lower floors above University Avenue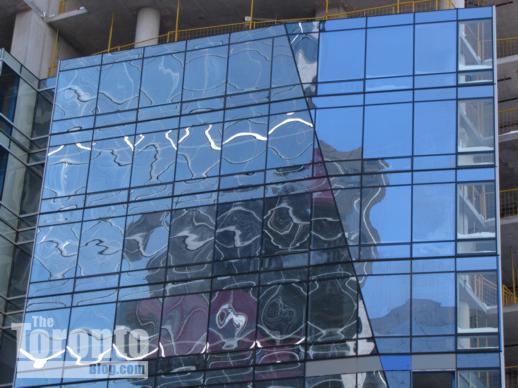 Signature design "crease" in windows above University Avenue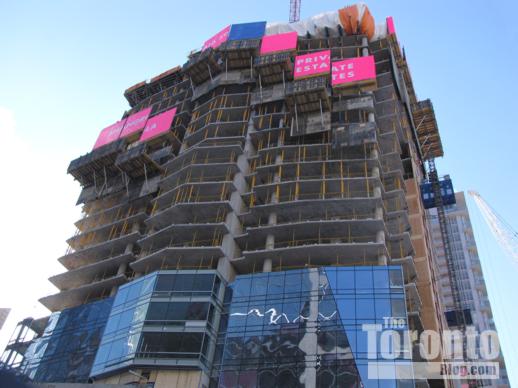 Looking up the tower from east side of University Avenue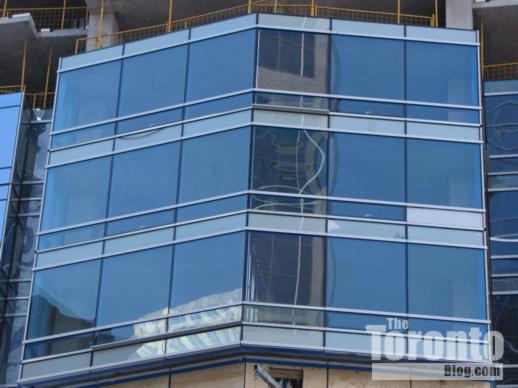 Angled windows on east side of tower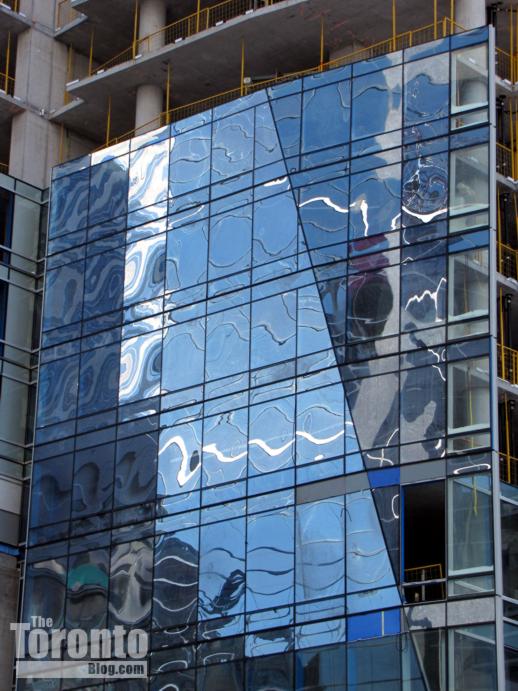 Signature "creased" windows on east side of tower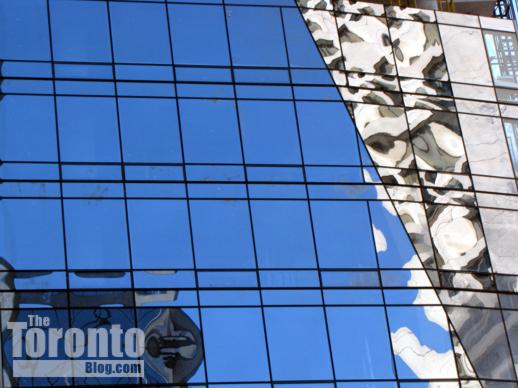 Reflections in "creased" windows on east side of tower
Simcoe Street view of windows on west side of tower February 3 2011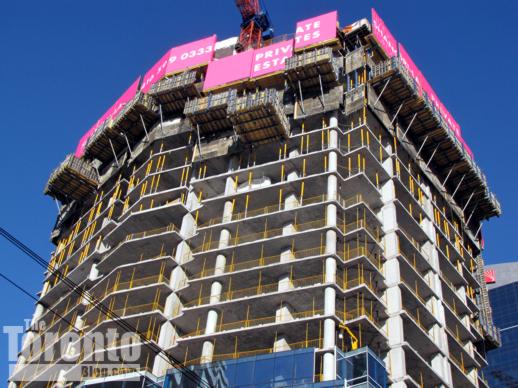 West side of tower viewed from Simcoe Street February 3 2011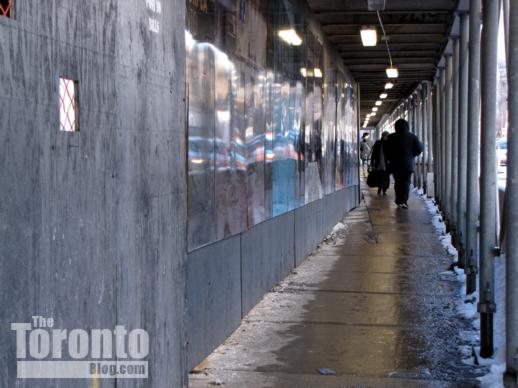 Pedestrians under construction hoarding on west side of University Avenue