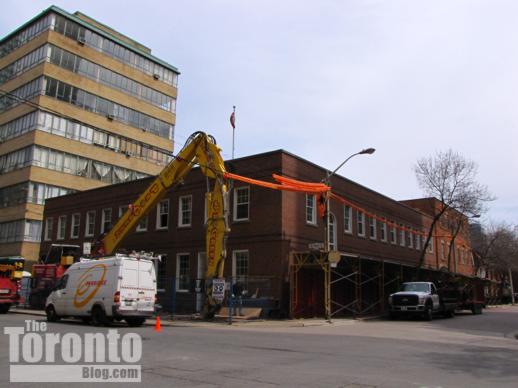 May 6 2011: Hoarding is up and a demolition machine has been positioned to prepare for demolition of the former Regis College buildings.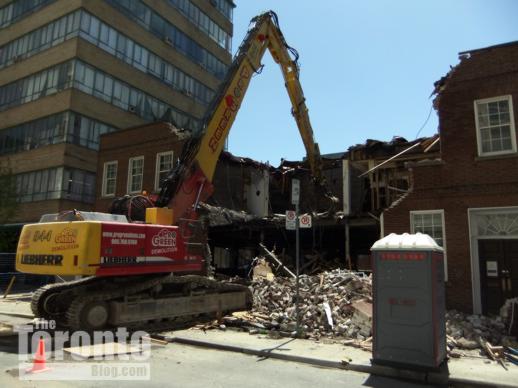 May 9 2011: Crews have pulled down roughly one-third of the building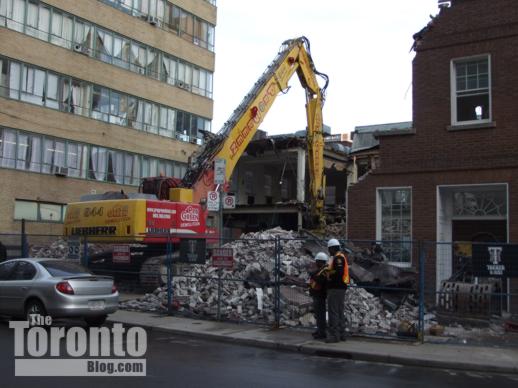 May 11 2011: Almost half of the structure has now been reduced to rubble
Tumbling down: The brick building that once housed Regis College, the Jesuit Graduate Faculty of Theology at the University of Toronto, is almost gone.  During the past two days, demolition crews have knocked down nearly half of the building at the southeast corner of St Nicholas and St Mary Streets. They're expected to finish smashing down the rest of the brick walls by the weekend. Once the structure is cleared from the site, construction can commence on the 35-storey Nicholas Residences condo tower. Below are photos of this week's demolition activity; to view pictures of the former Regis College buildings before the wrecking crews arrived, check out my May 7 2011 Neighbourhood Watch post, as well as my more detailed March 31 2011 post about the Nicholas Residences project.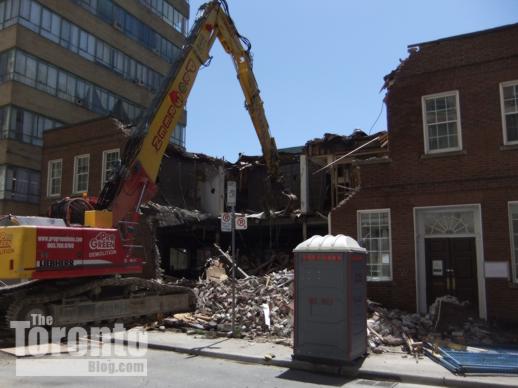 May 9 2011: Demolition crew smashes down the building's north facade on St Mary Street, next to the Church of Scientology Toronto building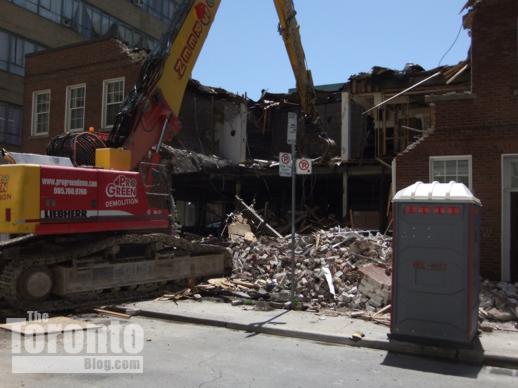 May 9 2011: The ground floor was reinforced so the demolition machine can drive into the middle of the building and knock out the east, south and west walls.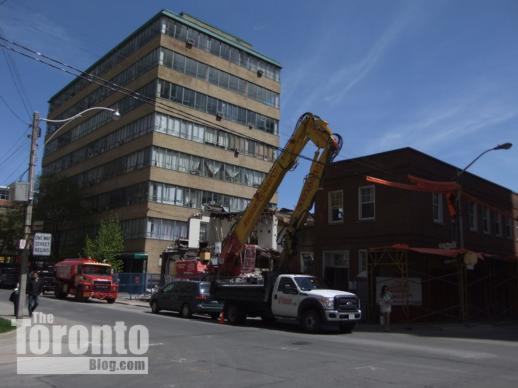 May 11 2011: Most of the northeast corner section of the building had been destroyed by the time the demolition crews went to lunch today.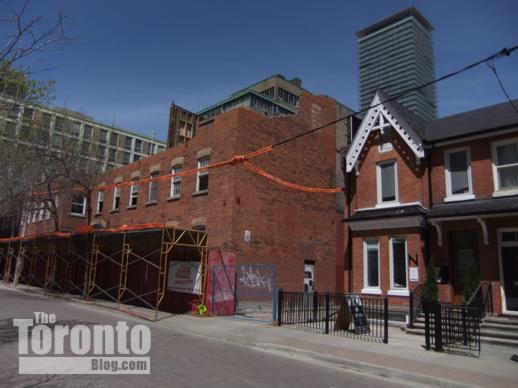 May 11 2011: Most of the third floor has been removed from the former college building at 67 St Nicholas Street, which was built as a planing mill in the 1880s. The facade is supposed to be rebuilt as part of the condo complex.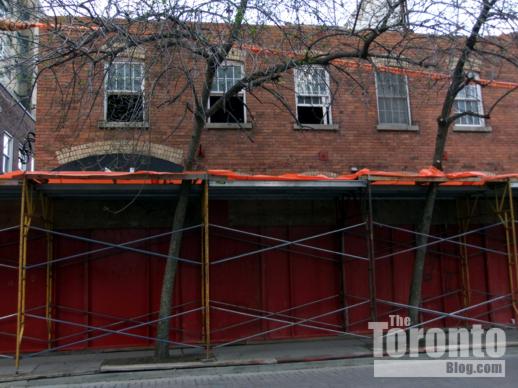 May 11 2011 Hoarding protects the sidewalk outside 67 St Nicholas Street where the third floor has already been demolished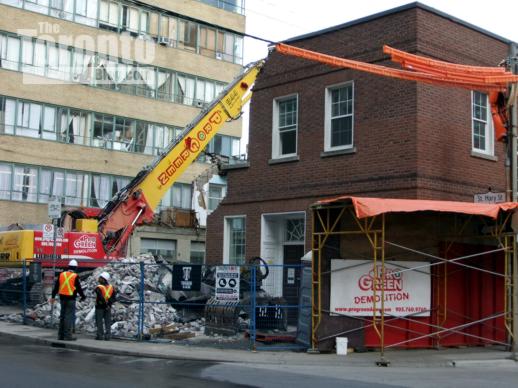 May 11 2011: The northeast third of the building has been razed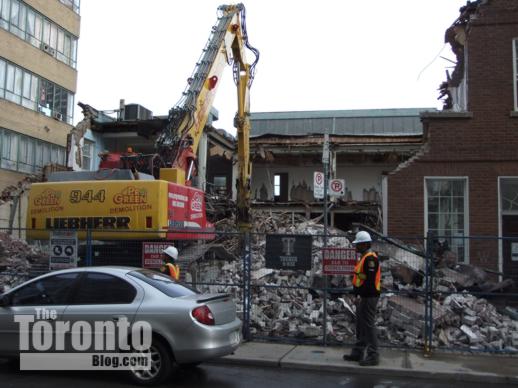 May 11 2011: Almost all of the St Nicholas Street facade has been knocked down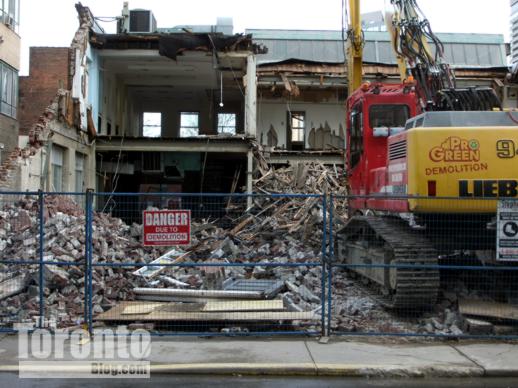 May 11 2011: The inside of the building was gutted during March and April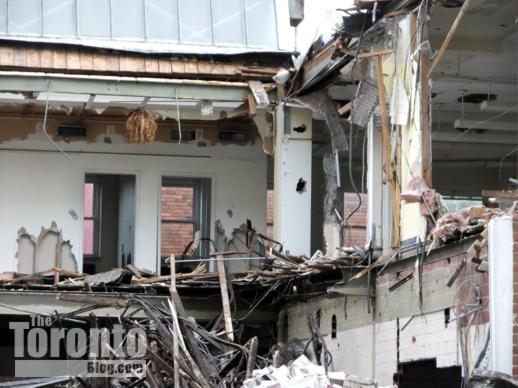 May 11 2011: This structure should be rubble by the weekend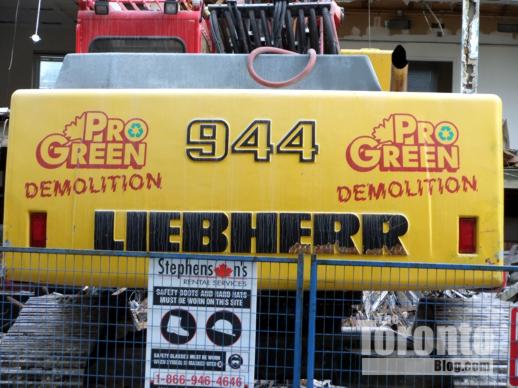 May 11 2011: The Liebherr R 944 C Litronic is a multipurpose excavating machine. Here, its purpose is to destroy the old Regis College building.