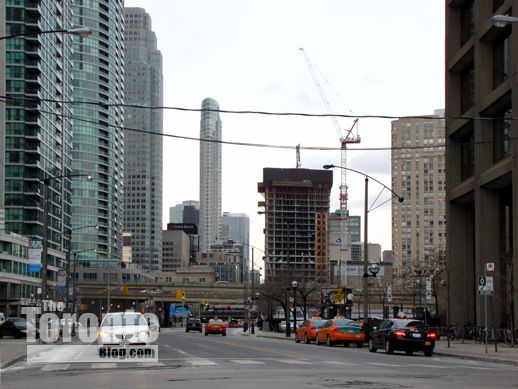 January 30 2012: A view of The L Tower from Queen's Quay Boulevard East, looking north up Yonge Street …
<>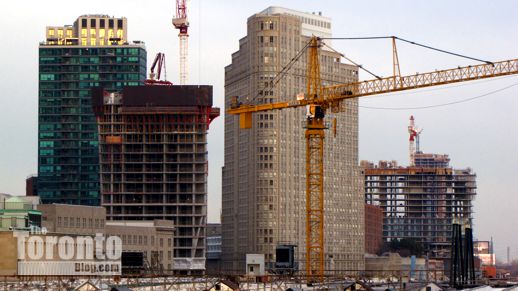 … and seen here on January 6 2012 from the Metro Toronto Convention Centre several blocks to the west, in a photo I published last week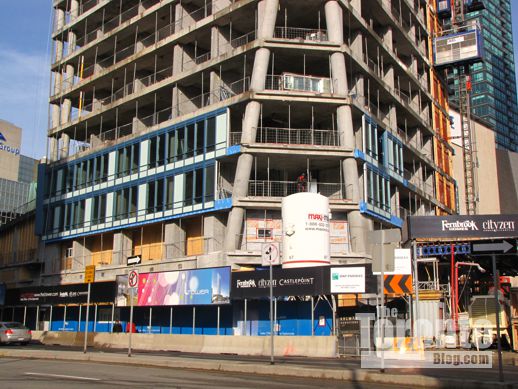 January 31 2012: Street-level view from Yonge Street at The Esplanade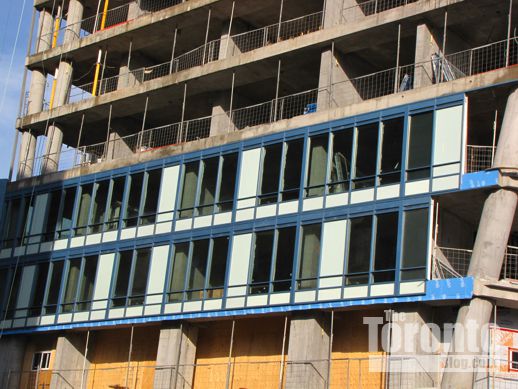 January 31 2012: Windows and cladding have been installed on two floors on the tower's west side above Yonge Street
January 31 2012: Another view of the recently-installed cladding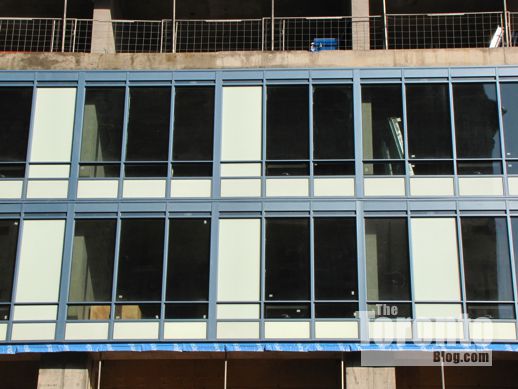 January 31 2012: A closer view of some of the windows and cladding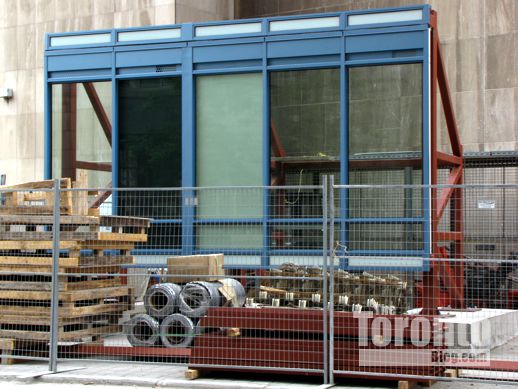 The cladding being mounted on the tower exterior is quite similar to this sample panel, seen August 20 2011 in the construction staging area on The Esplanade …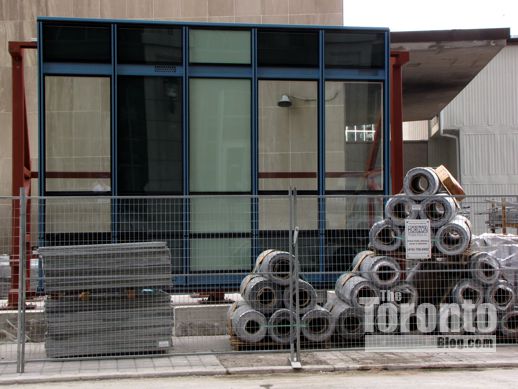 … and markedly unlike another sample on display at the same time

Blue & white: The L Tower is beginning to make a big impression on the Toronto skyline.   As construction of the 57-story condo skyscraper approaches the halfway mark, the building is commanding attention when viewed from downtown areas to the west and south. Closer to the ground, The L Tower is drawing plenty of glances from passersby as blue and white-toned windows and cladding are gradually installed on some of the lower floors above Yonge Street and The Esplanade.
The L Tower was designed by Daniel Libeskind, principal of New York's Studio Daniel Libeskind. The building is a project of Fernbrook Homes, Cityzen Real Estate Group and Castlepoint Realty Partners.
Below is an artistic illustration, from The L Tower project website, suggesting how the completed building will look, soaring high above the Sony Centre for the Performing Arts. That's followed by some photos I've shot of construction progress since August, along with two short videoclips.
I have previously published photos and information about The L Tower project in posts on July 21 2011, June 20 2011, and March 8 2011.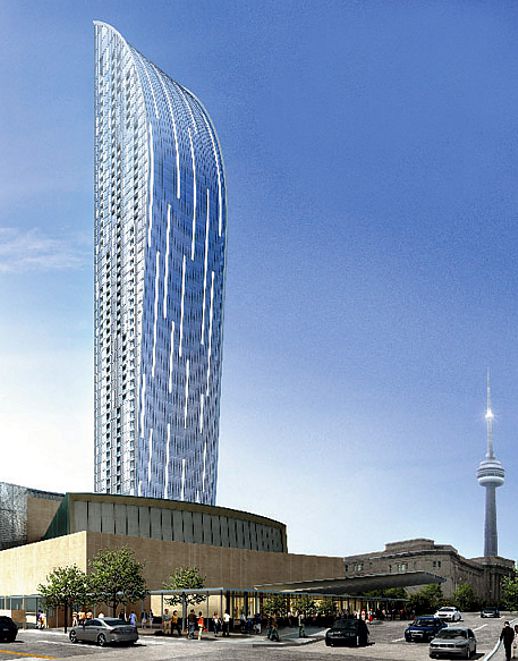 This illustration of The L Tower, from the condo project website, depicts a view of the building from the northeast (that's the Sony Centre for the Performing Arts in the foreground). A rendering of the tower from a northwest perspective can be viewed in the Projects section of the Studio Daniel Libeskind website.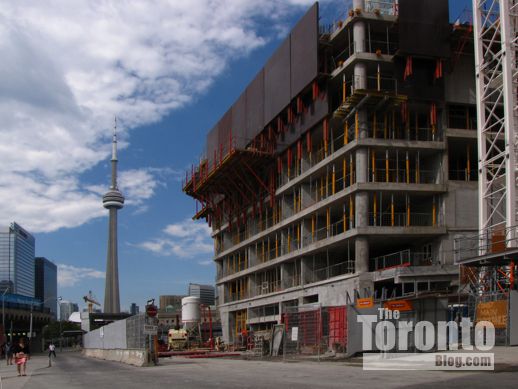 August 20 2011: West view from The Esplanade as tower reaches the 8th floor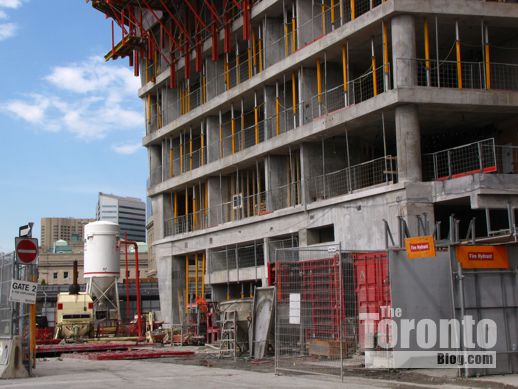 August 20 2011: The construction staging area on The Esplanade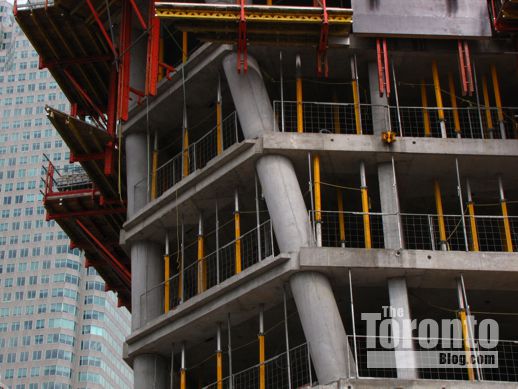 August 20 2011: The tower's uniquely angled southwest corner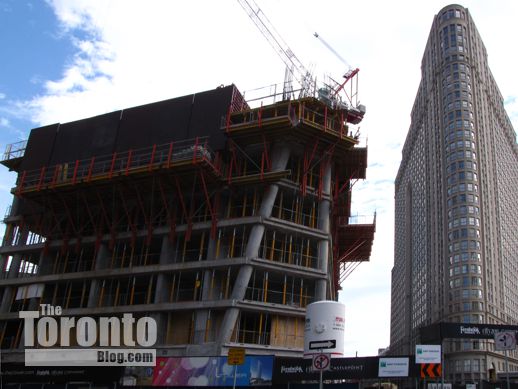 August 20 2011: The L Tower has a long ways to go before it surpasses the height of the 33-storey condo tower at 25 The Esplanade, right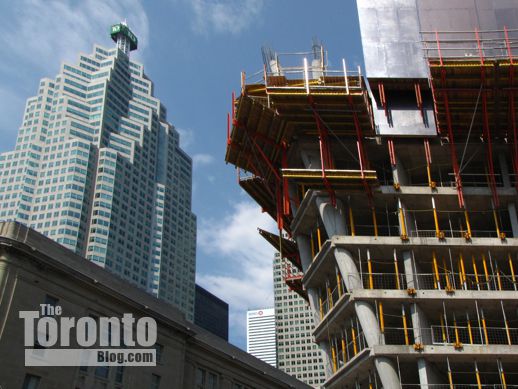 September 3 2011: The 51-storey TD Canada Trust Tower at Brookfield Place looms to the northwest of The L Tower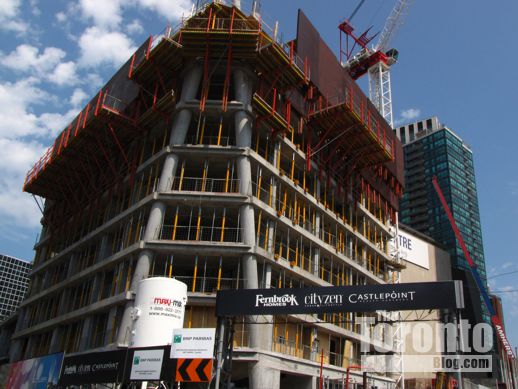 September 3 2011: Looking east from Yonge Street. The green west tower of the London on the Esplanade condo complex rises to the rear of The L Tower.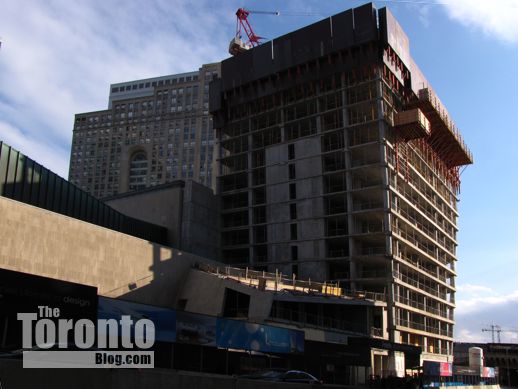 November 17 2011: The L Tower viewed from the northeast, at Yonge & Front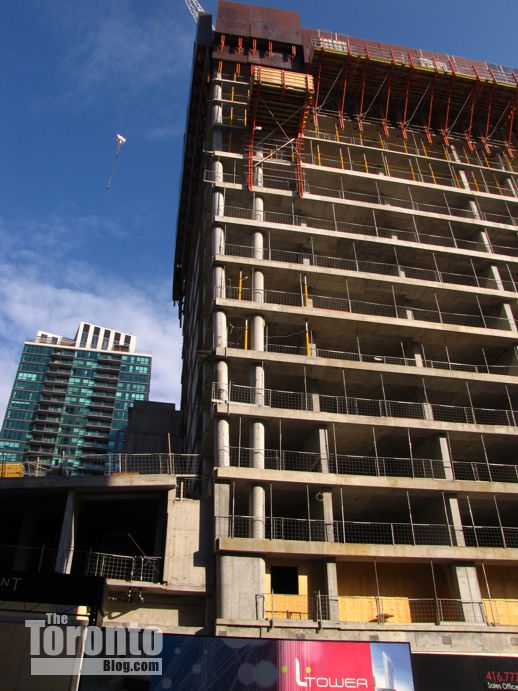 November 17 2011: West side of the tower viewed from Yonge Street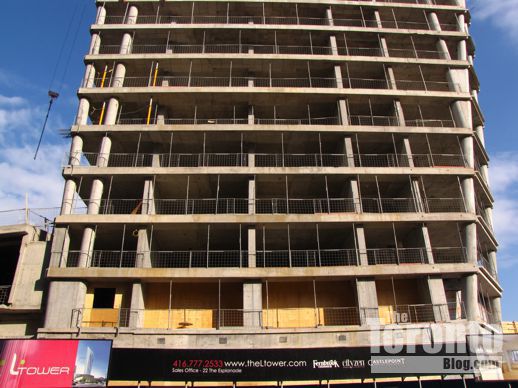 November 17 2011: Another Yonge Street view of the tower's west side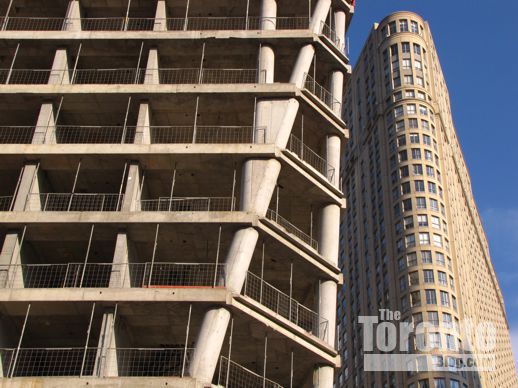 November 17 2011: A view of the tower's A-shaped southwest corner, and its condo highrise neighbour across the street at 25 The Esplanade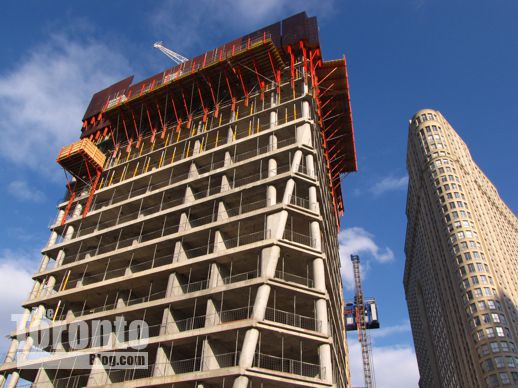 November 17 2011: Another view of The L Tower and 25 The Esplanade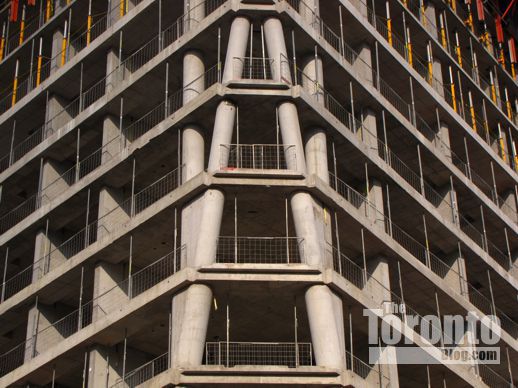 November 17 2011: The distinctive A-shape of the lower southwest corner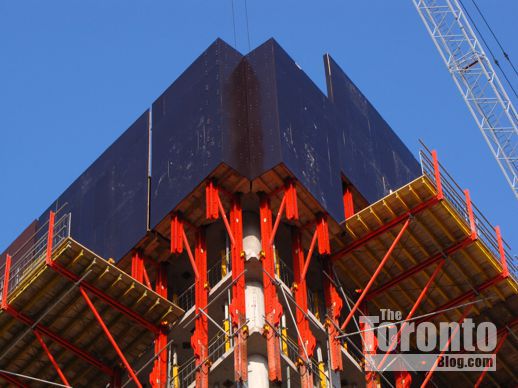 November 17 2011: Building forms at the top of the structure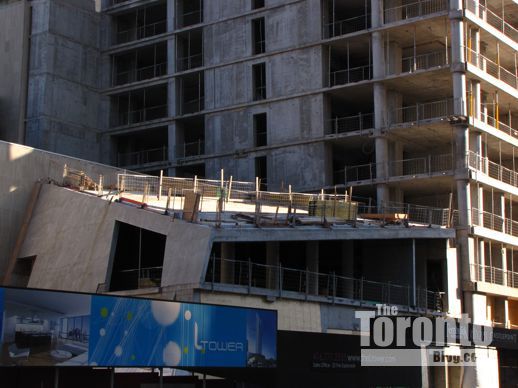 November 17 2011: The building's lower northeast corner, above Yonge Street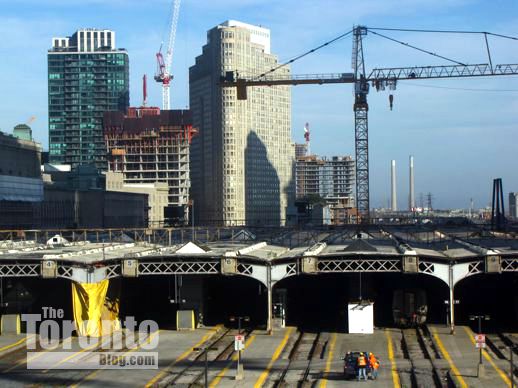 November 25 2011: West view of The L Tower, its neighbours, and a large black construction crane working on the Union Station revitalization project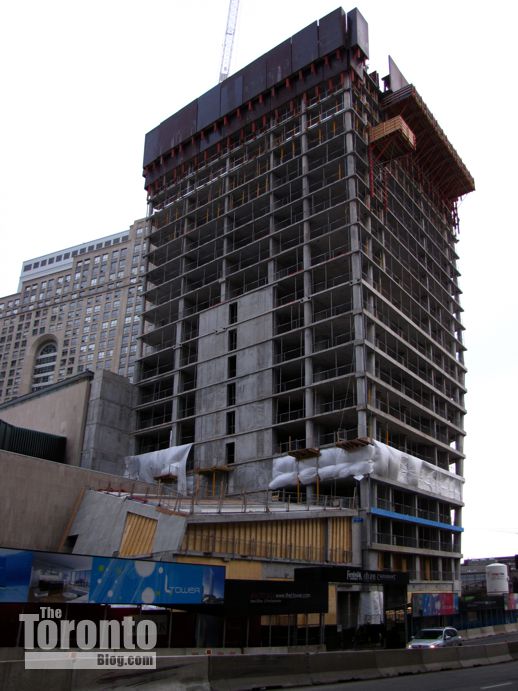 January 6 2012: The L Tower viewed from outside the Hockey Hall of Fame
at Brookfield Place, looking south down Yonge Street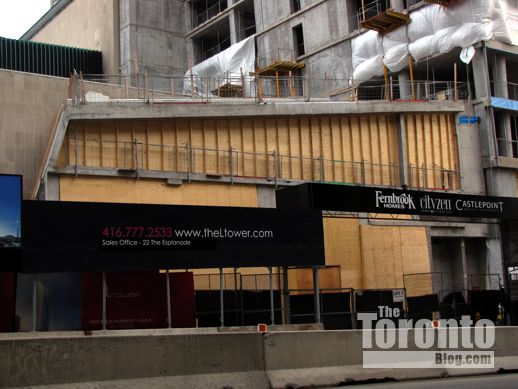 January 6 2012: The tower's lower northwest corner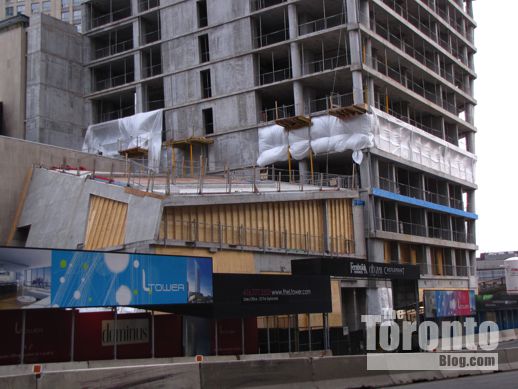 January 6 2012: The blue strip indicates where window and cladding installation will soon take place on the tower's third and fourth floors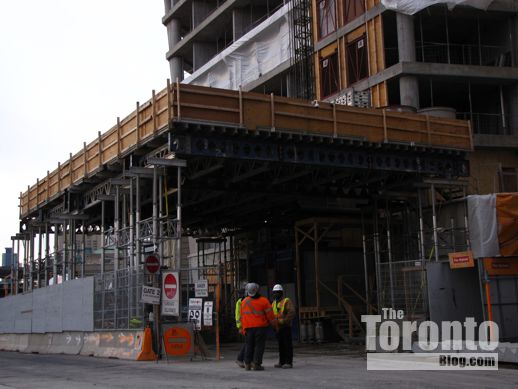 January 6 2012: A huge platform has been built above the construction staging area at the base of the tower on The Esplanade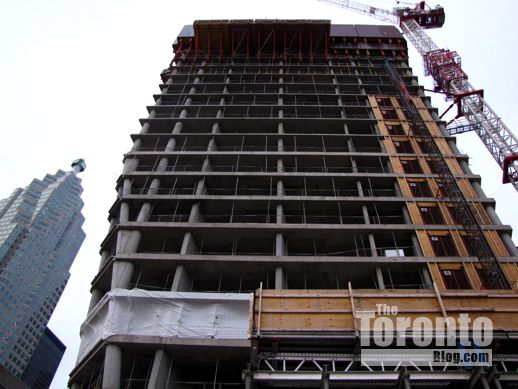 January 6 2012: Looking up the tower's south side, from The Esplanade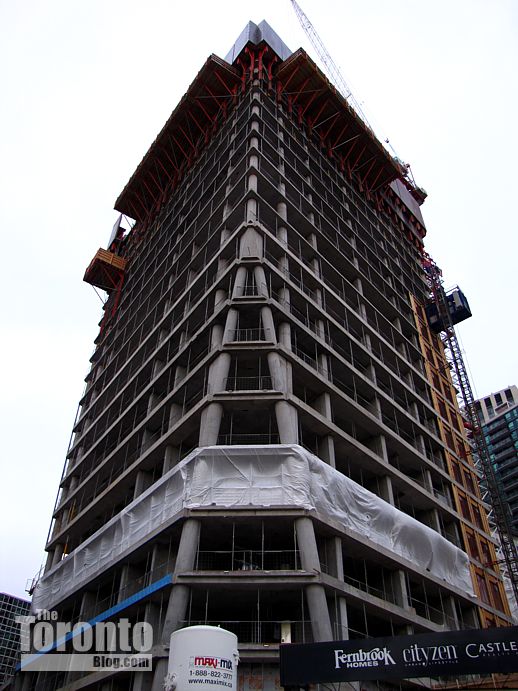 January 6 2012: Looking up the southwest corner of the tower, from Yonge Street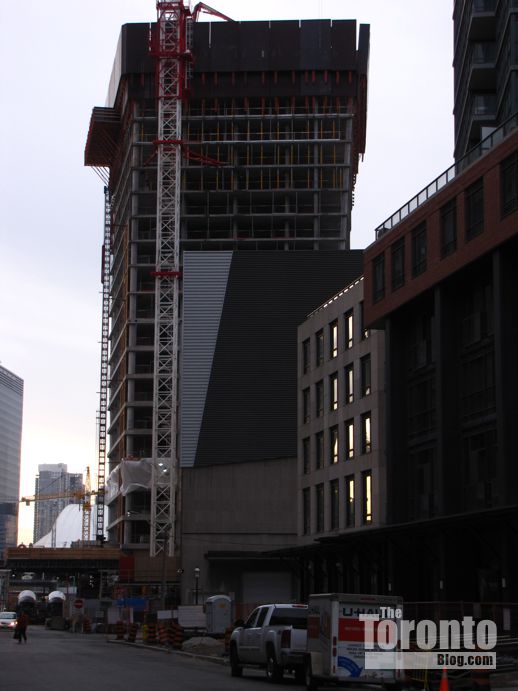 January 6 2012: The L Tower, viewed from one block to its east on The Esplanade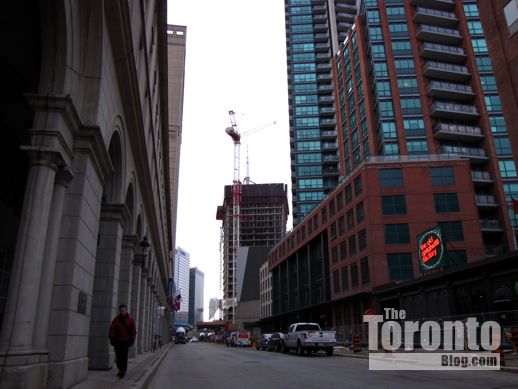 January 6 2012: The L Tower viewed from outside the Hotel Novotel Toronto Centre at 45 The Esplanade, left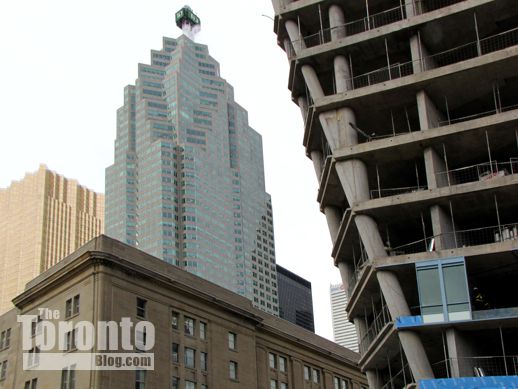 January 30 2012: First windows appear on the tower's lower south side
January 30 2012: The blue and white cladding adds welcome colour to the tower's dull concrete frame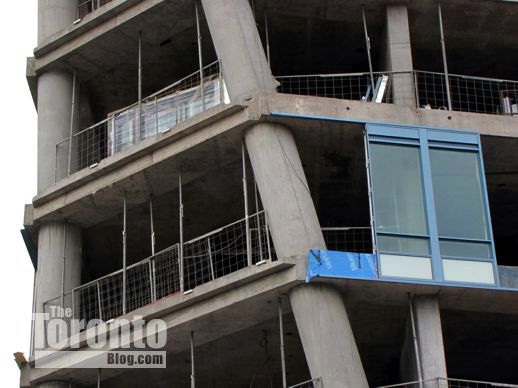 January 30 2012: The first two panels installed on the south wall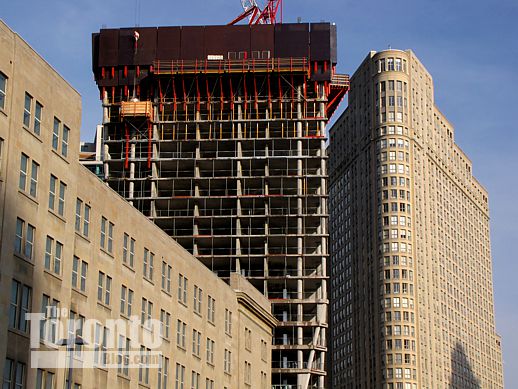 January 31 2012: A view from the west at the nearby GO bus depot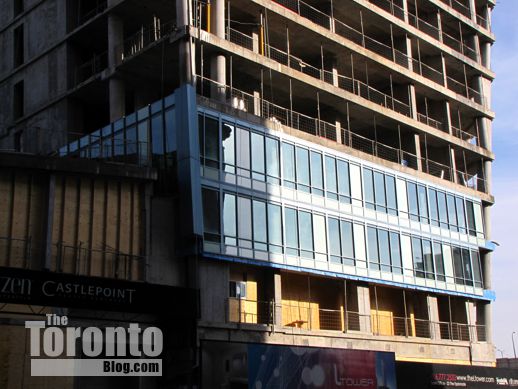 January 31 2012: The new cladding catches some afternoon sun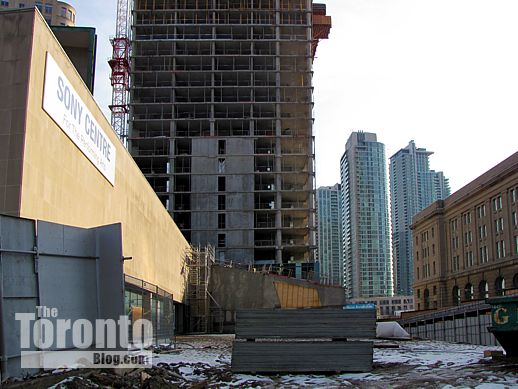 January 31 2012: Looking south from Front Street across what will become a public plaza on the north side of the tower, next to the Sony Centre
<>

<>
<>
<>

<>
<>