Shangri-la Toronto's developers, Westbank and Peterson Group, have a reputation for commissioning outstanding public artwork for their building projects, and the newspaper ads promise that Zhang Huan's "dynamic, multifaceted sculpture" will "exhilarate the public realm." If that's the case, Rising will perfectly complement the tower's dynamic and multifaceted (glass, stone and brick) architecture, which I think exhilarates the University Avenue-Adelaide Street intersection. (The project designers are James KM Cheng Architects of Vancouver and Hariri Pontarini Architects of Toronto.)
The artwork was largely under wraps when I walked past the site this morning, but parts of the sculpture depicting birds in flight were visible as crews prepared for tomorrow's unveiling.
Below are more recent photos of the Living Shangri-la Toronto building.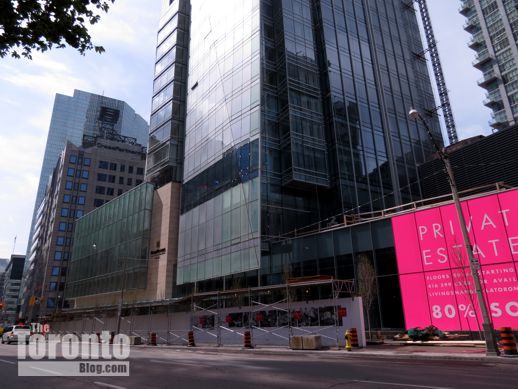 May 4 2012: Northeast street-level view of Living Shangri-la Toronto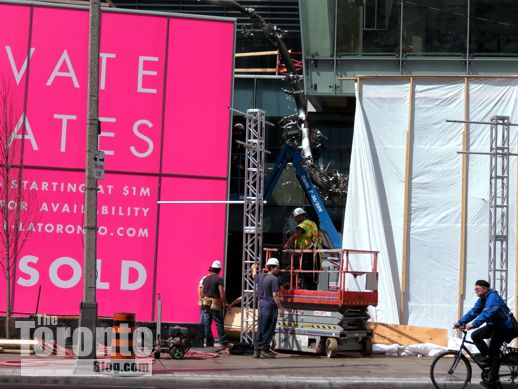 May 4 2012: A crew prepares the Zhang Huan sculpture for its unveiling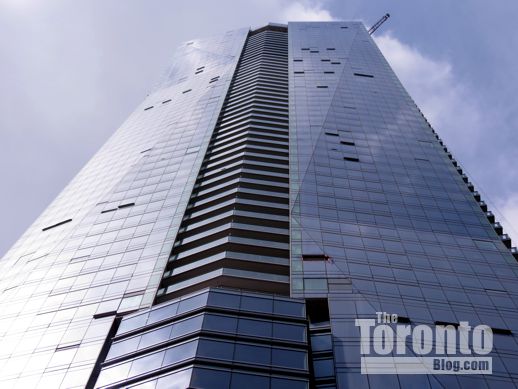 May 4 2012: The east side of the 66-storey glass tower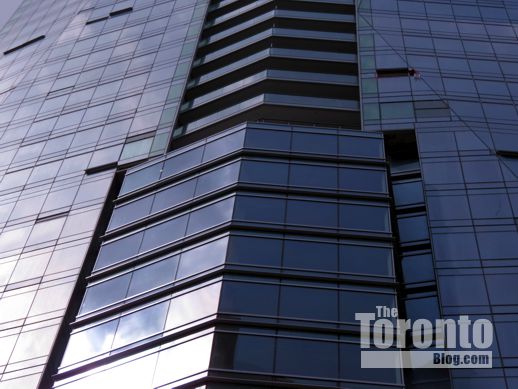 May 4 2012: Angles and creases add interest to the tower's east side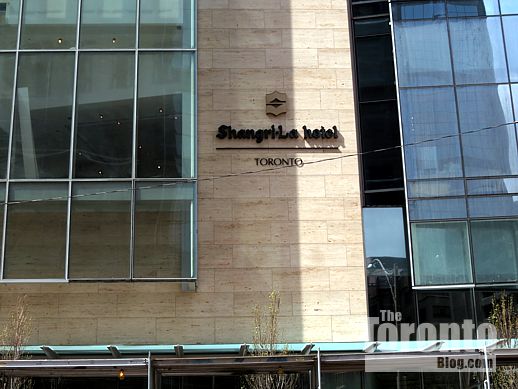 May 4 2012: Living Shangri-la Hotel logo on the building's east wall. The luxury hotel will have 222 rooms on floors 1-17.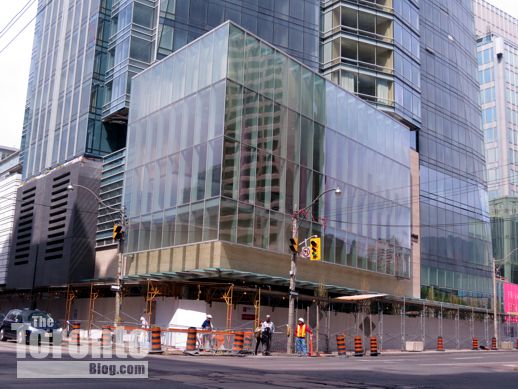 May 4 2012: The building's southeast corner at University & Adelaide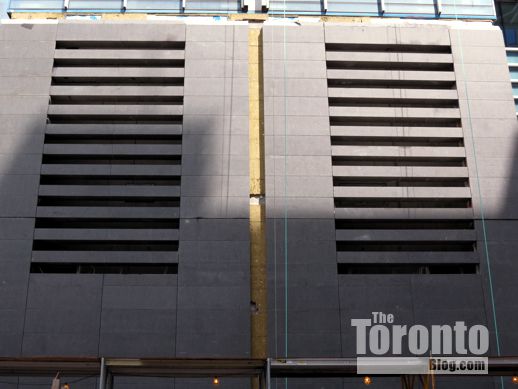 May 4 2012: Stone cladding on the tower base along Adelaide Street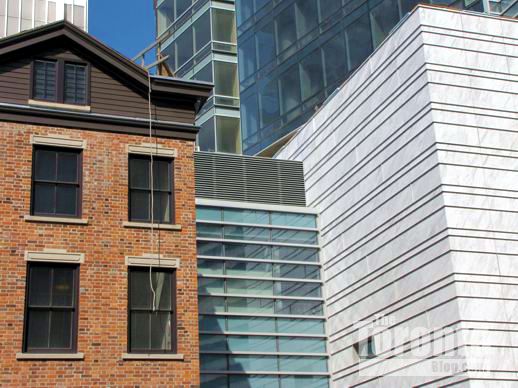 March 7 2012: The building base blends brick, glass and stone along Adelaide Street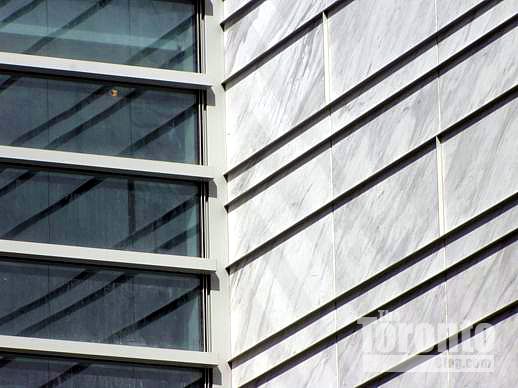 March 7 2012: A closer view of the glass and stone facade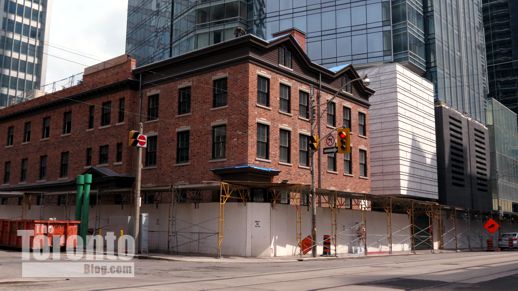 May 4 2012: The Bishop's Block rowhouses, which date from around the 1830s, were reconstructed as part of the Living Shangri-la Toronto complex. They will become home to SoHo House Toronto, a private club for film, media and creative professionals. The heritage building was profiled in an April 30 2012 story in the Toronto Star.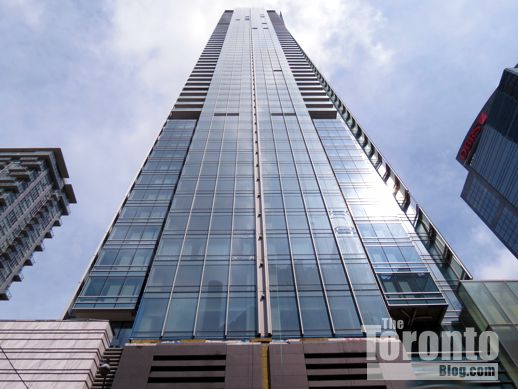 May 4 2012: Looking up the south side of the tower from Adelaide Street
May 4 2012: Looking up the tower's northeast corner from University Avenue
May 4 2012: The top of the tower, viewed from the northeast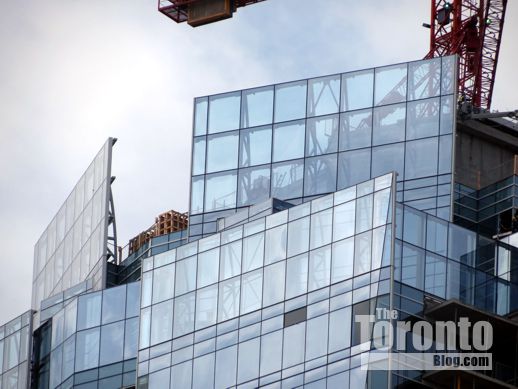 May 4 2012: A closer view of the rooftop design elements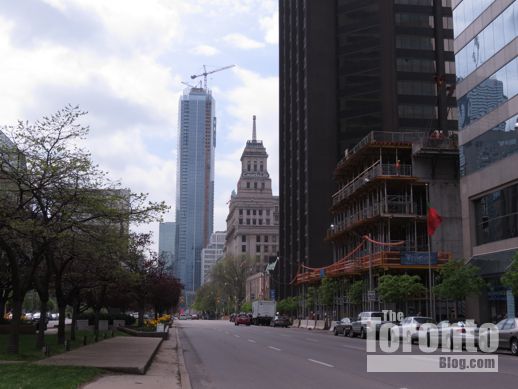 May 4 2012: A view of the tower from Dundas Street to the north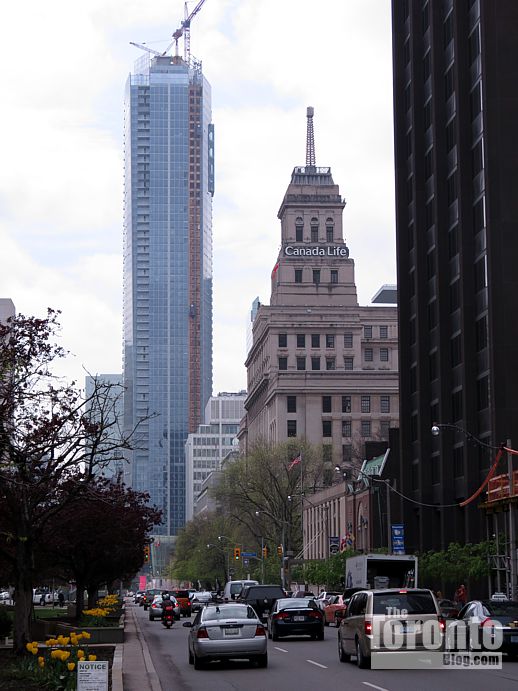 May 4 2012: Another view of the tower from University Avenue near Dundas Street
<>