During the long Civic Holiday weekend, crews were busy installing railings and glass panels on balconies at The Florian. That work, plus a few other finishing touches, is basically all that's left to be done on the exterior of the 25-storey luxury condo tower, a project by Diamante Development Corporation. The Florian was designed in a joint venture by Toronto architects Young + Wright / IBI Group Architects and David Pontarini of Hariri Pontarini Architects.
One block south at the Four Seasons Toronto complex, security guards outnumbered construction workers each time I walked past the property over the long weekend. Although crews still have to finish installing glass balcony panels and some cladding on the Scollard Street side of the East condo tower, most of the visible construction activity is now taking place at ground level. Elm trees have been already planted along the Scollard and Bay Street flanks of the complex, while installation of grey granite paving stones and curbs (a refreshing change from the banal white concrete sidewalks that characterize most downtown Toronto streets) is nearly complete on all three street sides of the property.
"Urban carpet" driveway and "rose-less" rose garden
The most interesting finishing touches are taking place on the southeast section of the Four Seasons site, where work is well underway on an intriguing driveway and urban garden designed by Montreal-based landscape architects and urban designers Claude Cormier + Associés. Cormier's vision of an "overscaled urban carpet" is gradually taking shape next to the West tower's elegant porte cochère, where workers are putting in place eight tonnes of red cobblestones that will resemble a rectangular carpet with a decorative floral motif. A 4-storey cast-iron Grand Fountain in the center of the "carpet" will greet arriving guests. A "rose-less rose garden" of low hedges and sitting areas will anchor the southeast corner of the site between Yorkville Avenue and the 26-storey East tower.
Designed by Toronto's architectsAlliance, the Four Seasons Hotel + Private Residences Toronto is a joint venture project of Menkes Developments Ltd. and Lifetime Developments. The Four Seasons Hotel component of the complex — 259 rooms, including 42 luxury suites — is scheduled to open in October. Its interiors, the hotel website points out, were "designed on a warm, personal scale by international design Yabu Pushelberg." The hotel's online booking system shows rooms available beginning October 5 at prices ranging $545 per night for a superior room to $1,900 for the Yorkville Suite. The hotel also will boast a 30,000-square-foot spa as well as internationally noted Chef Daniel Boulud's 150-seat Café Boulud on the mezzanine level, and his 63-seat dbar on street level (with seating for 50 on an outdoor patio).
Below is a series of recent photos of The Florian. Photos and a brief videoclip of the Four Seasons appear in the separate post immediately below this one.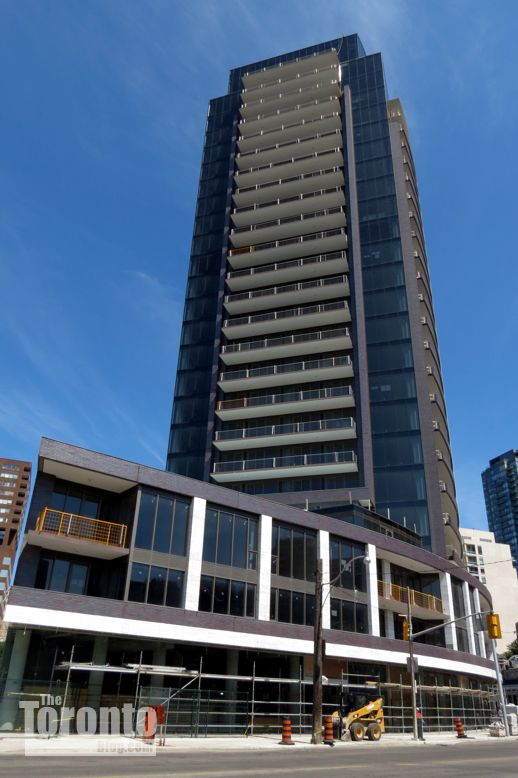 July 29 2012: A view of The Florian podium and 25-storey condo tower from the intersection of Bay Street and Davenport Road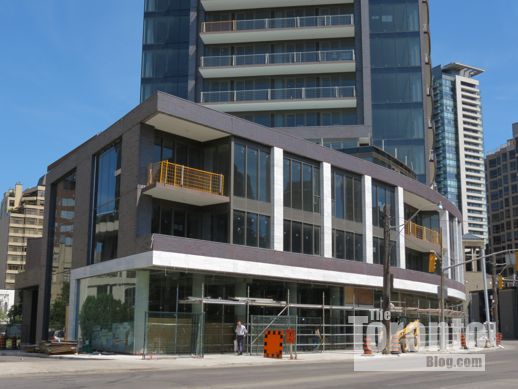 July 29 2012: The Florian podium viewed from the west along Davenport Road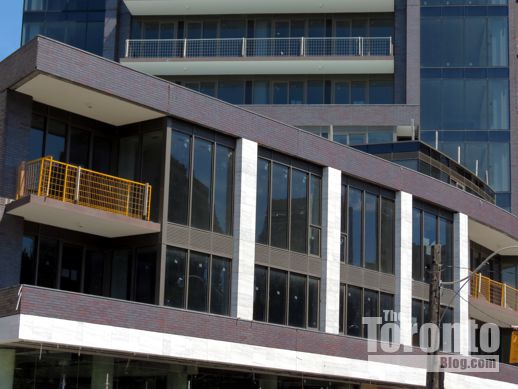 July 29 2012: Upper floors on the podium's southwest corner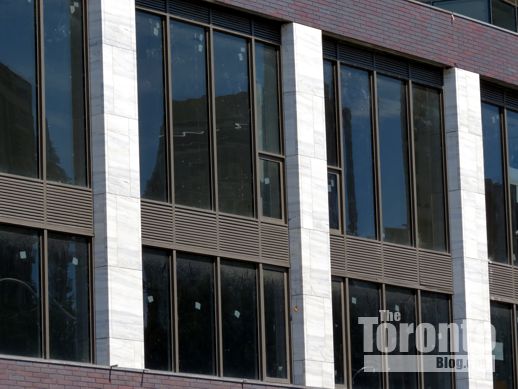 July 29 2012: Windows along the podium's south face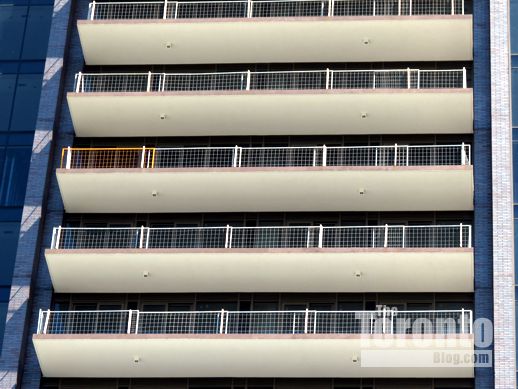 July 29 2012: Balconies on the tower's west side await glass panel installation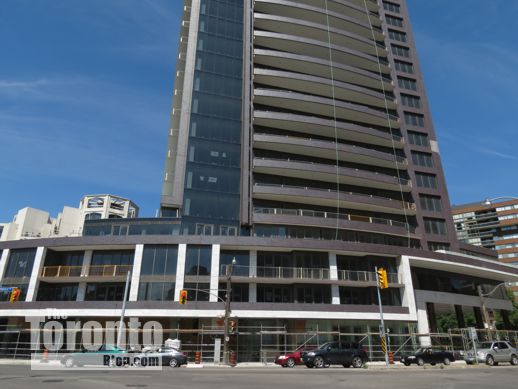 July 29 2012: The podium gracefully follows the curve of Davenport Road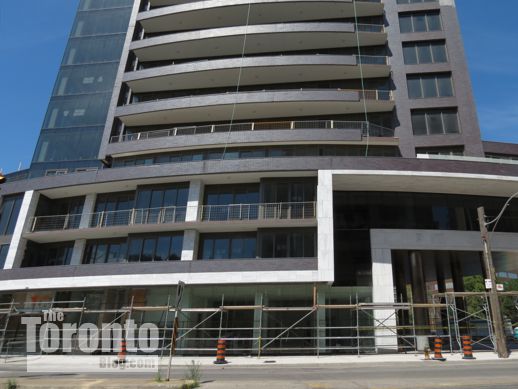 July 29 2012: The center section of the podium faces the top of Bay Street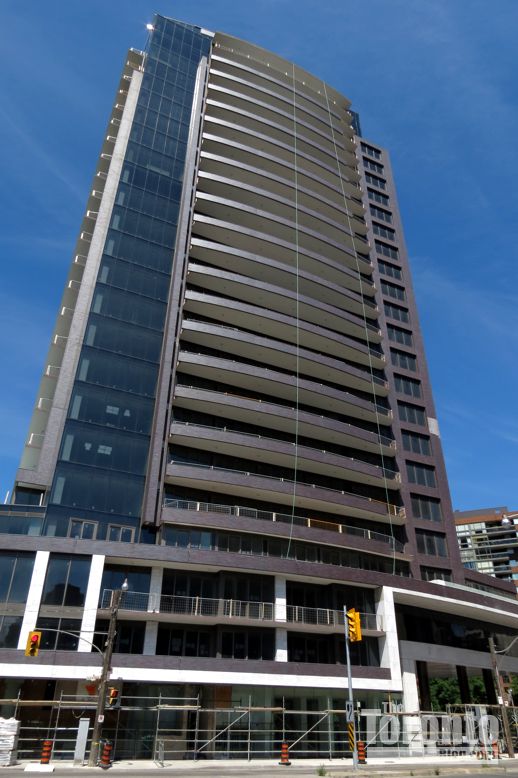 July 29 2012: Looking up the south side of The Florian tower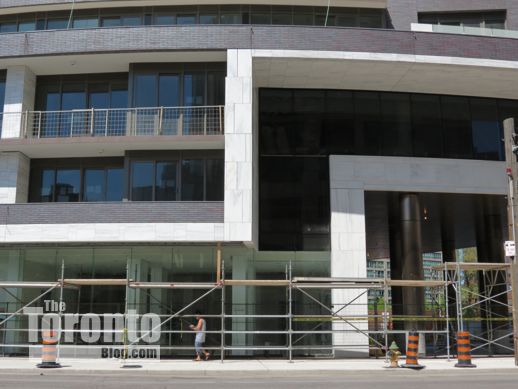 July 29 2012: White marble provides striking accents to the dark masonry cladding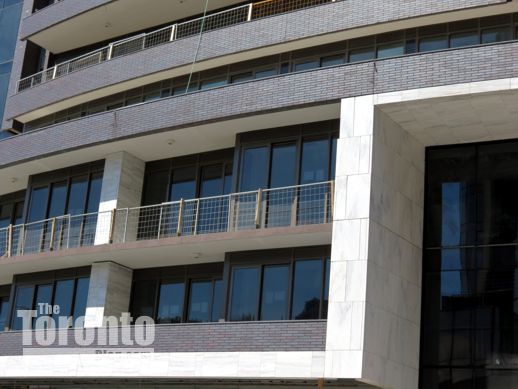 The Florian was designed in a joint venture by Toronto architects Young + Wright / IBI Group Architects and David Pontarini of Hariri Pontarini Architects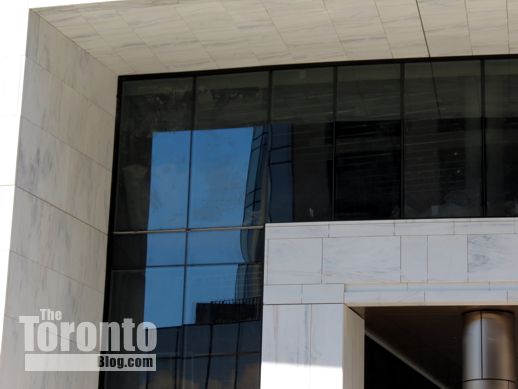 July 29 2012: A closer view of the dark glass windows and white marble cladding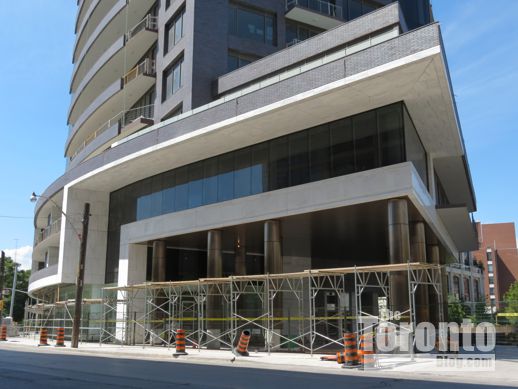 July 29 2012: The podium makes an emphatic sharp point at its east corner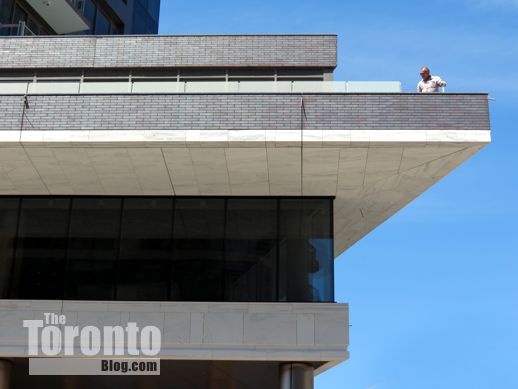 Jully 29 2012: A man stands on the east corner of a large terrace atop the podium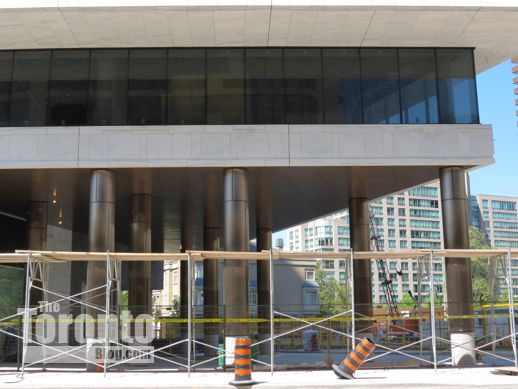 July 29 2012: The podium shelters the building's driveway and entrance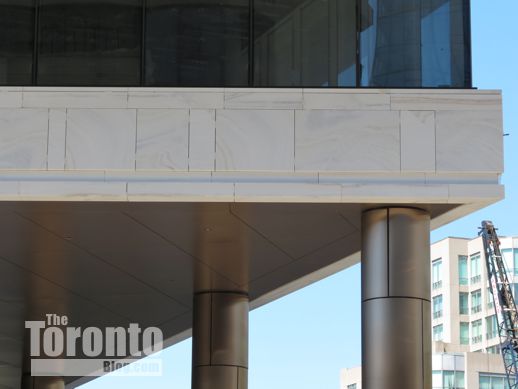 July 29 2012: Support columns on the podium's east corner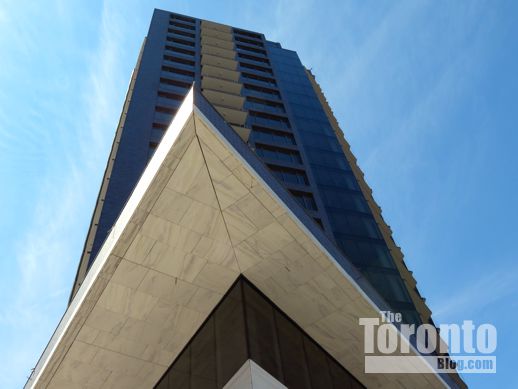 July 29 2012: Looking up from the east side of the building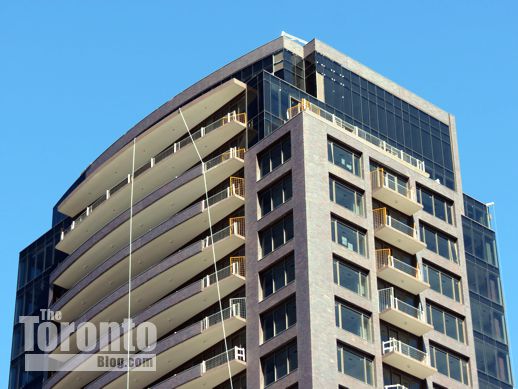 August 6 2012: A view of the tower's upper south and east sides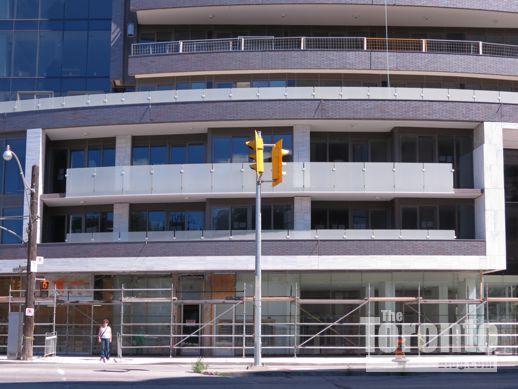 August 6 2012: Construction workers were busy installing glass panels on podium balconies during the August long holiday weekend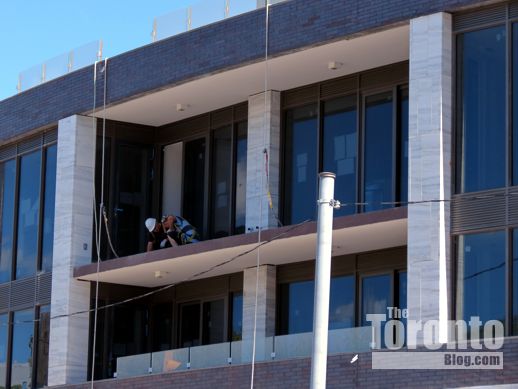 August 6 2012: Workers prepare to install glass panels on a podium balcony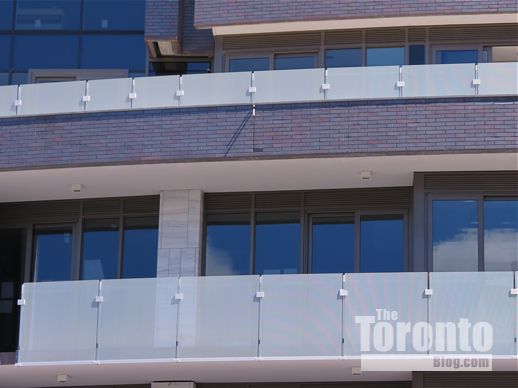 August 6 2012: Recently-installed panels on some of the other podium balconies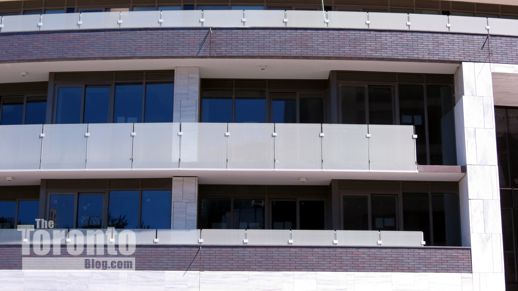 August 6 2012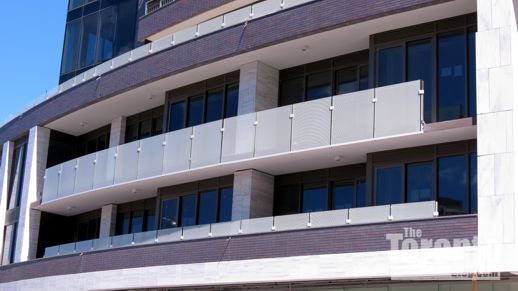 August 6 2012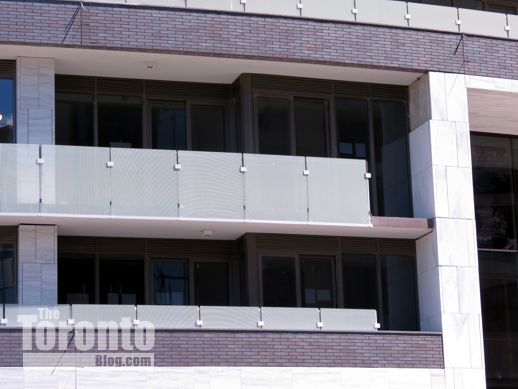 August 6 2012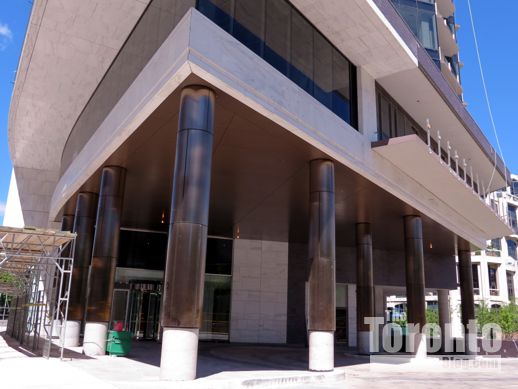 August 6 2012: The driveway off Davenport Road leads to the pedestrian entrance, left, and the parking garage entrance, right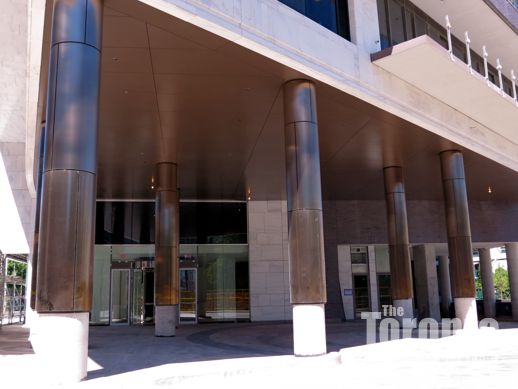 August 6 2012: Another view of the driveway and entrances under the podium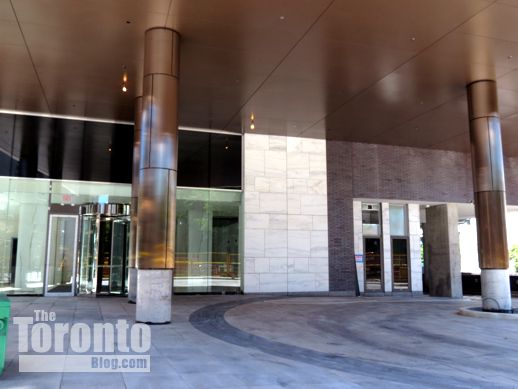 August 6 2012: A view of the circular driveway outside the main entrance