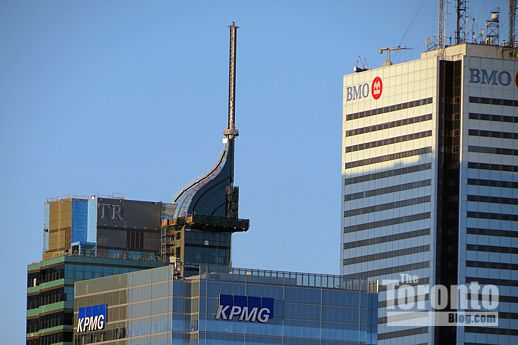 The first two letters of the TRUMP logo were installed atop the north side of the 65-storey, 900-foot Trump International Hotel + Tower Toronto by the end of May …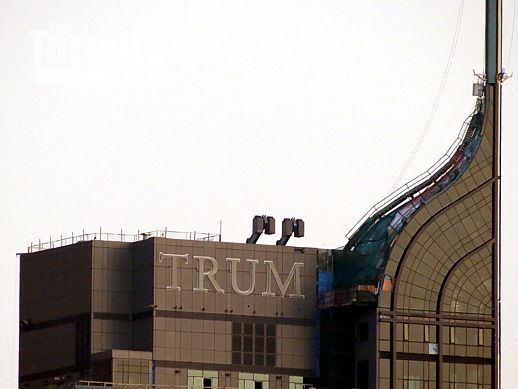 … but as of the 2012 Labour Day Weekend, the P still wasn't in place because construction hasn't yet finished on the tower's distinctive "quarter onion" and spire
 Waiting for a big P: When I last posted photos of the Trump International Hotel + Tower Toronto on June 8 2012, I wrote that installation of the giant Trump logo near the top of the building's north side "signals that completion of exterior construction isn't far off."
I was wrong.
Although the hotel has been open for business since early this year, work on the exterior upper reaches of the 900-foot, 65-storey tower still isn't complete. In particular, the P hasn't been added to the rest of the Trump logo because crews are still finishing work on the signature "quarter onion" and spire segments of the building that rise from the tower's northwest corner.
Several times on August 31, I saw construction workers climbing to and from the "crow's nest" on the spire, so I know the contractors are hurrying to complete the building.
But even though the full Trump logo isn't yet making its mark on the city skyline, the tower's illuminated spire is. For several weeks in June, downtown residents saw test-runs of the spire's lighting system, which reminded many Torontonians of the lightsabers in the Star Wars movies. Although the June testing showed the system's multicolour capabilities, the spire has emitted a only a pale pink glow above the Financial District since then.
Fingers crossed that the logo will be completely installed by Thanksgiving.