Geared to a young demographic that can't live without music and wi-fi, the building features 98 units that boast 9-foot ceilings and the convenience of built-in wiring for the latest technology —  ipod docking stations, pre-wired speakers, wireless Internet connectivity and high definition television.
According to the Sync Lofts website, 85 % of the units are sold, but 7 different layouts remain available at prices ranging from $466,900 for an 819-square-foot 2-bedroom on the 5th floor, to $799,900 for a 1,319-square-foot 2-bedroom + den, a southwest facing top floor suite with a 40-square-foot balcony on the lower level and a 251-square-foot terrace on the unit on the upper.
Below are more photos I snapped yesterday showing the building and part of the crane removal process. Several more artistic renderings of the building can be viewed on the Sync Lofts project page of the Tact Design website.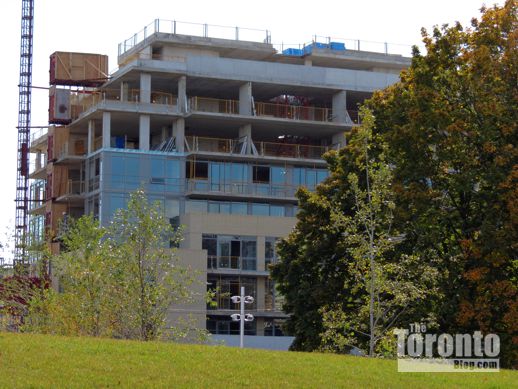 October 16 2012: The northeast corner of Sync Lofts is seen from a new city park on Munro Street just one block away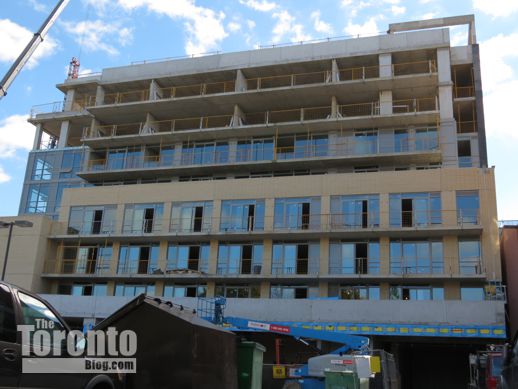 October 16 2012: North side of Sync Lofts viewed from Thompson Street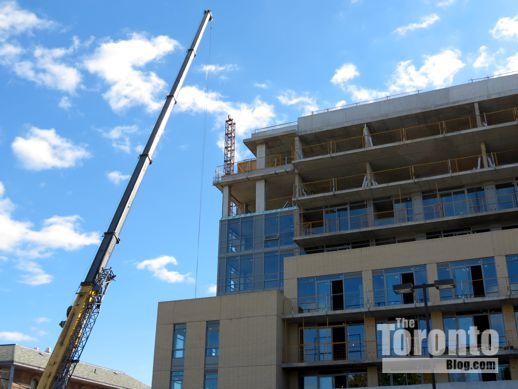 October 16 2012: This portable crane, parked on Carroll Street, took down the Sync Lofts construction crane piece by piece yesterday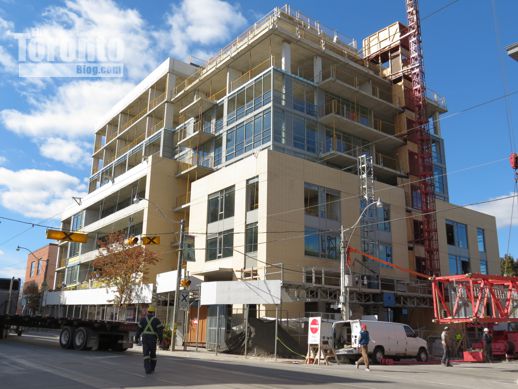 Traffic on Queen Street was halted intermittently while trucks moved into position to pick up the crane segments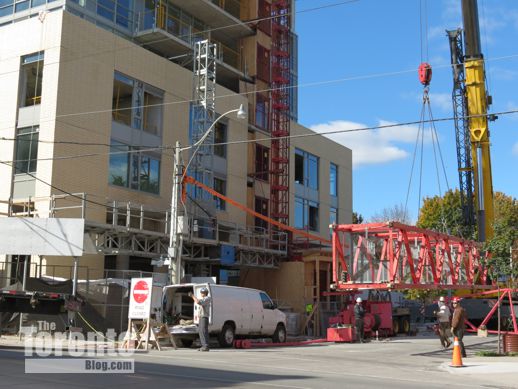 The portable crane holds a segment of the disassembled crane aloft as the flatbed truck backs onto Carroll Street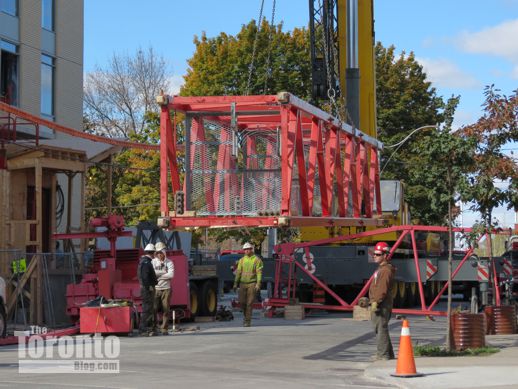 The crane removal crew stands by as …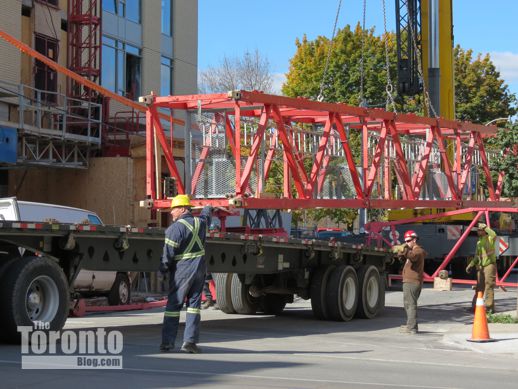 … the flatbed truck moves into position beneath the suspended crane segment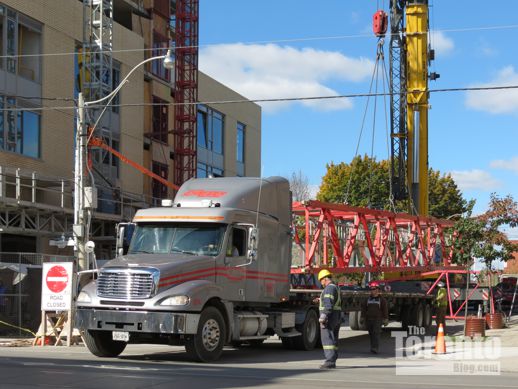 The crane segment is slowly lowered onto the truck …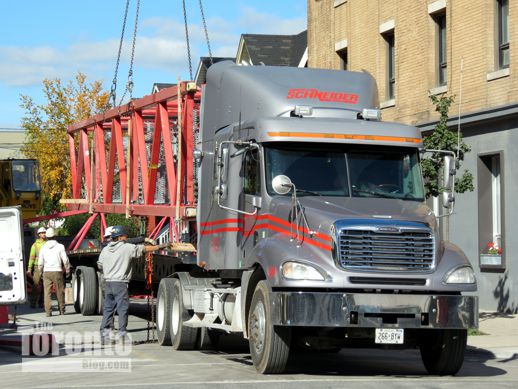 … which will transport it to its next job at another Toronto construction site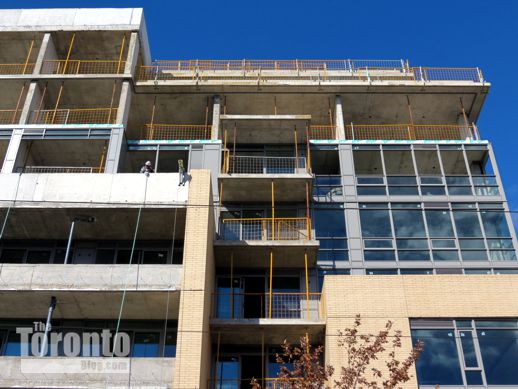 Queen Street view of the upper levels near the building's southeast corner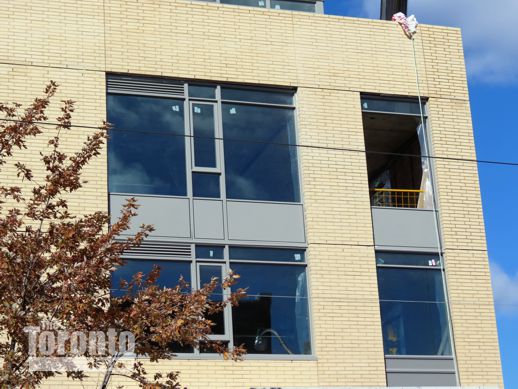 Windows and masonry on the lower southeast corner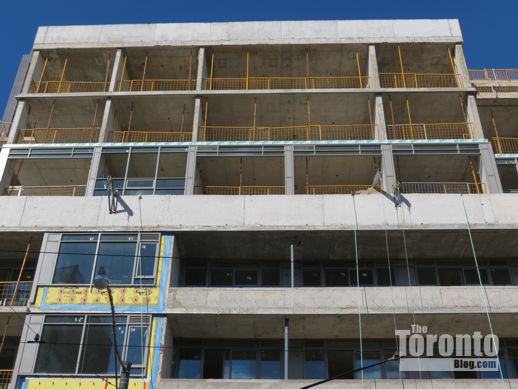 Upper levels near the building's southwest corner, viewed from Queen Street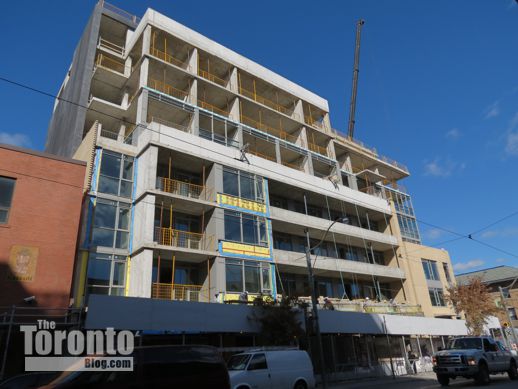 The south building's south side, overlooking Queen Street. The ground floor has retail space.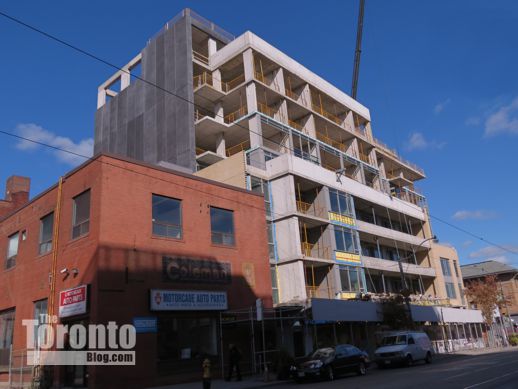 Building viewed from the southwest along Queen Street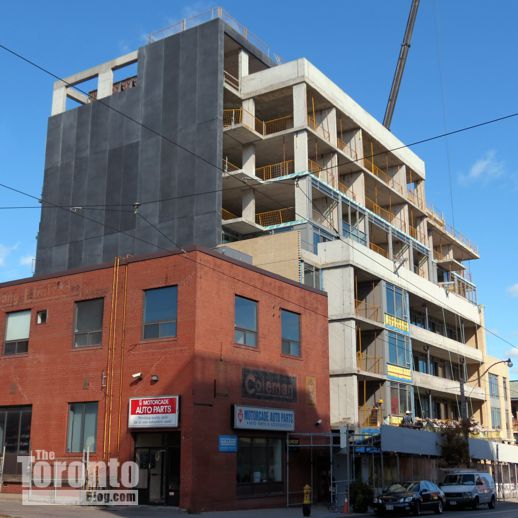 The Queen streetcar runs past the building 24 hours a day, while easy access to the northbound Don Valley Parkway is close by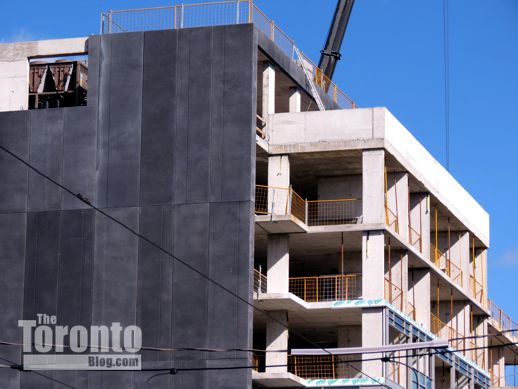 The upper southwest corner of the 8-storey building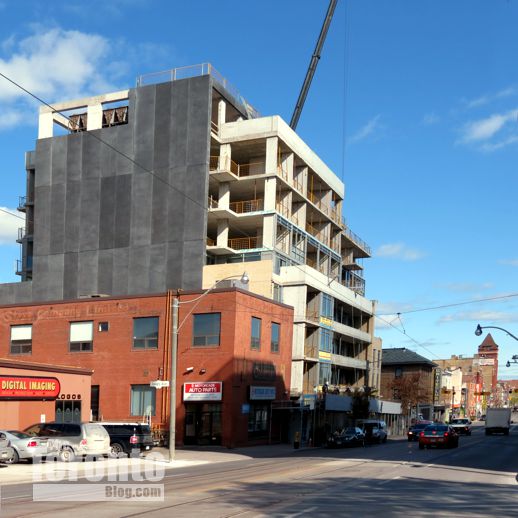 This building view from the southwest offers a glimpse along Queen Street East toward Broadview Avenue (the building with the triangular brown roof is situated on the northwest corner of Queen & Broadview, just a 2-minute walk away)