Building's look and size suit the location

From what I've been seeing as construction has progressed, the KPMB project team has clearly achieved both goals. Though the building is a sizeable 121,000 square feet with four floors and one underground parking level, and occupies much of its .43 hectare site, it doesn't overwhelm the neighbourhood's 2- and 3-storey heritage homes and apartments. Its look and size suit the location, something that can't be said for the gigantic Rogers Communication head office building nearby, which brutally dominates the area and looks completely out of place looming above the historic houses of Upper Jarvis. (By comparison, the ETFO structure was specifically designed to minimize shadow impact on nearby homes.)
Besides fitting well into its physical environment, the building boasts extensive green features and new environmental technologies, including "automated exterior shading, radiant heating and cooling ceiling systems, underfloor or 'displacement' air delivery, geothermal fields, exhaust air heat recovery, rainwater harvesting, natural ventilation, [and] automated lighting systems," an ETFO project description noted. Also designed to achieve LEED (Leadership in Energy & Environmental Design) certification, the building has a large green roof that will serve the dual purpose of insulating the building while providing a storm water management system.
Property features extensive street-level landscaping
Although those environment features won't be visible to most neighbours or people passing by the building, extensive exterior landscaping will be. According to a July 20 2010 city planning report about the project, 9 privately-owned trees would have to be destroyed to enable construction to commence, including several mature trees that provided shade to the Huntley and Isabella Street sidewalks next to the property. But ETFO and the architects made a commitment to replant dozens of replacement trees and shrubs, and specifically designed a notch in the the west side of the building to preserve a big black walnut tree that has long towered above Huntley Street. 
I was amazed by the number of new trees and shrubbery that were delivered to the ETFO site for planting during November, and even more impressed to see the significant size of many of the trees. Kudos to the landscapers for planting hearty, healthy trees, rather than the sad-looking, scrawny saplings that most developers stick along downtown streets. (The trees planted last fall along Bay Street outside the new Burano Condos, as well four trees planted on the north side of the revitalized Maple Leaf Gardens, look like pathetic sticks in comparison).  When the new trees fill in with leaves in the spring, they'll help the ETFO headquarters blend even better into the leafy neighbourhood.
Below are a few more photos I shot of the ETFO building today, along with a link to a Flickr album containing 50 photos of construction progress since last summer.  See my May 9 2011 post for more information about the project, as well as dozens of photos showing how the ETFO site and surrounding neighbourhood looked prior to construction. Photos of earlier construction activity can be viewed in my posts on November 6 2011; December 8 2011; January 13 2012; and April 29 2012.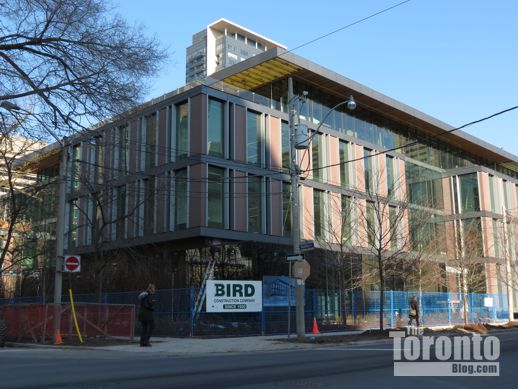 January 16 2013: The ETFO building was designed by Toronto's KPMB Architects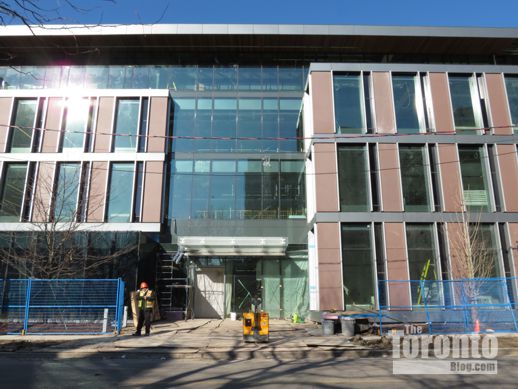 January 16 2013: Front entrance takes shape on Isabella Street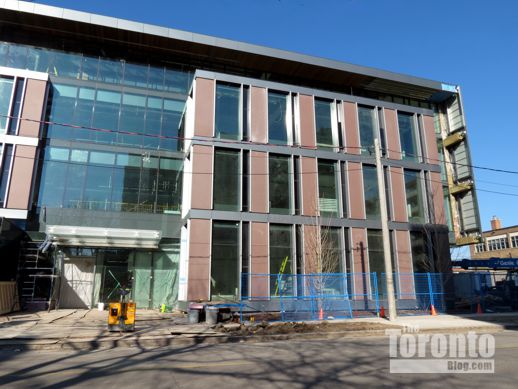 January 16 2013: Another view from Isabella Street. A driveway entrance to the underground parking level will run along the right (east) side of the building.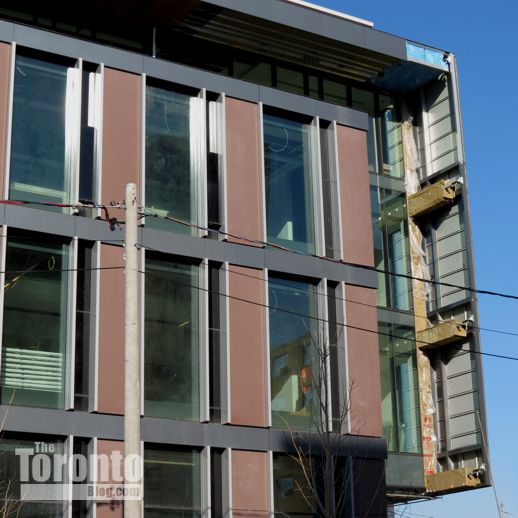 January 16 2013: Parts of the building exterior await finishing touches while workers are working to complete the interior by March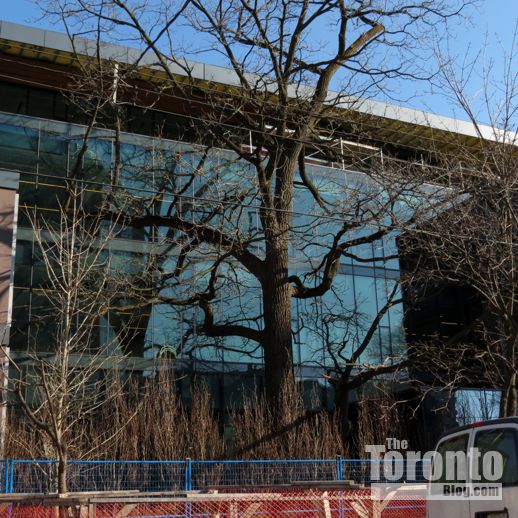 January 15 2103: The west side of the building was specifically designed to preserve this grand black walnut tree. Dozens more trees and an array of shrubbery has been planted in an extensive landscaping project on the north, west and south sides of the building.
Above is a link to ETFO building photos I've shot since July. Click the image once to see a small-format slideshow right here, or click twice to access the full-size photos directly from the album on thetorontoblog.com's Flickr page.