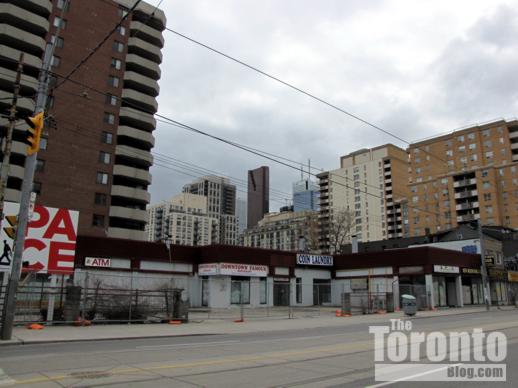 Great Gulf Homes is proposing a 46-storey condo tower for this site at the SW corner of Dundas and Jarvis Streets, seen here on March 22 2011.
Public feedback: A community consultation meeting this evening will give city residents the opportunity to voice their views about a Toronto developer's proposal to build a 46-storey condo tower at the southwest corner of Dundas and Jarvis Streets. The meeting about Pace Condos, scheduled to begin at 6 p.m. at Metropolitan United Church, was recommended in a March 22 2011 preliminary report by the city's Planning Division.
Great Gulf Homes is proposing a 46-storey mixed-use building for the corner site, which includes municipal addresses at 200 Jarvis Street and 155 – 163 Dundas Street East. The tower would have five underground levels and a 10-storey podium, and would contain 417 residential units in studio, 1-bedroom, 1-bedroom + den, 2-bedroom and 2-bedroom + den configurations. Prices start at $209,990.
An article on the Great Gulf website claims that Pace Condos "offers unbeatable downtown Toronto value in new condo living," and raves that its prime location — which is just a "leisurely pace" from leading downtown attractions and key city transit services — will be ideal for people seeking "a new urban lifestyle." The article further boasts that the condo building itself will be "a paragon of architectural brilliance. This shimmering, sleek and streamlined glass tower designed by Diamond + Schmitt Architects Inc. will artfully rise from a podium comprised of dark charcoal-coloured bricks. Pace will embody urban elegance at its best — and will define a new generation of urban elegance. Landscaping by Phillips Farevaag Smallenberg will frame the building in startling greenery and colour."
What the article doesn't describe is the gritty neighbourhood; as I mentioned in a March 22 2011 post, the Pace Condos location is on the edge of one of the poorest residential areas in the city, if not the entire country. Within mere minutes' walking distance are dozens of hostels, homeless shelters, subsidized housing apartments, soup kitchens and social service agencies for the poor. From my experience, it has been difficult to walk past the Dundas/Jarvis intersection, or along nearby streets, without encountering numerous panhandlers, street people, and a slew of sketchy people openly selling and doing drugs or drinking alcohol. Despite the neighbourhood's seedy character, the condo tower proposal has generated tremendous local interest — from excited potential buyers, from citizens who think Pace could kickstart wider urban renewal in the immediate area, and from nearby residents who are alarmed by the height and size of the building that could soon become their new neighbour.
Given wide interest in Pace Condos, tonight's meeting could attract a large turnout and spark colourful discussion, both positive and negative.  I'm keen to hear if the Pace Condos proposal generates reactions similar to those expressed at other public meetings I have attended recently. A community consultation for a massive condo project planned for the St James Town area drew overwhelmingly negative feedback from the audience, while a Jarvis Street resident read an emotional and strongly-worded three-minute speech blasting the Pace Condo proposal at another public meeting about proposed guidelines for tall buildings in the downtown area. Unfortunately, I can't attend the meeting, but I will continue to track further developments.