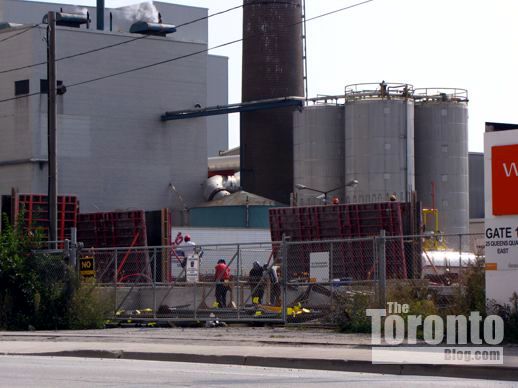 September 13 2011: Construction crews arrange forms for first-floor walls at the northeast corner of The Residences of Pier 27 condo project site on Queen's Quay East, just a stone's throw from the Redpath Sugar Refinery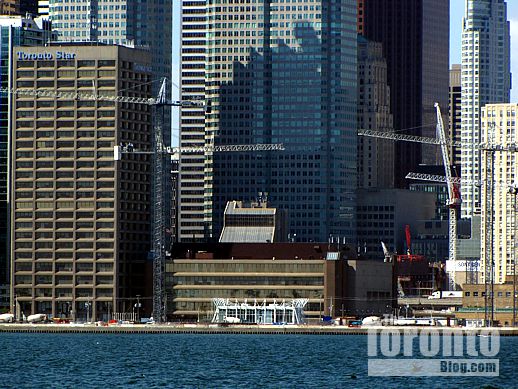 August 30 2011: A Toronto Islands view of four cranes towering above the Pier 27 condo building site and sales centre (white structure at bottom middle of photo). This view of the waterfront will look markedly different by this time next year …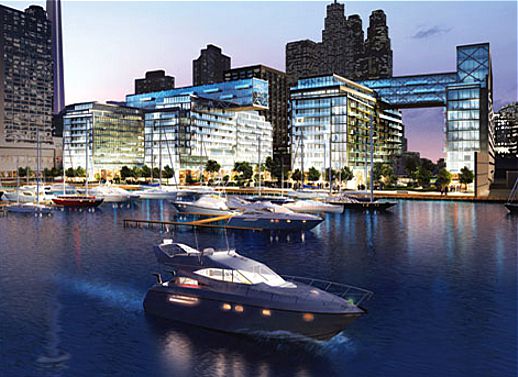 ... once substantial progress has been made on construction of the East Bayfront condo complex's distinctive design, seen in this artistic illustration …
«»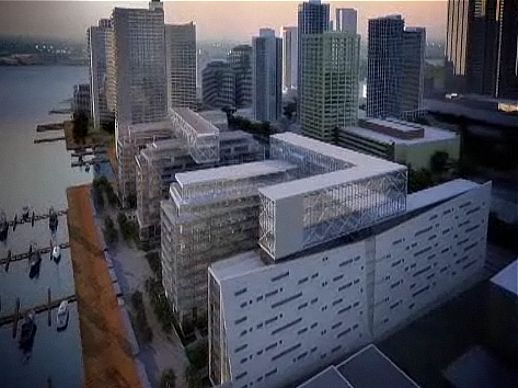 … and in this video screen capture, both from the Pier 27 website
«»
Redpath's neighbour ready to rise: Toronto's eastern waterfront is about to get an exciting new look now that Phase 1 construction of The Residences of Pier 27 has reached grade along Queen's Quay Boulevard East. The first condominium complex to be built on Toronto's East Bayfront, Pier 27 will transform a prime piece of property at the foot of Yonge Street from a large dusty parking lot into a gleaming glass and steel midrise residential community with publicly-accessible waterfront green space and parkland. I'll be thrilled to watch these condo buildings rise; their sleek modern architecture should vastly improve the appearance of what I consider to be one of downtown's most dismal streets — a gritty stretch of landscape presently dominated by the huge, hulking Redpath Sugar Refinery.
Construction has made the most progress at the northeast corner of the Pier 27 property, right next to the refinery, where pedestrians and passing motorists can now see crews working at street level, just a few meters from the security fence running along the south side of Queen's Quay Boulevard. In late July, you couldn't see the workers unless you walked right up to the fence to peer into the giant excavation; at that time, the crews were still well below grade, gradually filling in the underground parking levels for the Phase 1 construction on the easterly half of the site. The Phase 2 construction zone to the west isn't visible from the street at all, but work has been steadily progressing on the foundation there, and a fourth construction crane was erected on the site last month. According to a July 25 2011 post on the Cityzen Urban Lifestyle blog, crews had been pouring 3,000 cubic meters of concrete per month just for Phase 1 construction — that's equivalent to the load carried by 333 concrete trucks. Once Phase 2 construction gets going full steam, the pour is expected to increase to 5,000 cubic meters (555 truckloads) per month, the Cityzen blog says.
A project of Cityzen Developments and Fernbrook Homes, The Residences of Pier 27 was designed by Peter Clewes of Toronto's architectsAlliance.
Below are some of my photos of Pier 27's recent construction progress. Photos of earlier building activity can be viewed in my posts on July 21 2011, April 22 2011, February 18 2011, and January 4 2011.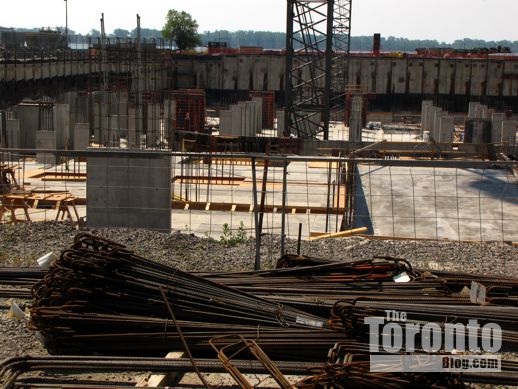 July 17 2011: Underground level construction on the east side (Phase 1) of the Pier 27 site, seen through the security fence on Queen's Quay Boulevard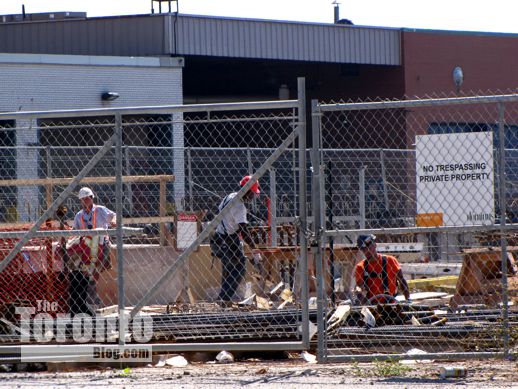 August 17 2011: A construction crew works at street level at the northeast corner of the Pier 27 site, mere steps from the Queen's Quay Boulevard sidewalk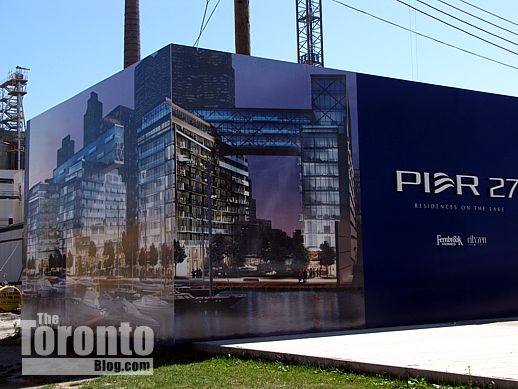 August 17 2011: Pier 27's midrise towers, each topped by a distinctive multi-level "SkyBridge," are depicted on this promotional billboard outside the project sales centre on Queen's Quay Boulevard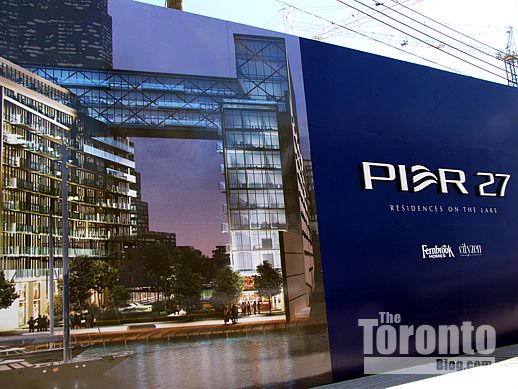 August 17 2011: Billboard illustration of the SkyBridge spanning the top of Pier 27's Phase 1 towers on the east side of the project site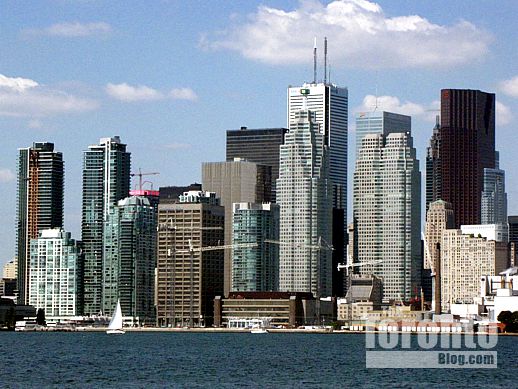 August 30 3011: A Toronto Islands view toward the Pier 27 site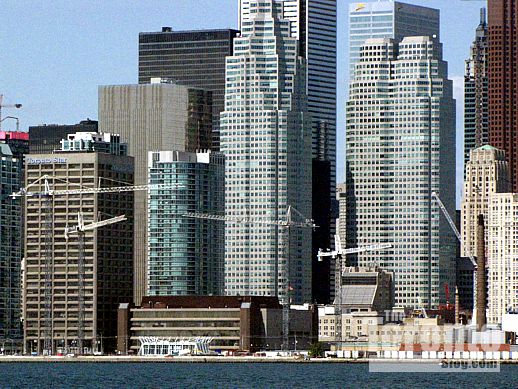 August 30 3011: Toronto Islands view of cranes above the Pier 27 building site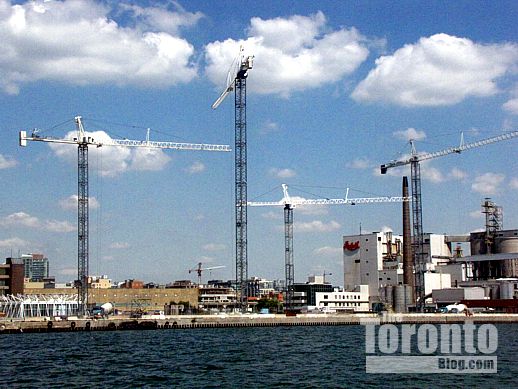 August 30 3011: Ward's Island ferry view of cranes at the Pier 27 site adjacent to the Redpath Sugar Refinery (right)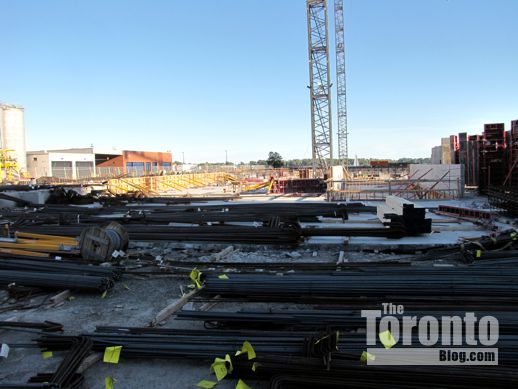 September 12 2011: Construction moves above street level as seen in this view of the Phase 1 site from the sidewalk on Queen's Quay Boulevard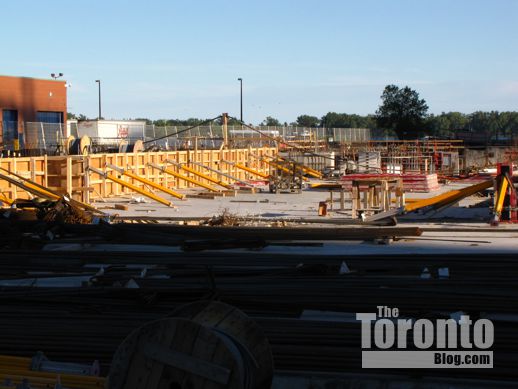 September 12 2011: Building forms along the eastern perimeter of the Pier 27 site, next to the Redpath Sugar Refinery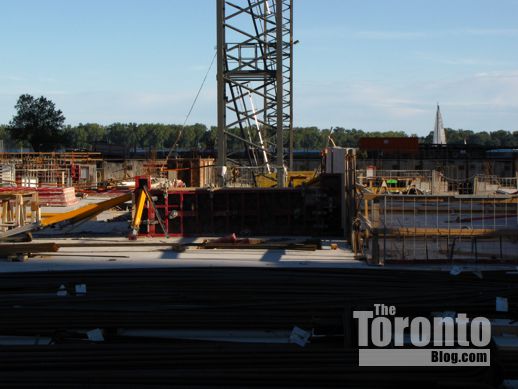 September 12 2011: Building forms begin to rise above street level next to the construction crane near the northeast corner of the Pier 27 site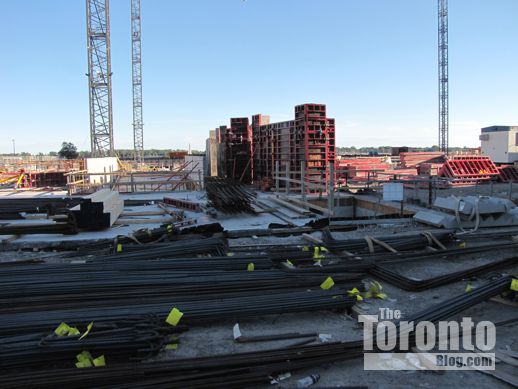 September 12 2011: Three construction cranes are visible in this view of wall forms rising toward the center of the Pier 27 building site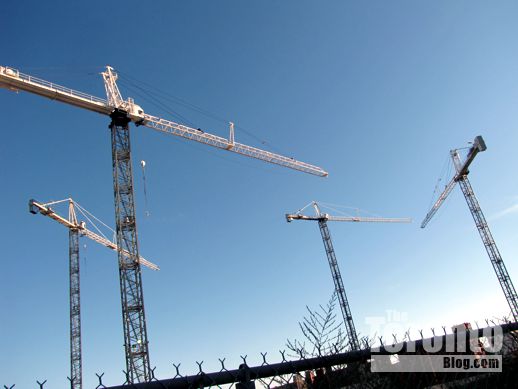 September 12 2011: Looking up at the four cranes working the Pier 27 project