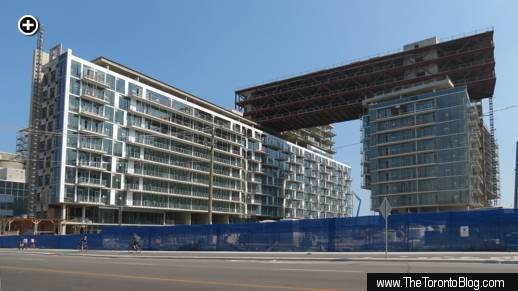 August 19 2013: Most windows have been installed on the two east buildings at The Residences of Pier 27 condo site, but installation hasn't yet begun on the SkyBridge linking them. The steel frames for the SkyBridge were built a year ago.
Waterfront wonders: Judging by the positive reaction of passersby, The Residences of Pier 27 prove that imaginatively-designed midrise condo buildings can be just as attention-grabbing and impressive as soaring 70-storey skyscrapers.
I don't get down to the lakefront as often as I would like to monitor progress on the Pier 27 project, but each time I do I'm amazed by the number of people who are captivated by the construction.
In particular, passersby are fascinated with the 3-storey-tall SkyBridges than span the tops of the four towers currently under construction on Queen's Quay Boulevard East, near the foot of Yonge Street.
"Wow" is the most common comment, while many people say how much they would "love" to live in one of the lake-facing SkyBridge penthouses and enjoy the fabulous views of the Toronto Islands. People I chat with — many of whom are tourists — think the building design is striking, and a refreshing change from the skyscraper condos that have been rising throughout the downtown area. I can't recall any negative or highly critical comments about the buildings, which were designed by Peter Clewes of Toronto's architectsAlliance.
The Residences of Pier 27 is a project of Cityzen Developments and Fernbrook Homes.
Below is a link to the Pier 27 Condos album from TheTorontoBlog's Flickr page. It contains more than 60 recent pics of construction progress.
Above is a link to dozens of recent photos showing construction progress at The Residences of Pier 27 condo construction site. Click twice on the image to view the photos in full-size format.