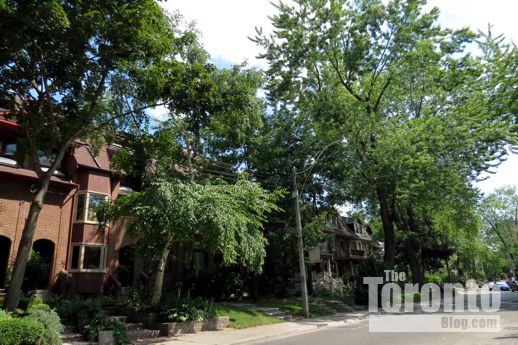 The lush trees and gardens adorning the front yards of these brick homes on the north side of Dundonald Street could be imperiled by construction of up to four condo highrises …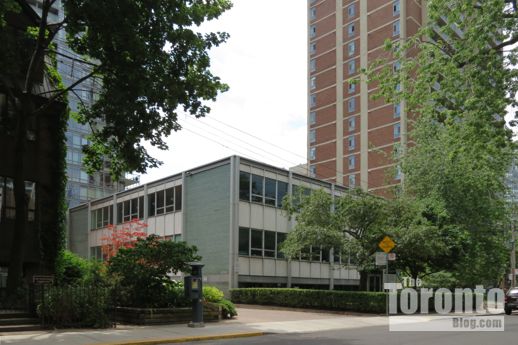 … including an 18-storey tower that would incorporate parts of the brick, travertine and glass facade of this Modern-style office building constructed in 1956 at 17 Dundonald …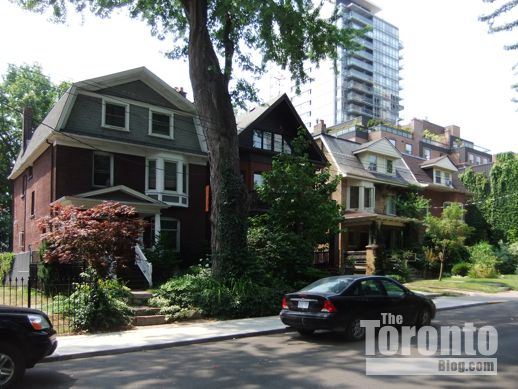 … a potential 18-storey condo on the site of these three-storey houses at 31-37 Dundonald, currently being offered for sale as a block for redevelopment …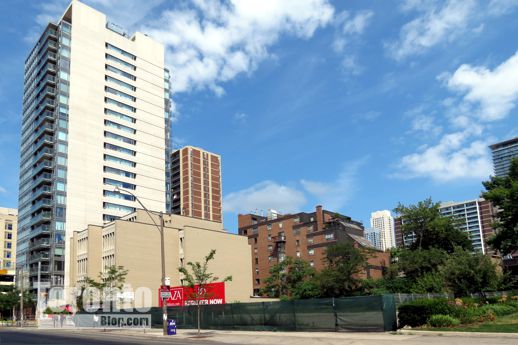 … and two more condo towers, each at least 28 storeys tall, that would loom above Dundonald Street from this location on Wellesley Street East to the immediate south ….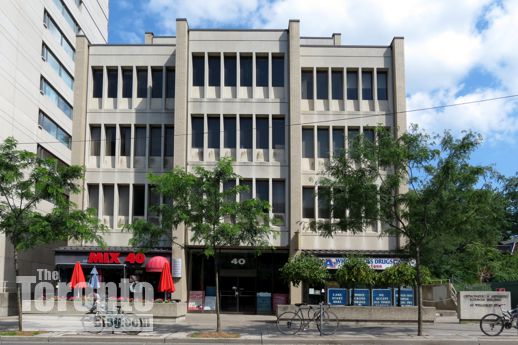 … including a 118-meter-tall (32 storeys) condo tower that a developer wishes to build on the site of this 5-storey office building at 40 Wellesley Street East …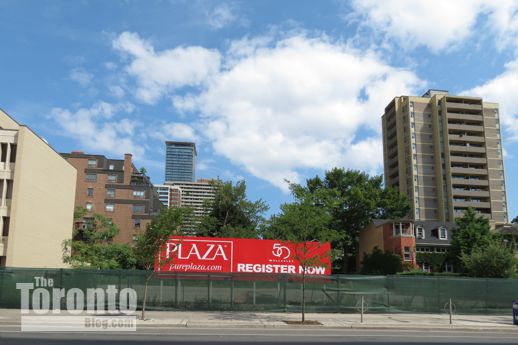 … and a 28-storey condo, now being marketed to prospective purchasers, on the site of what is currently an empty lot at 46-50 Wellesley Street East
Dundonald doomed?: A quiet, tree-lined residential street in north downtown's Church-Wellesley neighbourhood could lose much of its appeal, charm and character — and possibly even much of its lush greenery — if proposals for four condo towers in the area come to fruition.
Only one block long, Dundonald Street runs east-west between Yonge and Church Streets, just one block north of Wellesley Street. It's among my favourite downtown streets, one I walk several times each week to avoid the noise, steady vehicular traffic and busy sidewalks of Wellesley Street. But my alternative walking route might lose its quiet, pleasant appeal in several years' time if two highrise condo buildings get built on the south side of Dundonald, along with two more right behind them on the north side of Wellesley Street.
CONTINUED ON PAGE 2