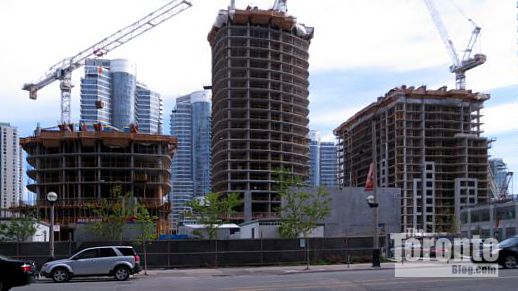 May 10 2012: South view from Bremner Boulevard of construction progress on the two ÏCE Condo towers, left and center, and the Infinity3 Condominiums, right
Changing views: Although construction of two neighbouring condo projects near the CN Tower still has a long ways to go before completion, it's fast becoming apparent just how significantly the new towers will change the look of the city skyline.
The side-by-side ÏCE Condos and Infinity3 Condominiums rising on the north side of the Gardiner Expressway and Lake Shore Boulevard, between York and Lower Simcoe Streets, are already having a huge impact on sightlines and views in the South Financial District and Harbourfront areas. And that's even though construction of the east ÏCE condo tower has so far climbed less than one-tenth of its ultimate 67-storey height, while the west ÏCE tower is just slightly more than one-third of its way to 57 floors. The main Infinity3 tower, meanwhile, is more than 20 floors high on its way to 34.
CONTINUED ON PAGE 2