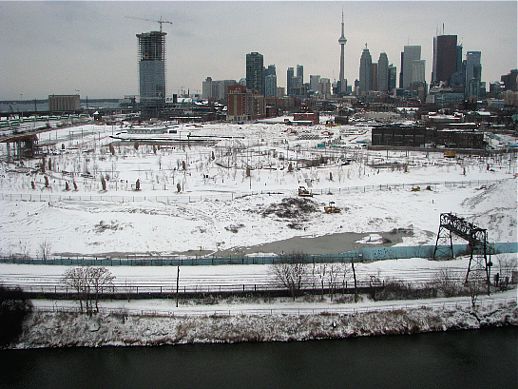 The vast construction zone for the new West Don Lands Community is seen in this image taken by a Waterfront Toronto webcam this afternoon. The 80-acre site was blanketed with light snow this morning, less than 24 hours after Waterfront Toronto and Infrastructure Ontario announced that long-awaited construction is finally commencing on the new mixed-use residential community a short distance east of the downtown business district. The highrise under construction at upper left is the 40-storey Clear Spirit condo tower in the nearby Distillery District.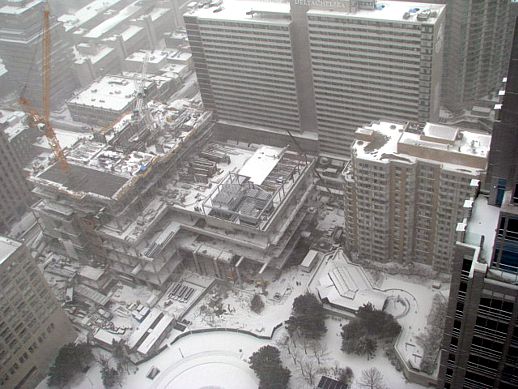 Construction progress on the 75-storey Aura at College Park condo tower is seen in this image captured from a webcam on the Aura website.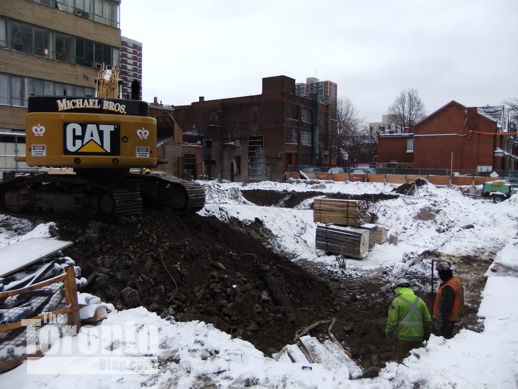 Excavation activity at the Nicholas Residences condo site near Yonge & Bloor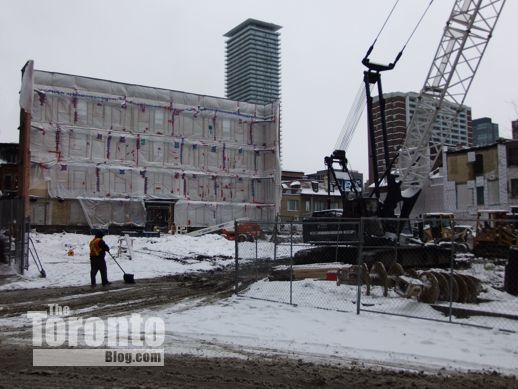 Shoring work continues on the FIVE Condos site at Yonge & St Joseph Streets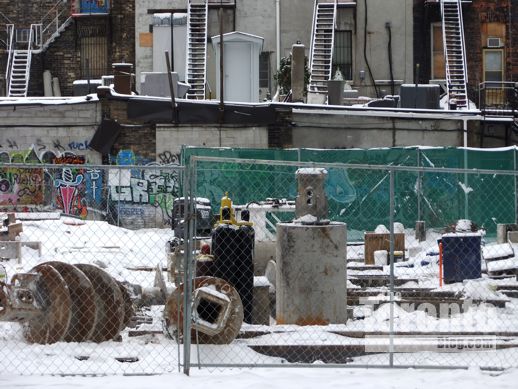 Snow-covered steel I-beams and construction equipment on the FIVE Condos site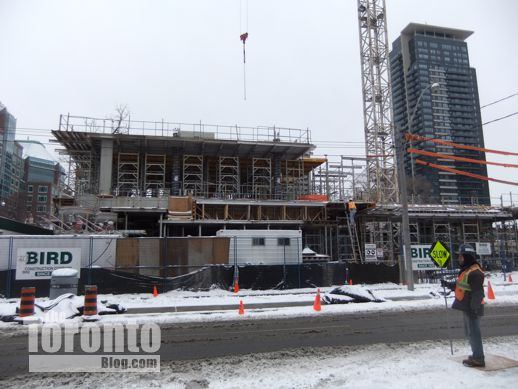 A worker directs traffic past the ETFO office building site on Isabella Street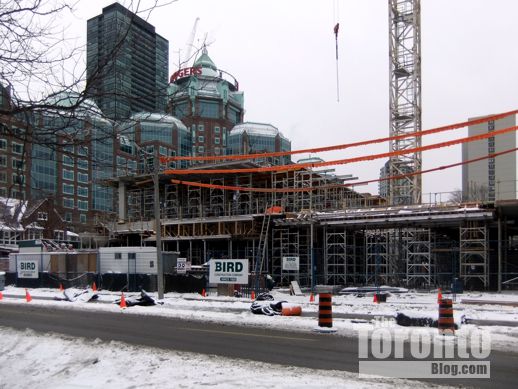 Another view of progress on the 4-storey ETFO office headquarters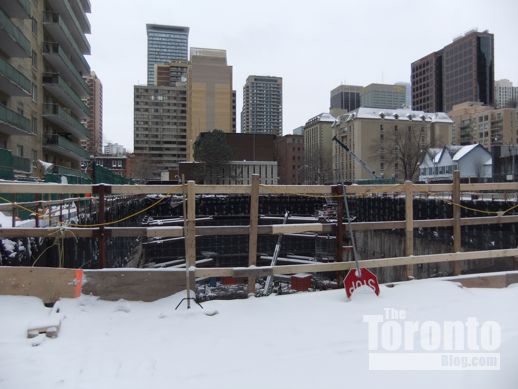 Overlooking the long, rectangular excavation for the 49-storey X2 Condos tower under construction at the southwest corner of Jarvis & Charles Streets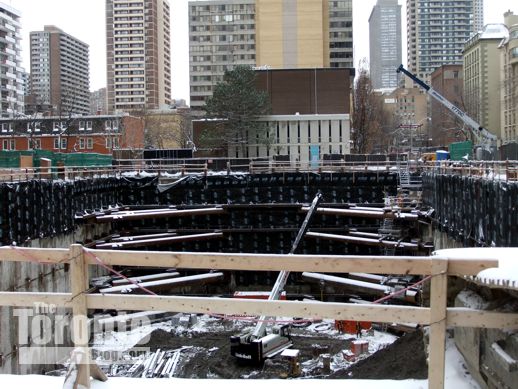 Crews have nearly completed digging the deep excavaton for the X2 Condos tower. The construction crane is expected to be installed soon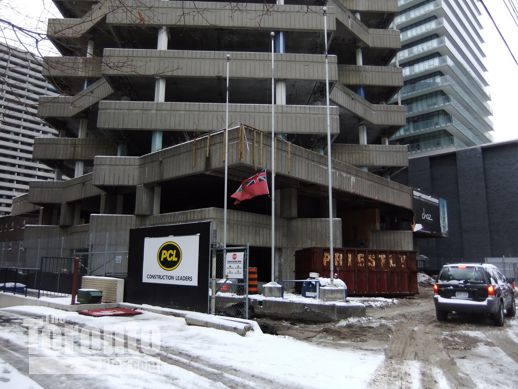 Interior demolition work continues on the eight-storey office building at 45 Charles Street East, future site of the Chaz.Yorkville condo tower.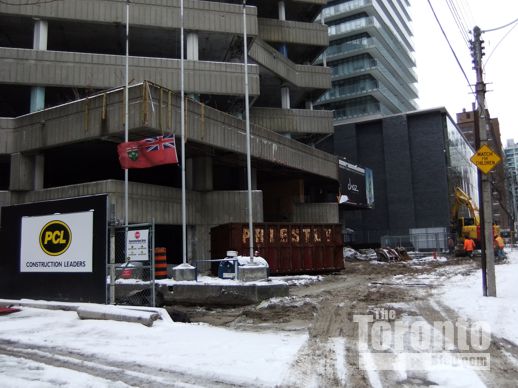 Despite the light snow cover, a drilling rig (rear right) was busy jackhammering a concrete pad at the northwest corner of the Chaz.Yorkville site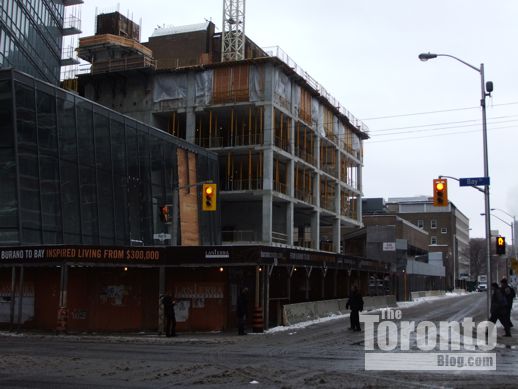 Two major construction projects at the southwest corner of Bay & Grosvenor Streets: Burano Condos, left, and the Women's College Hospital redevelopment.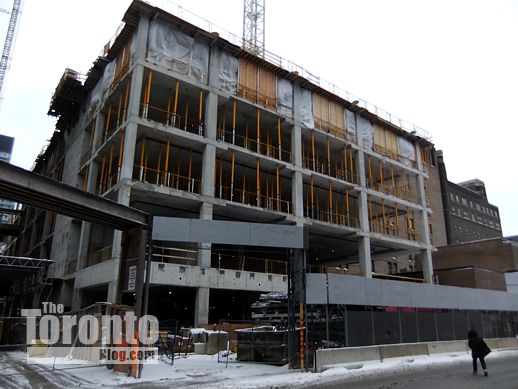 The new Women's College Hospital building has risen five floors so far on what was formerly the site of the hospital's multi-level parking garage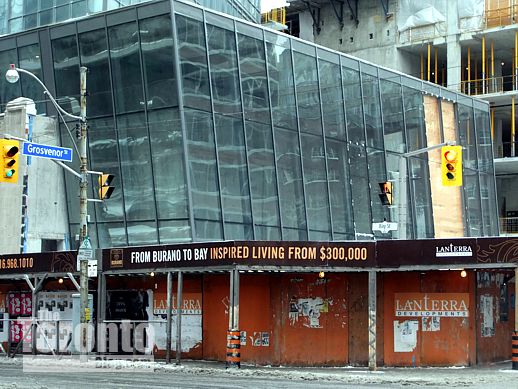 The soaring glass atrium on the north (Grosvenor Street) side of Burano Condos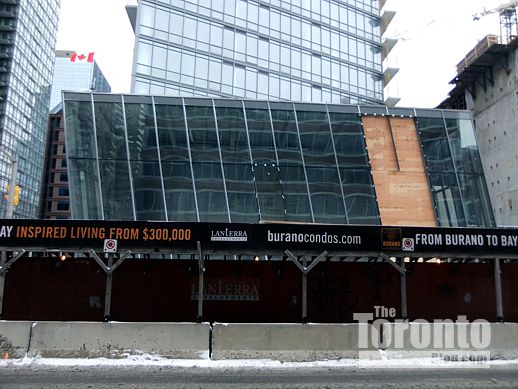 A view of the atrium from the north side of Grosvenor Street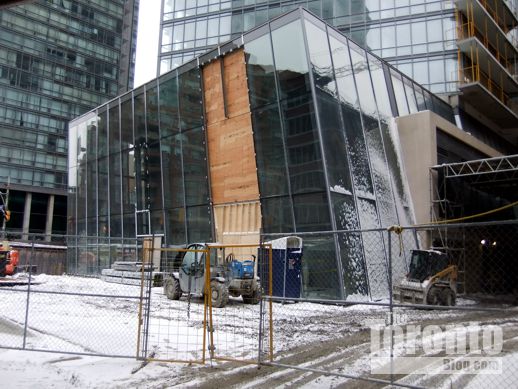 A publicly-accessible piazza, designed by landscape architects Janet Rosenberg + Associates, will be constructed next to the atrium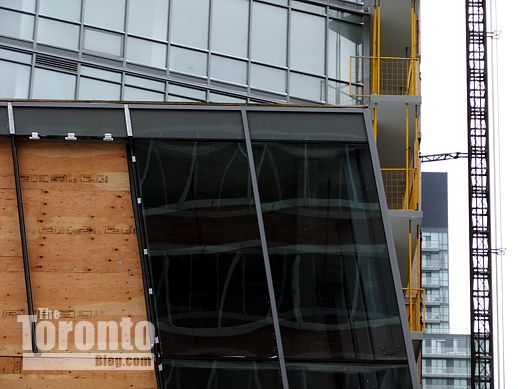 The sharply angled glass panels of the atrium provide a striking contrast to the condo tower that soars 50 storeys straight up above it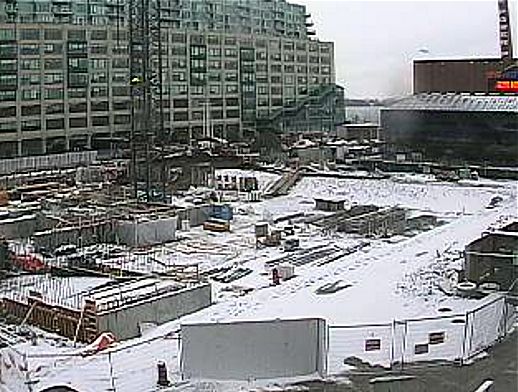 A Harbourfront Centre webcam image of progress on the new underground parking garage for York Quay Centre. Concrete floor slabs have been poured for the 3 below-grade levels, and work will start soon on the ground-level roof over the structure. New outdoor public spaces will be created on top.