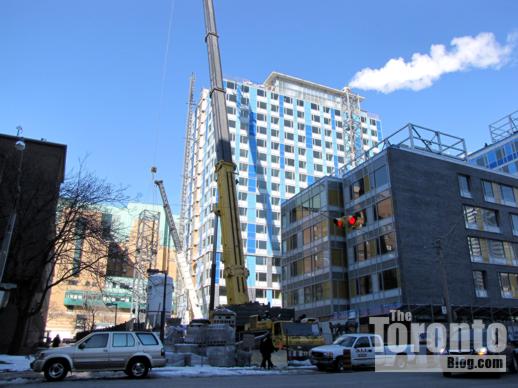 March 7 2011: Two portable cranes remove segments from the main construction crane that helped build the YWCA Elm Centre apartment building
Project completion looms closer: You can't miss the new YWCA Elm Centre apartment building at the corner of Elizabeth and Elm Streets downtown, and not just because it's located between two very busy downtown landmarks: the Hospital for Sick Children and the Toronto bus terminal. Thanks to the bright blue window and wall panels accenting its 17-storey tower on Elm Street and most of its 10-storey wing along Elizabeth, the Centre is highly visible for blocks in several directions.
On Tuesday, the Centre stood out even more when two portable cranes pulled onto the west side of the property and began taking down the tall white construction crane that had helped build the YWCA complex during much of the past two years. Construction crane removal is always a sign that a building project is nearing completion, and the YWCA website does state that the new facility is expected to open in the middle of this year.
The $80 million complex will be "the largest affordable and supportive housing development for women in Canada" with 300 apartments geared mainly to low-income women and their families, women with addiction and mental health issues, and families of aboriginal ancestry. The Centre also will be "home to YWCA Toronto's new administrative headquarters and a hub for women-focused events and activities in our city," the website explains. More information about the Centre and a "virtual tour" of the building is available on the website.
Below are more photos of the YWCA Elm Centre.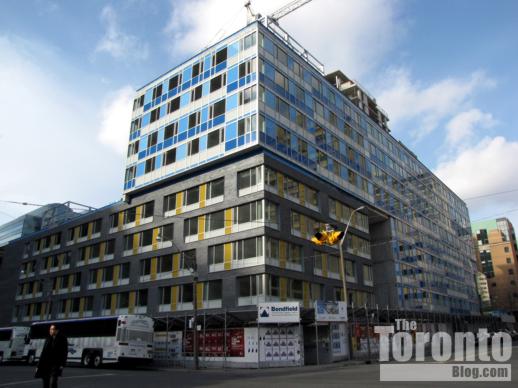 January 3 2011: Southeast view of YWCA Elm Centre from Edward Street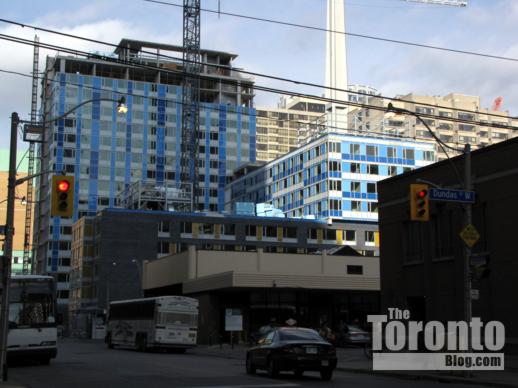 January 3 2011: South view of YWCA Elm Centre from Chestnut Street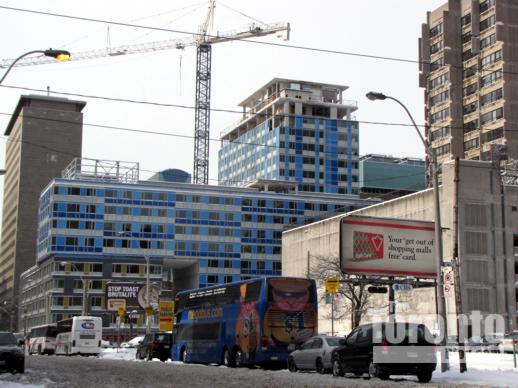 January 8 2011: East view from the corner of Bay and Edward Streets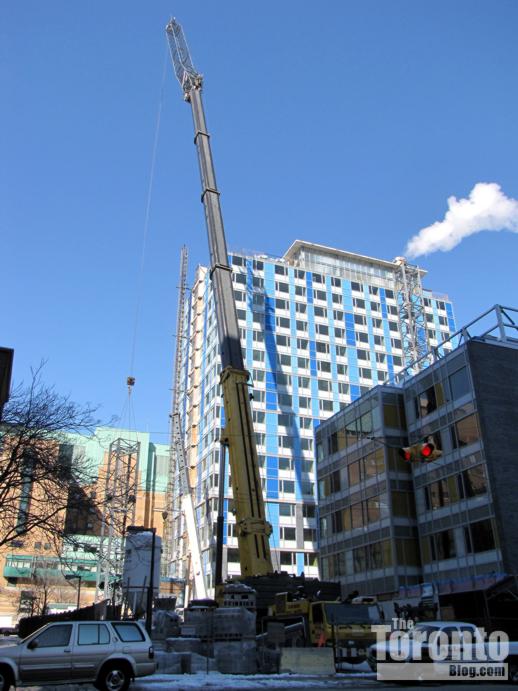 March 7 2011: The yellow crane lowers a large segment that had been detached from the fixed-in-place crane used to build the YWCA facility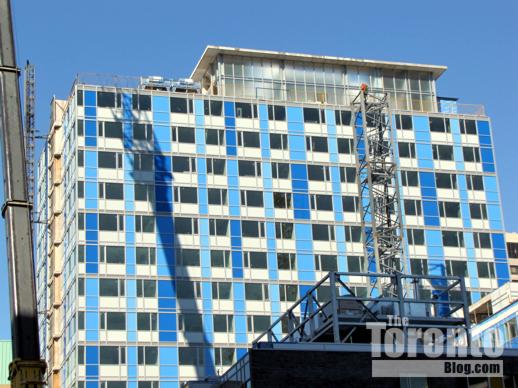 March 7 2011: The bottom half of the fixed crane is visible at right