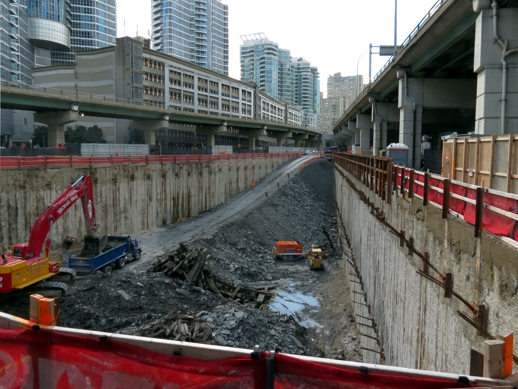 September 16 2014: Excavation is well underway at the wedge-shaped site for the Ten York condominium by the Tridel development firm.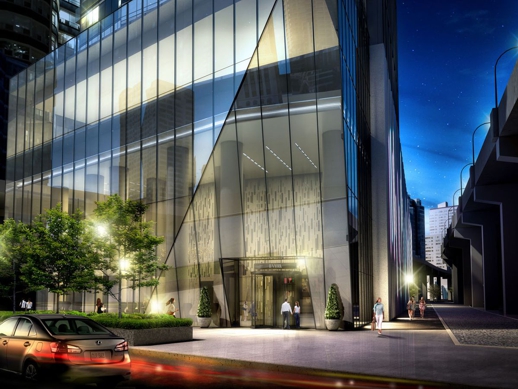 This illustration, from an image gallery on the Ten York website, shows how the tower podium will look when viewed from the approximate area where I shot the excavation photo posted above.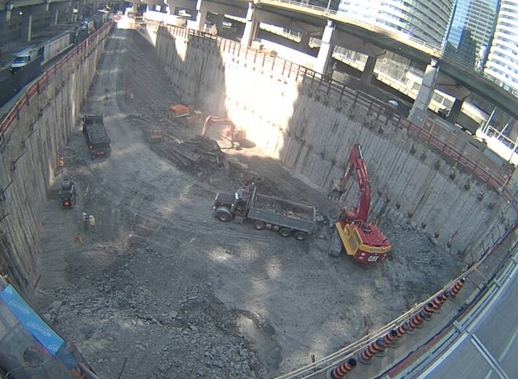 This image, captured from Tridel's construction webcam, shows an aerial view of the site on the afternoon of Wednesday September 17.
Just before I began an extended break from blogging at the end of January, I published an update about the exciting Ten York condo tower project. That post, Drilling rigs ready to rumble at Ten York condo site, included a photo of foundation drilling equipment that had recently arrived at the future tower location — a triangular piece of property awkwardly situated between Harbour Street, York Street, Lake Shore Boulevard and the elevated Gardiner Expressay.
I walked past the Ten York site yesterday and had the chance to snap a new photo from a spot on the York Street sidewalk near the project's northeast corner.  The pic shows an excavation rig loading a dump truck in the pit, which is already several levels below grade. Once digging is complete, a six-floor underground parking garage will be constructed for the flatiron-shaped 224-meter tower (735 feet, approximately 65 storeys).
Ten York was designed by Wallman Architects of Toronto.
Below are two images from Tridel's webpage for the Ten York project. Click on the link to obtain extensive information about condo floorplans and building details, as well as to view dozens of additional images and illustrations.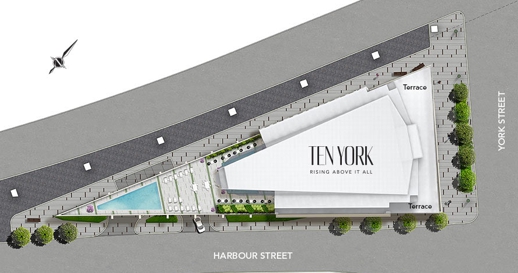 This illustration shows the "community master plan" for the Ten York site

This artistic illustration, from the Ten York project website, depicts a view of the north side of the condo tower and its podium.