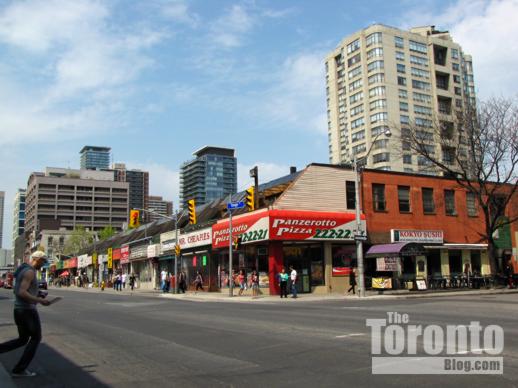 May 13 2011: The 501 Yonge Street strip of retail shops and restaurants, viewed from the southwest corner of Yonge & Grosvenor Streets

Going big & tall on Yonge: In my Ripe for Redevelopment post on April 14 2011, I wondered what Lanterra Developments was planning to do with the 501 Yonge Street strip of restaurants and retail shops it had recently purchased — as well as when it was going to announce its plans. When I walked past 501 Yonge last week, I knew something was imminent because three of the former retail tenants have moved out, leaving suspiciously empty storefronts. Now I know what's happening with the property — or should I say, what the developer hopes will happen.
The company has filed a development application with the city to build a mixed-use complex that would include two 58-storey condo towers and an entirely new retail strip along Yonge. The towers would soar 190 meters from a 7-storey podium featuring retail space at street level plus five levels of parking above that. The complex would contain 960 condo units, 302 residential parking spaces and 58 parking spots for visitors. Lobbies for the condo towers would sit at opposite ends of the block: the north tower lobby would be on Maitland Street, while the south tower lobby would be on Alexander Street. The city's development application notice says that driveway and service access to the complex would be from Maitland Place; however, that's clearly a mistake because Maitland Place is a one-block street two blocks east, between Homewood Avenue and Jarvis Street. They must have meant Maitland Street.
The city received the application only on May 5, so no community consultation meeting has been scheduled yet, nor has the developer publicly released renderings of its proposed towers. But I'm sure there will be strong opposition to the towers' sheer height from some area residents, particularly those in the 18-storey Cosmopolitan condo building at 25 Maitland Street, which would be absolutely dwarfed by the 501 project. Will keep you posted on further news about this project. Below are two more pics from this afternoon, showing the vacant storefronts.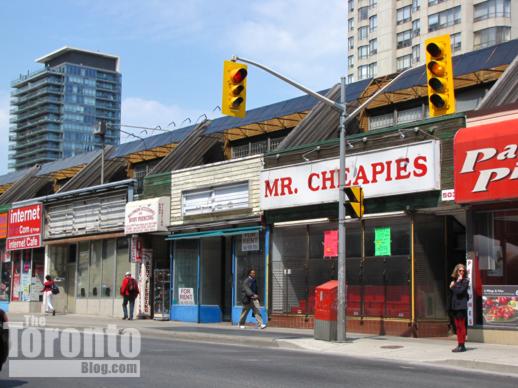 May 13 2011: Looking northeast toward the vacant retail outlets at 501 Yonge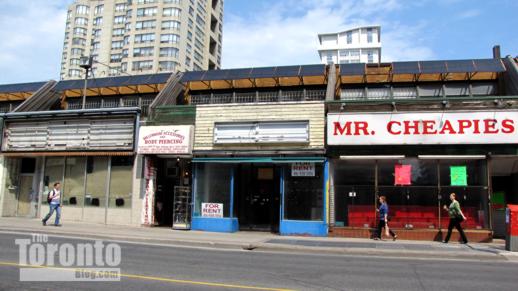 May 13 2011: A body piercing shop is bookended by empty retail space; the 18-storey Cosmopolitan condo building on Maitland Street is visible at left rear