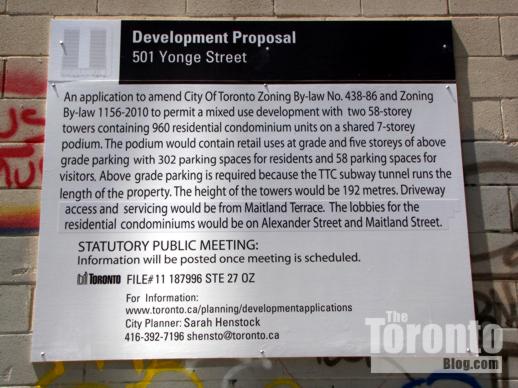 One of the development proposal signs that has been posted on each side of the 501 block of Yonge Street since last spring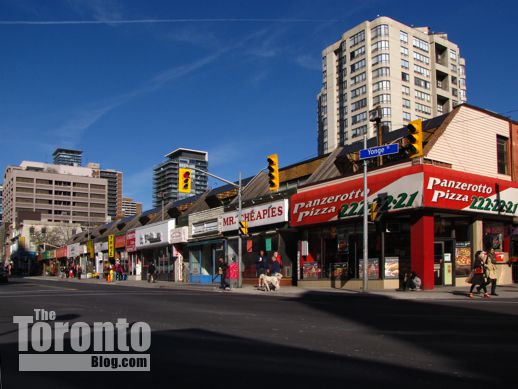 November 6 2011: The 501 Yonge Street block seen from the southwest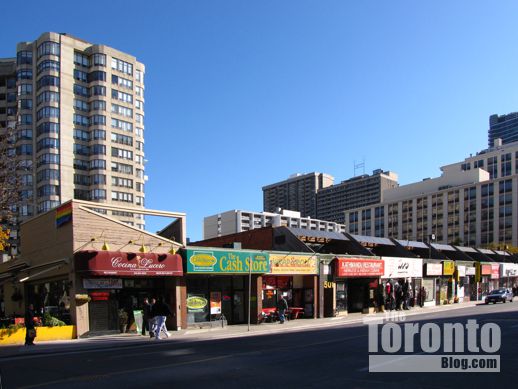 November 6 2011: The 501 Yonge Street block viewed from the northwest
Glass wall: Toronto residents get their chance tonight to tell city planners what they think of a controversial proposal to build two 58-storey condo point towers atop a 7-storey rectangular glass podium on the east side of Yonge Street, between Alexander and Maitland Streets.
The community consultation is the second meeting city officials scheduled for this week to get public input on a major condo tower development plan by Lanterra Developments, a 10-year-old Canadian company that boasts sales of more than 6,000 condo units in downtown Toronto.
At the first, held two nights ago, Lanterra and architect Peter Clewes of Toronto's architectsAlliance were on the hot seat during a community consultation over Lanterra's ambitious plans for a massive 4-tower condo complex that would revitalize three blocks of long-neglected property along Bloor and Howard Streets in North St James Town. During that meeting (which I'm planning to report soon in TheTorontoBlog), at least 30 people stood up to speak their mind with overwhelmingly negative comments and observations.  Tonight, city planners and Lanterra's team face Toronto residents again at a session that many people expect will be equally raucous and critical.
Tonight's community consultation was requested by Toronto and East York Community Council, one of four groups of city councillors that make recommendations and decisions about local planning and development, as well as neighbourhood-specific issues within their jurisdiction. The session will give city residents an opportunity to review, ask questions about and express their opinions on Lanterra's application to redevelop the low-rise 501 block of Yonge Street with a condo project that is vastly taller and denser than present zoning bylaws permit.
As noted in a May 30 2011 background report by city planners, Lanterra wants to build two 58-storey residential towers that would rise from one 7-storey podium. The podium would include two levels of retail space with five floors of parking above them (parking must be built above grade because the Yonge subway line runs diagonally beneath the entire 501 Yonge site). Each tower would contain 480 condo units and have its own lobby entrance; the north tower's would be off Maitland Street, while the south tower lobby would be accessed from Alexander Street. The towers would soar 192 meters (including mechanical penthouse) and would be constructed in two phases, with the podium and south tower being built first.
Under current zoning regulations for the 501 Yonge site, the maximum permitted density is 3 times the lot area, with 2 times the lot area for commercial uses and 3 times the lot area for residential uses," the city planners' report notes. "The maximum height permitted is 18 metres." However, Lanterra's proposed condo complex would be 20 times the permitted density, with the height "significantly" exceeding what is presently allowed.
The size and height of the project horrifies many area residents, who fear that the podium's enormous glass wall and the soaring towers above it will ruin the historic low-rise character of north Yonge Street (the section between College and Bloor Streets), destroy the pedestrian ambience on the street, and wreck what they consider to be "gateways" to the nearby Church-Wellesley Village neighbourhood — the tree-shaded outdoor dining and bar patios on the Alexander and Maitland ends of the block.
The consultation starts at 6.30 pm in the 2nd-floor auditorium at the Grosvenor Street YMCA.
Below are drawings, from the city planners' report, that show the proposed elevations for the 501 Yonge complex, along with some photos and a video I have taken of the project site.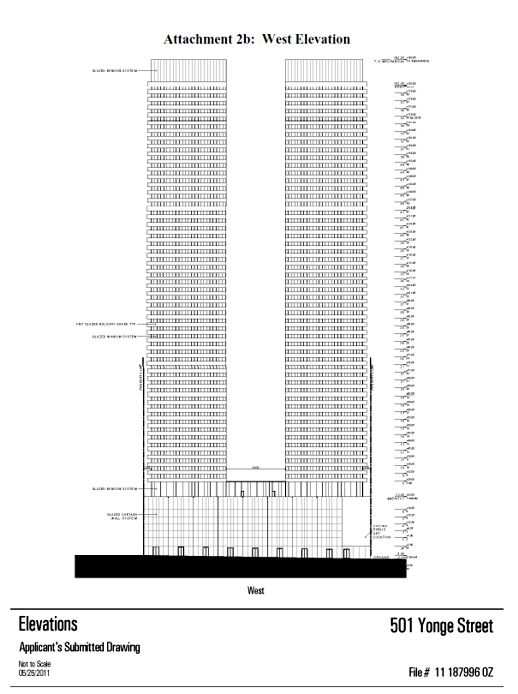 This illustration, from city planning documents, depicts a west elevation for the proposed two-tower complex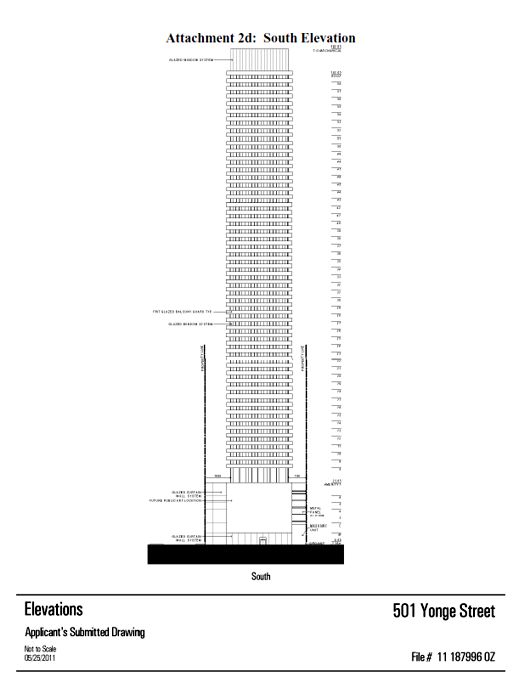 From the city planners' report, this drawing depicts a south elevation for the rectangular 7-storey podium and 58-storey point towers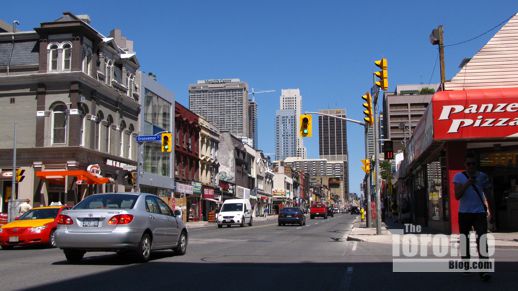 A view of Yonge Street looking north from Alexander Street on June 30 2011. Many neighbourhood residents fear the Lanterra project would overwhelm and destroy the historic low-rise character of Yonge Street.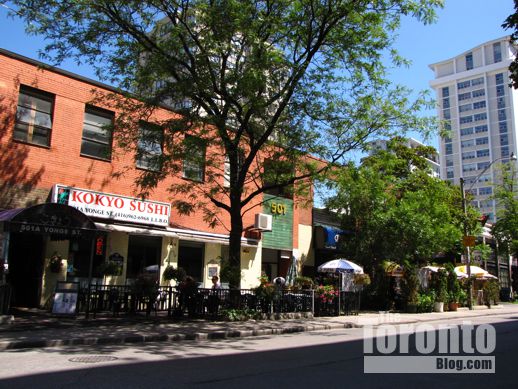 The tree-shaded outdoor patios for Kokyo Sushi and Pi-Tom's Thai Restaurant on Alexander Street would be replaced with the south tower's lobby.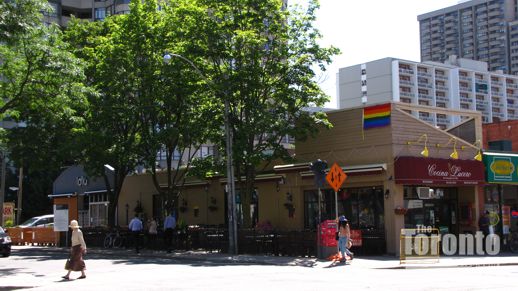 Two more patios would be lost at the north end of the block …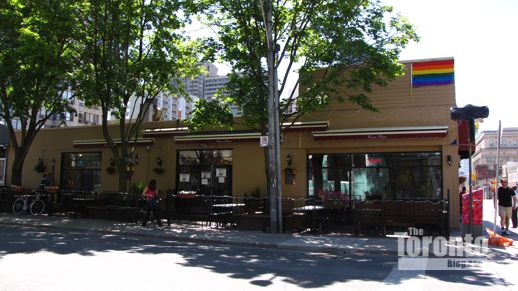 … including the Cocina Lucero restaurant patio at the corner of Yonge & Maitland …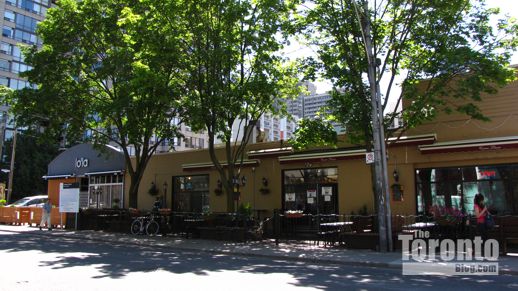 … and the terrace for Lo'La martini bar to the east, at the corner of Maitland Street and Maitland Terrace
xx
xx
xx