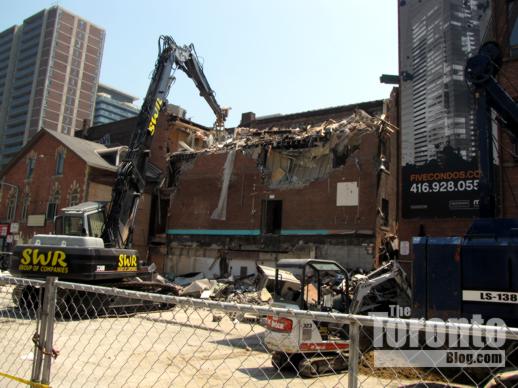 May 31 2011: Demolition is underway at the FIVE Condos site on St Joseph Street…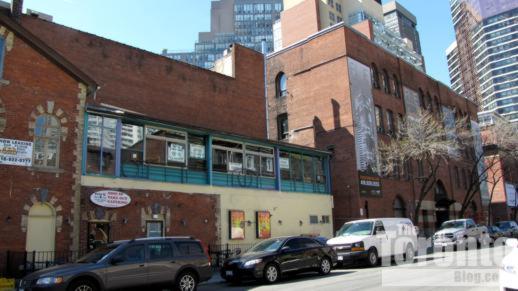 … where this unsightly rear addition to a late 1880s-era Yonge Street heritage building is being destroyed…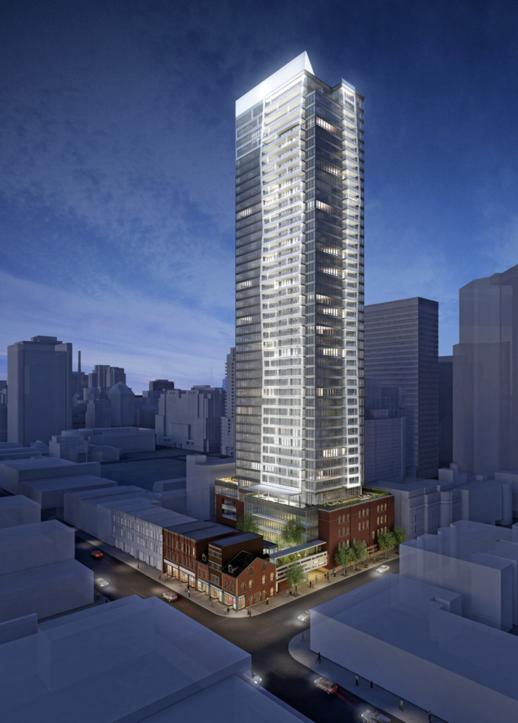 … as part of the extensive FIVE Condos block redevelopment and condo tower building project at Yonge & St Joseph Streets, depicted in this illustration provided courtesy of Hariri Pontarini Architects in Toronto

Falling for FIVE: Wrecking crews have been busy on St Joseph Street, where this week they began knocking down parts of buildings that presently occupy a site where the 45-storey FIVE condo tower will ultimately rise. The structures being demolished sit to the rear of several 1880s-era historical buildings at the southwest corner of Yonge and St Joseph Streets, which will be preserved and restored as part of the FIVE Condos at 5 St Joseph redevelopment project.
First to go was a tacky two-storey rear addition to the charming building right at the corner of Yonge & St Joseph; a sports bar once occupied the upper level, while the ground floor was part of a Timothy's coffee shop during the late 1990s and early 2000s and, most recently, a shawarma shop. Just to the immediate south, a boxy three-storey brick structure is also being pulled down. The good news is that six old brick buildings with storefronts along Yonge Street will be restored and incorporated into the FIVE Condos development, as will be the case with the facade of the former Rawlinson Cartage warehouse building on the corner of St Joseph and St Nicholas Streets. A senior city planner, Michael Hynes, has publicly described the FIVE Condos development as "the largest heritage building protection project in the country."
FIVE is a team project by MOD Developments Inc., Graywood Developments Ltd., Tricon and Diamondcorp, along with Hariri Pontarini Architects, Cecconi Simone Inc. interior design, and Janet Rosenberg & Associates landscape architects. FIVE was a bigger winner at the 2011 BILD Awards, presented in late April by the Building Industry and Land Development Association (BILD). It won four major awards, including High-Rise Project of the Year, Best High-Rise Building Design, Best High-Rise Sales Office, and Best Model Suite.
Below are several photos showing demolition activity at the FIVE Condos project site this week. Additional information, photos and architectural renderings of the project are provided in my April  28 2011 post, while there are a few more pics of demolition equipment at the site in my May 12 2011 post.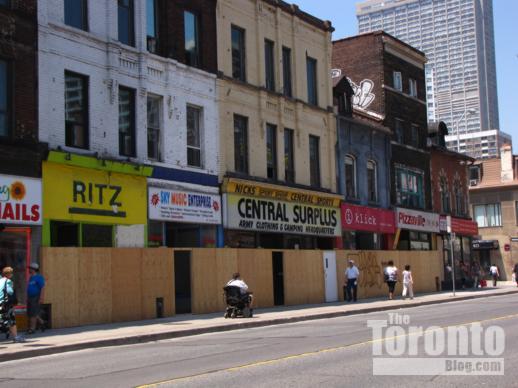 May 31 2011: Hoarding extends along Yonge Street outside the old buildings that will be incorporated into the FIVE Condos development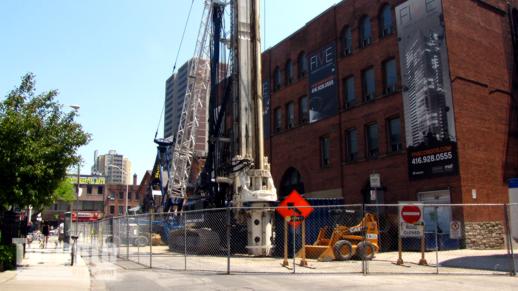 May 31 2011: Construction and demolition equipment outside the former Rawlinson Cartage warehouse building on St Joseph Street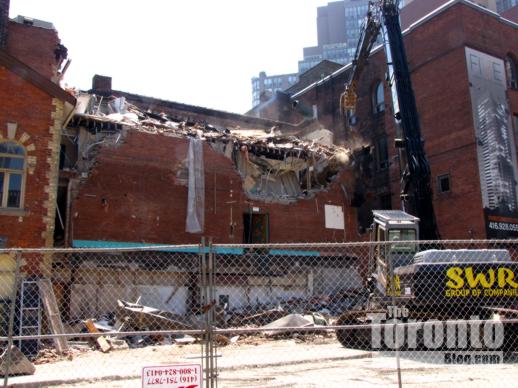 May 31 2011: Demolition activity at the FIVE Condos site on St Joseph Street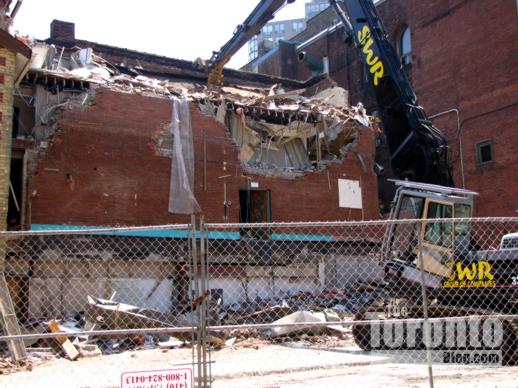 May 31 2011: The structures being demolished sit at the rear of the historic buildings being preserved on the Yonge Street flank of the FIVE Condos site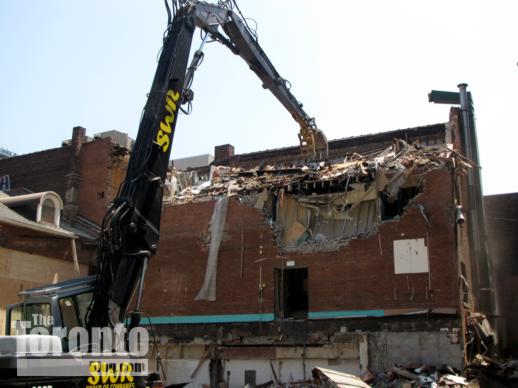 May 31 2011: This former warehouse is quickly being reduced to rubble