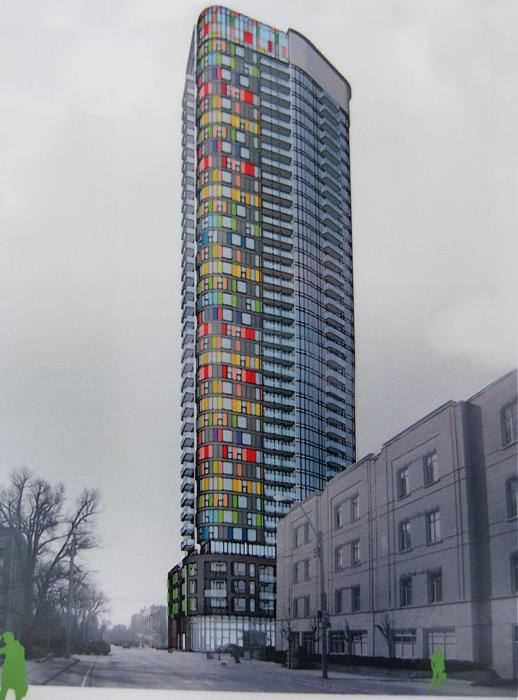 This artistic illustration of the 38-storey condo tower planned for 159 Wellesley Street East appears on a development proposal sign posted on the property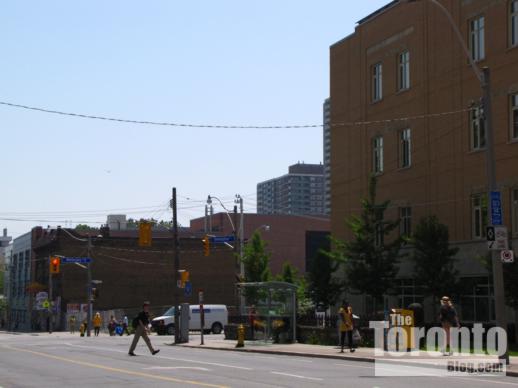 May 31 2011: This is how the 159 Wellesley Street East condo tower site presently looks when viewed from the same perspective as the artistic illustration (above). The building at right is Wellesley Central Place, a long-term care facility.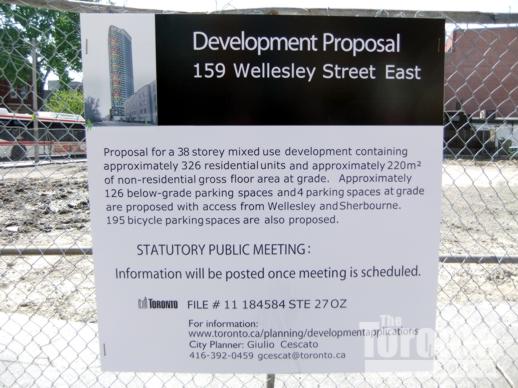 Development proposal sign on security fencing around 159 Wellesley Street East

Corner condo: Another condo tower has been proposed for the northeast downtown residential neighbourhood at Wellesley & Sherbourne Streets. This latest development proposal — a 326-unit, 38 -storey building with street-level retail space and four levels of underground parking — would rise on the southwest corner of Wellesley and Sherbourne, the former site of a Beaver gas station and Baker's Dozen donut shop. It would be similar in height to two recently-constructed condo towers right across the street: Verve, just one block west at the corner of Wellesley Street and Homewood Avenue, and 500 Sherbourne, one block north at the corner of Sherbourne Street and Lourdes Lane. The site sits kitty-corner to St James Town, a densely-populated neighbourhood with nearly 20 rental apartment highrise buildings, and is just two blocks west of the popular Cabbagetown residential district.
Area residents expected that a condo tower would be proposed for the site when for sale signs were posted on the gas station/donut shop location last year. Demolition of the buildings and facilities for those two businesses took place during April and May; the vacant lot that remains has been closed off by security fencing ever since. Neighbours have been wondering if the three-storey building next door on Sherbourne Street — currently home to a Domino's pizzeria, a restaurant and a convenience store, plus two floors of rental apartments upstairs — also will be demolished to make way for the condo tower. That building is not part of the condo development — yet. However, city planners have suggested that the condo developer look into purchasing that property to create a larger site that would be more appropriate for a tower 38 floors tall.  The planning department hasn't yet announced the date on which a public meeting will be held to get feedback on the condo proposal.
I published photos of the 159 Wellesley Street East site and other buildings in the immediate area, along with pictures of the gas bar and donut shop demolition, in my April 19 2011 post. Below are several more photos showing the final stages of demolition and the vacant property that now awaits building approval from the city.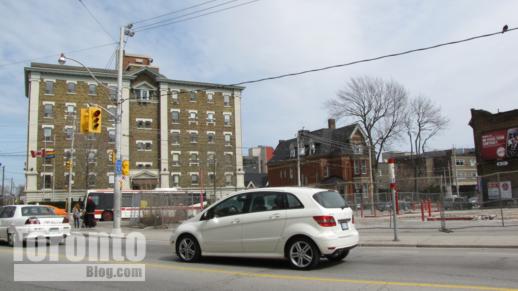 April 22 2011: A view of the 159 Wellesley East condo tower development site from outside Wellesley Central Place, the long-term care facility on the northwest corner of Wellesley and Sherbourne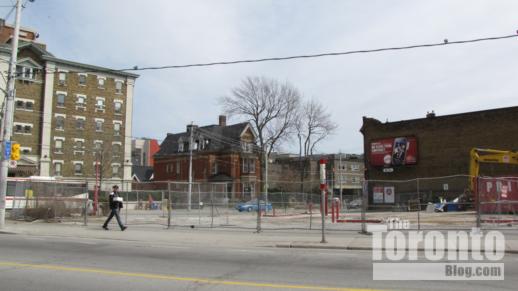 April 22 2011: Most of the former Beaver gas station has been demolished but, at this point, the underground gas tanks haven't yet been pulled out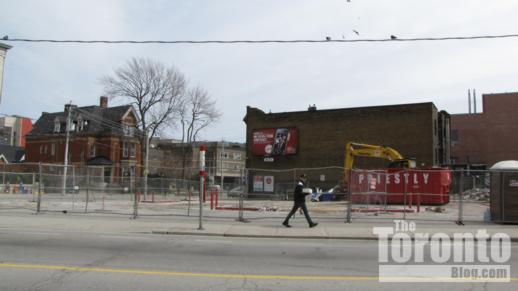 April 22 2011:  Looking south at 159 Wellesley Street East from across the street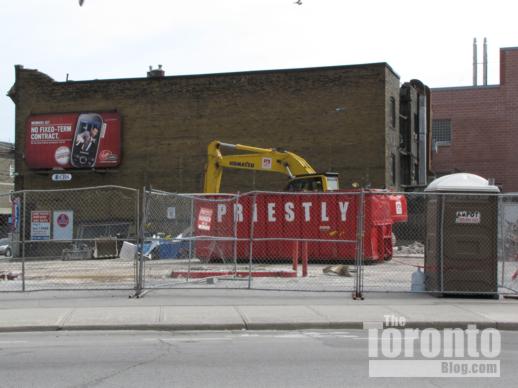 April 22 2011: Site demolition at 159 Wellesley Street East is nearly complete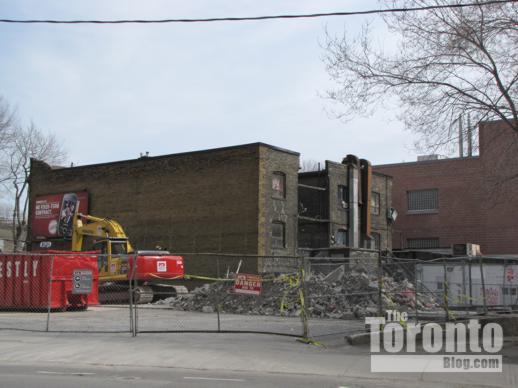 April 22 2011: The three-storey apartment and retail building next door is visible in this view from Wellesley Street.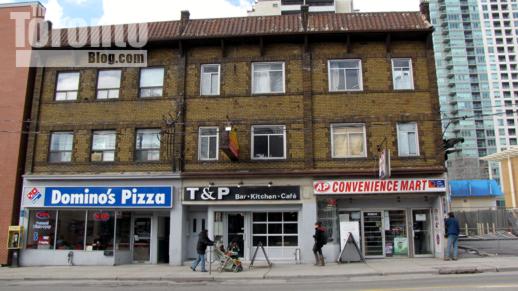 The building next door — with street level businesses at 462, 464 and 466 Sherbourne Street, and two floors of rental apartments upstairs — is not part of the condo development for now. But city planners have urged the condo developer to try to acquire this property to create a larger site for its proposed tower.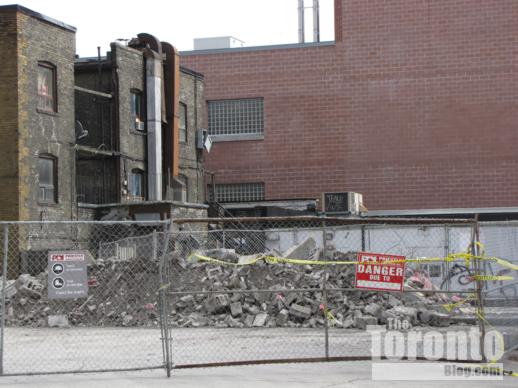 April 22 2011: A pile of rubble is all that remains of the Baker's Dozen Donut shop that once sat on this location next to the gas station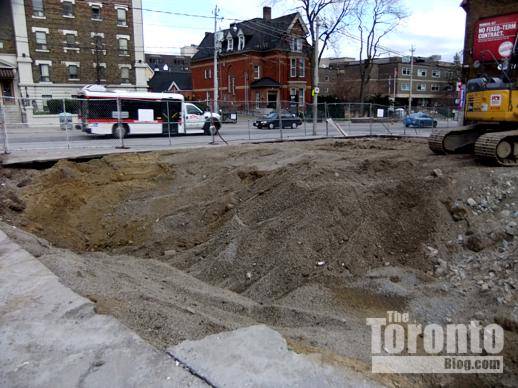 April 29 2011: The underground gas tanks for the former Beaver gas station have now been removed from the property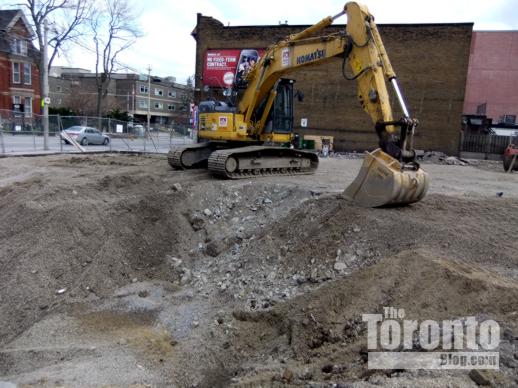 April 29 2011: The tanks had been located under the site's northeast corner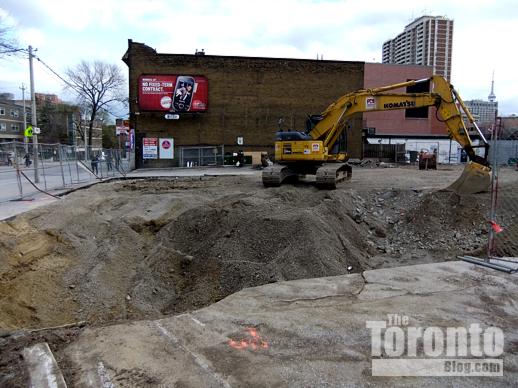 April 29 2011: Looking south at what used to be a busy Beaver gas station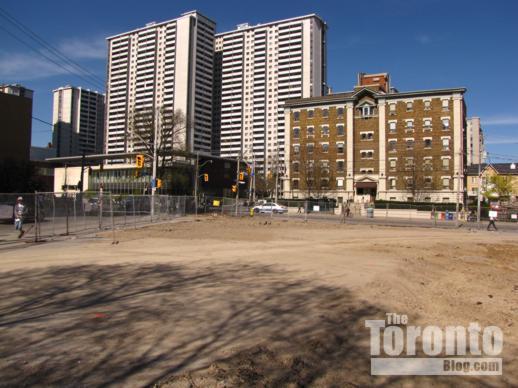 May 9 2011: Northeast view towards St James Town of what is now just an odd-shaped vacant lot at 159 Wellesley Street East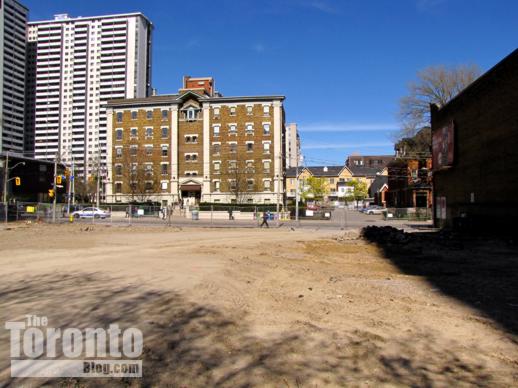 May 9 2011: Looking east across the vacant 159 Wellesley Street East property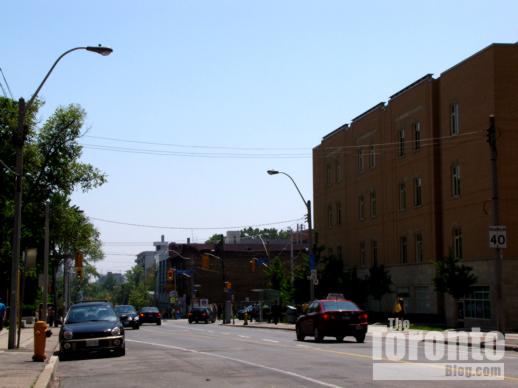 May 31 2011: A view of the condo development site, looking south on Sherbourne