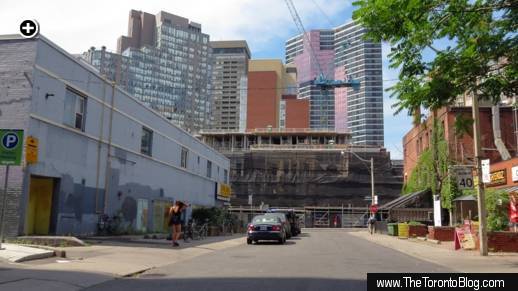 August 25 2013: Construction of the tower component of the FIVE Condos project at Yonge & St Joseph is now visible from the east along Dundonald Street.
Five floors up: Now that construction of FIVE Condos at Yonge and St Joseph Streets has reached the fifth floor, residents to the east are beginning to see how significantly the 48-storey tower will change the look and feel of their neighbourhood.
Until last week, it was difficult to monitor construction progress on the tower. Nestled behind a row of 3.5 to 4-storey heritage buildings along Yonge Street, as well as a 4-level heritage building facade propped up by giant steel supports on St Joseph Street, the construction could be seen at street level from only a couple of places. The Yonge & St Joseph intersection has been the best vantage spot, while the corner of Phipps Street and St Nicholas Street on the west side of the project site has offered an alternative but awkward view of the building activity.
However, construction is now visible to people approaching from Dundonald Street on the east side of Yonge. Work on the tower's fifth floor can clearly be seen behind the row of historic buildings at 606 to 618 Yonge that will be restored as part of the redevelopment project. The tower is also starting to come into view from part of Wellesley Street one block to the south, and within just a few weeks should be obvious from the intersection of Yonge & Wellesley Streets as well as farther up and down Yonge.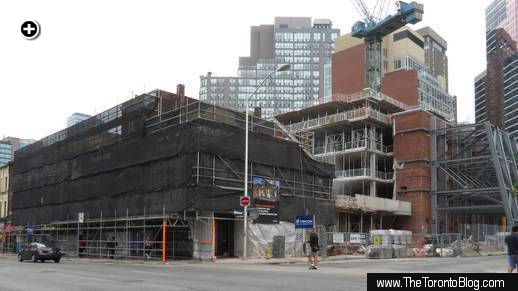 August 30 2013: Construction of the FIVE Condos tower is now rising above the heritage buildings along Yonge Street  (left) and the retained facade of the Rawlinson Cartage warehouse building on St Joseph Street (right).
CONTINUED ON PAGE 2