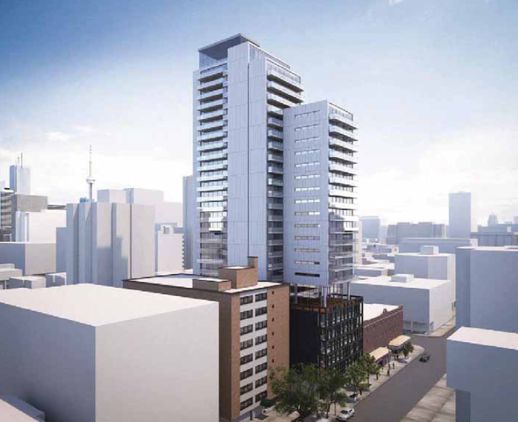 This illustration, by Toronto's Core Architects, shows a 29-storey condo tower that a developer proposed for 81 Wellesley Street East last year. The project never proceeded, and now another highrise tower has been proposed for the site.
Mansion was being studied for possible heritage protection
As I reported in a January 19 2012 post, residents of the Church-Wellesley Village area were outraged when a demolition crew arrived at 81 Wellesley and began tearing down the mansion and the coach house on January 18 of last year. The local city councillor, Kristyn Wong-Tam, was furious as well — just several weeks earlier, Toronto and East York Community Council had adopted her motion calling on city staff to study whether Odette House could be designated as a historic property under Ontario's Heritage Act.
Anger over the demolition continued to simmer in the neighbourhood and was still brewing on October 16 2012, when representatives for Icarus Developments held a public information meeting to reveal the company's plans for the vacant Odette House site. As I reported in an October 17 2012 post, a small group of residents as well as members of the Church Wellesley Neighbourhood Association (CWNA) chastised the project's planning consultant and architect for the "uncivil" demolition of the old buildings, and for the "inappropriate" size of the condo tower that Icarus wanted to build in their place.
That tower would have soared 93.6 meters (including mechanical penthouse), and would have contained 200 condo suites, of which 10% would have been configured as 3-bedroom units. Designed by Charles Gane of Core Architects, the building would have featured a 6-storey brick-clad podium containing 124 square meters of street-level retail space as well as interior amenities for condo residents and a large outdoor terrace.
Property was listed for sale last spring
Nothing further happened with those plans after the information meeting — at least, nothing that was disclosed publicly. Then, as I reported in an April 19 2013 update, a "for sale" billboard was erected at 81 Wellesley. The sign was removed sometime during the summer, and word on the street was that another development company had purchased the property and was working on plans for a new highrise tower project of its own.
In late summer of this year, another billboard was erected on the site, this time advertising the Enigma Lofts project that Aragon Properties has proposed for the Bloor Street West & Landsdowne area.
That billboard is still standing there, but just got some company — the City has now posted a development proposal sign summarizing basic details of a rezoning application that was filed on August 23.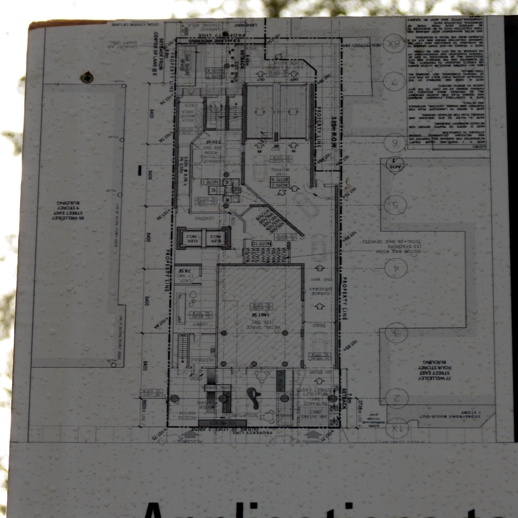 A diagram of the proposed tower's ground floor has been printed upside down on the City's development proposal sign posted at 81 Wellesley East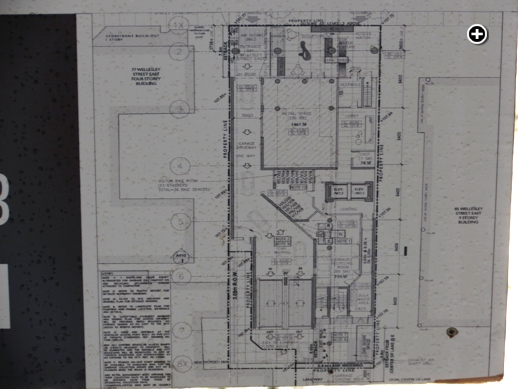 I have flipped my photo of the diagram to display the illustration right side up. Click on the picture to view a larger-size image.
Developer & architect names aren't disclosed on sign
The development proposal sign does not identify either the project developer or the building architect, and does not include either an artistic rendering or an elevation drawing of the tower to give viewers an idea of what the proposed structure might look like. Instead, the sign includes a detailed diagram of the building's ground floor — a drawing which will probably not make sense to any passersby looking at it since the illustration has been printed upside down.
The scant details provided on the City sign, including those contained in the misprinted drawing, indicate that this latest tower proposal is remarkably similar to the Icarus plan (see the comparison box below).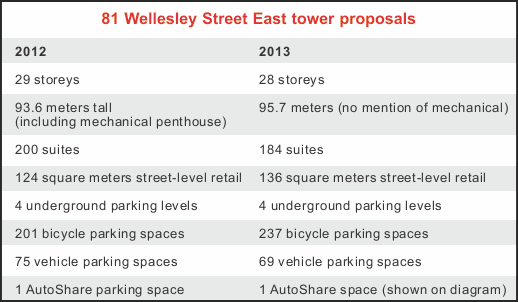 Like the first proposal, this latest plan — if ultimately approved by Toronto City Council — would result in construction of the highest building on the Wellesley Street block between Church and Jarvis Streets. However, there are some slight differences between last year's proposal and this one: the new plan calls for a slightly taller building that would have one less floor, 18 fewer suites, 36 more bicycle parking spaces, and 6 fewer vehicle parking spots. Also like the Icarus tower, this proposal shows a Wellesley Street entrance to a 4-level underground parking garage that would be accessed by two vehicle elevators. Cars would exit the south side of the building onto a service lane that extends to Maitland Street one block away.
I contacted Aragon Properties to ask if they are the developer behind this latest plan for 81 Wellesley, and to ask if any building information or tower renderings are available for publication. I have not yet received a response, but will update this post if I hear back  from the company or obtain any further particulars about the project.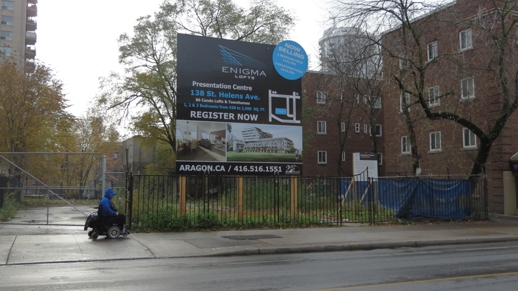 November 22 2013: A view of 81 Wellesley Street East as the property looked this morning. The vacant lot now contains a City of Toronto development proposal sign next to a billboard advertising a condo project in the city's west end.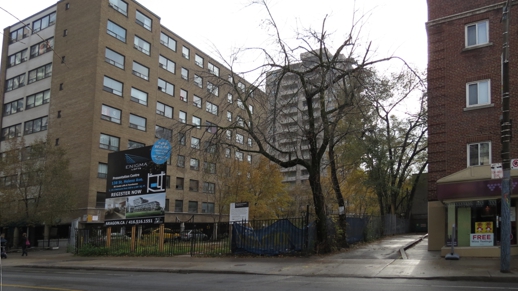 November 22 2013: The development site is surrounded on three sides by low-and mid-rise apartment buildings.