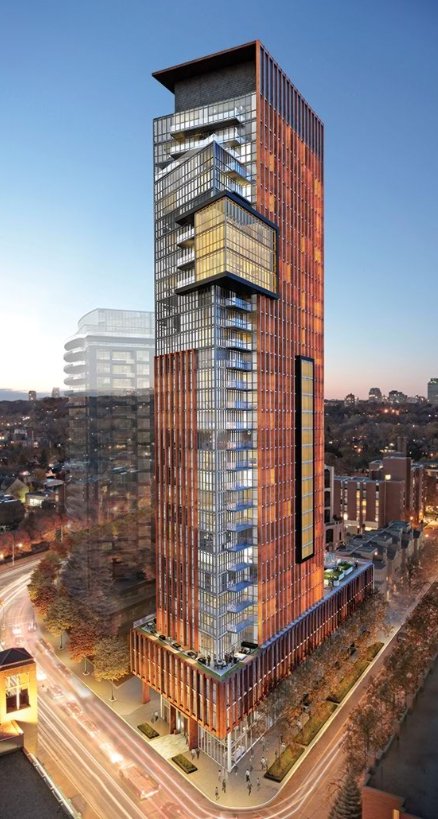 Artistic rendering of The Yorkville Condominiums, a 31-storey luxury tower proposed for the corner of Davenport Road and McMurrich Street.
More new digs for Dav: The drab two-block stretch of Davenport Road between Yonge and Bay Streets keeps improving, slowly but surely.
At Yonge, the wedge-shaped parcel of land dividing Davenport from Scollard Street brightened up a bit when the Lotus condominium opened in 2008. Sadly, it took more than two years before work finally finished on a new public square in the awkward triangle at the front of the condo highrise. Paving stones, landscaping, lighting and benches weren't installed until late summer 2010, but the narrow, long parkette instantly became a huge hit with the local pigeon population.
Meanwhile, The Florian luxury condo has been under construction just a short distance away, where Davenport twists to the northwest at its intersection with Bay. Once the location of an Infinity dealership and a Premier fitness club, the elegant 90-suite Florian promises to class up the corner with its gracefully curved brick and glass facade. 
Now, Lifetime Developments has proposed a new neighbour for the site immediately east of The Florian, currently the offices of Moriyama and Teshima Architects. Lifetime's latest venture, The Yorkville Condominiums, will be a 31-storey glass condo tower with six "executive" townhouses at the corner of Davenport and McMurrich Street. The project is being designed by Rudy Wallman of Wallman Architects, who also designed the Victory Condos development on King Street West that I profiled in a post several days ago.
So far, I'm ambivalent about his design for The Yorkville, though I admit the only drawing I've seen is the one displayed on its website and marketing materials (and shown at the top of this post).  First time I saw it, I loved the building … but the more I look at it, the more I wonder if it's just the artist's choice of colours that appeal to me. At times, I think some elements of the tower — particularly the roof, the five floors that angle out from the south face of the tower, and the long rectangular gold stripe of glass down the east wall — are merely bold, attention-seeking design gimmicks that scream "Look at me!" Other times, I think those very same features look cool, and give the tower a distinctive appearance.
Maybe I'll make up my mind once I see more renderings or models. Most likely, this is a building I'll have to see in finished form before I can tell if I truly like it or not. Either way, I do think The Yorkville will improve this part of Davenport Road and enhance the neighbourhood, so I'll be happy to see it go up.
Below are some photos I snapped of the proposed development site recently, along with a pic of the pigeon parkette at Lotus.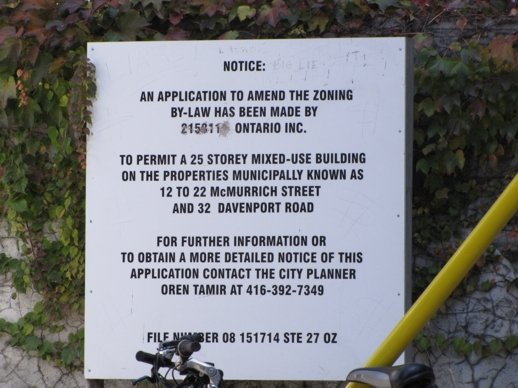 Development proposal sign outside the Moriyama and Teshima building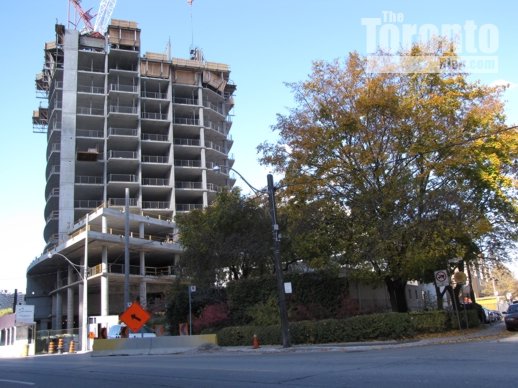 November 1 2010 view of The Yorkville Condominiums project site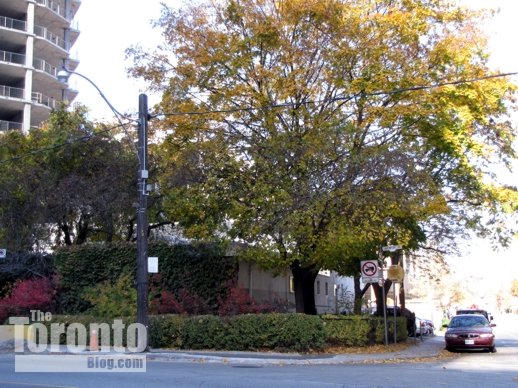 November 1 2010 view of the corner of Davenport Road & McMurrich Street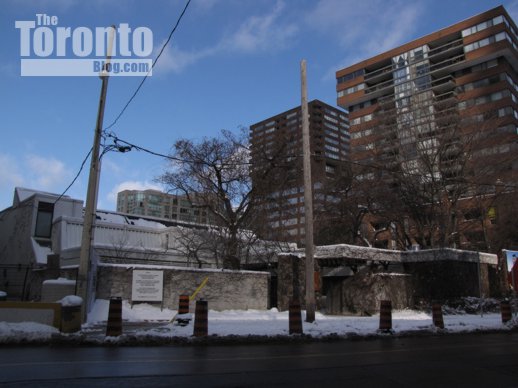 January 9 2011 view of The Yorkville Condominiums proposed site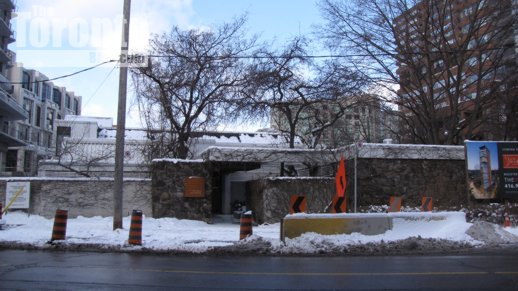 January 9 2011 view of The Yorkville Condominiums proposed site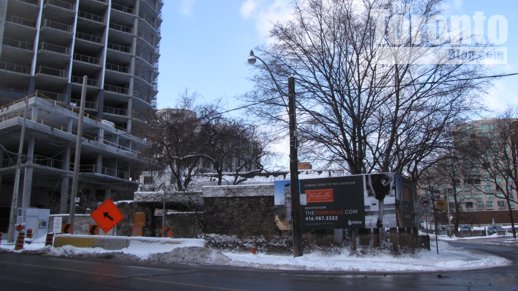 January 9 2011 view of The Yorkville Condominiums proposed site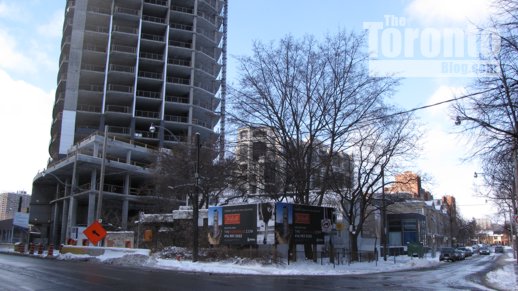 January 9 2011 view of The Yorkville Condominiums proposed site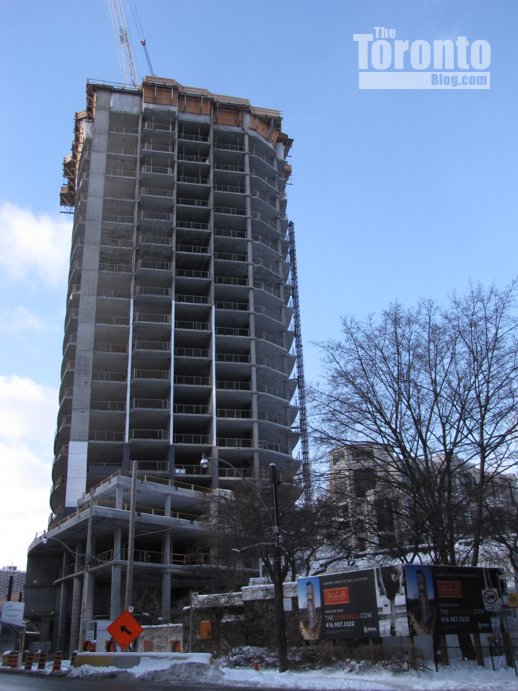 The Florian under construction next to The Yorkville site on Davenport Road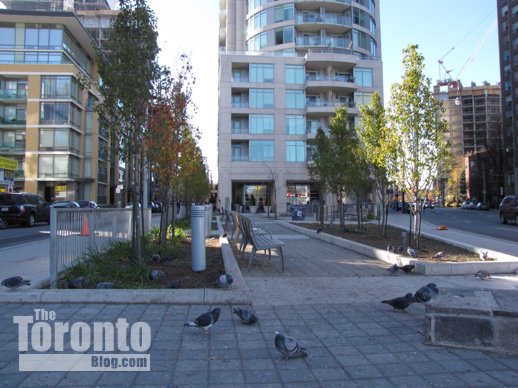 Pigeons enjoying the new parkette at Lotus condominium